Good morning, NBC News readers.
The number of confirmed coronavirus cases in the U.S. has topped 1,000, forcing nursing homes to confront the "greatest threat" they've faced in years.
And Joe Biden had another big night — consolidating his lead over Bernie Sanders by winning the biggest prize of the night: Michigan.
Here's what we're watching this Wednesday morning.
---
Coronavirus cases in the U.S. grow as states struggle to contain spread
You can greet people with a wave, a nod or a bow — just don't make it a handshake.
That's the advice the World Health Organization (WHO) issued Wednesday as it reiterated that respiratory viruses like the new coronavirus can be passed by shaking hands and touching one's eyes, nose and mouth.
The official announcement comes as the number of confirmed COVID-19 cases continues to rise across the U.S. and Europe, but the spread is beginning to show signs of slowing in China.
Despite locking down the entire country, Italy is scrambling to stop the spread of infections as the number of confirmed cases there has risen to over 10,000.
Get the latest updates in our live blog.
See maps of where the virus has spread in the U.S. and globally.
Some other major developments:
The British health minister has tested positive for the coronavirus.
German Chancellor Angela Merkel said on Wednesday that up to 70 percent of the population in her country are likely to be infected with the virus.
New York Governor Andrew Cuomo set up a "containment area" and deployed National Guard troops to New Rochelle, a suburb of New York City where health officials have reported at least 108 cases of COVID-19 in the area.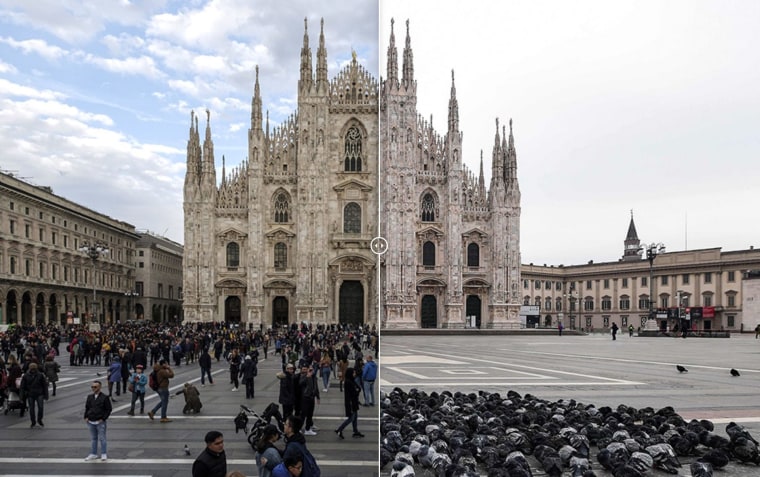 Check out before and after images showing the impact of the coronavirus outbreak on typically bustling areas around the world.
---
Trump proposes payroll tax cut, other measures to offset coronavirus economic damage
President Donald Trump met with lawmakers Tuesday to discuss an economic stimulus package to mitigate the impact of the coronavirus outbreak.
Trump told lawmakers he wants a payroll tax cut that would last at least through the end of the year — and the entirety of his re-election campaign.
But economists remain skeptical. Some experts say a payroll tax cut would be better than a rate cut — but that it still won't stop the economic fallout.
"It's not a panacea, but it is likely to be more effective than monetary policy," said one financial expert
---
'I don't know when I'll see you again': Coronavirus lockdown keeps wife from her husband of 58 years
For nearly six decades, Bonnie Polin was rarely apart from her husband.
But with nursing homes working to stop the spread of the coronavirus, she's stuck on the outside.
When she saw a sign during a visit last week to her husband's nursing home in Portland, Oregon, saying they were banning visitors because of coronavirus, she darted past it to share one last moment with him.
"Sweetie, I'm not going to be able to come see you for a while," she recalled telling him.
She kissed her husband and told him goodbye; he didn't reply.
For Polin and thousands of others with relatives in nursing homes, the coronavirus outbreak has ushered in a painful new normal of indefinite separation from their loved ones.
And for the facilities themselves, protecting their vulnerable communities from the spread of coronavirus is a huge challenge.
"This is the greatest threat to nursing home residents that we have seen in many years, if not ever," Dr. Michael Wasserman, president of the California Association of Long Term Care Medicine, told NBC News.
---
Biden extends delegate lead with big win in Michigan, three other states
Joe Biden now has a 145-delegate lead over Bernie Sanders after winning four of the six states that voted Tuesday, according to NBC News.
Nationally, Biden has 836 delegates to Sanders' 686, as of early Wednesday morning.
Biden's biggest win of the night was Michigan, with 125 delegates at stake.
The former vice president's victory there was a massive blow to the senator from Vermont, who had won the state at a crucial moment in his 2016 battle against Hillary Clinton and had staked his 2020 comeback on it.
Here are some of the key takeaways from the pivotal night — and they aren't good news for Sanders.
---
Want to receive the Morning Rundown in your inbox? Sign up here.
---
Plus
---
THINK about it
Those masks you're stockpiling won't protect you. Here's what might from Leora Horwitz, associate professor of population health and medicine at NYU Langone Health.
---
Live BETTER
Dos and don'ts to avoid panic about your 401(k).
---
Quote of the day
"It's been pretty rubbish but I hope I'm over the worst of it now."
— Nadine Dorries, Britain's health minister on testing positive for coronavirus
---
One fun thing
Researchers have uncovered a new type of pulsating star that's taken on a teardrop shape as it becomes affected by a nearby star's gravitational pull, according to Pennsylvania State University.
"Since the 1980s, we've believed that systems like this could exist, but it is only now that we have finally found one," said Don Kurtz, a professor at the University of Central Lancashire in the United Kingdom and a co-author of the findings.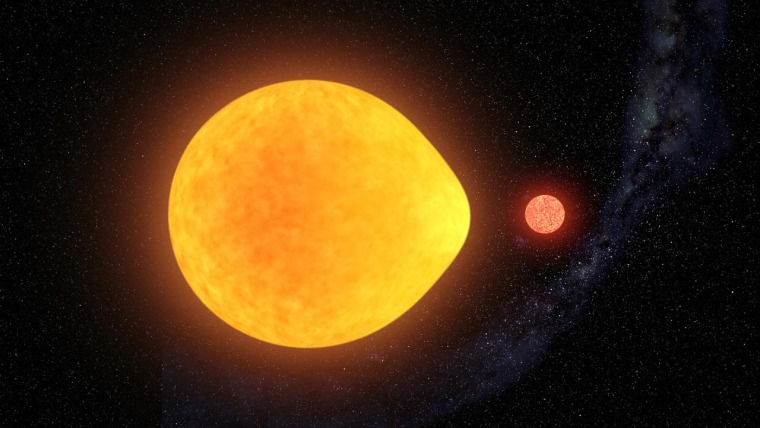 ---
Thanks for reading the Morning Rundown.
If you have any comments — likes, dislikes — drop me an email at: petra@nbcuni.com
If you'd like to receive this newsletter in your inbox Monday to Friday, please sign up here.
Thanks, Petra