Good morning, NBC News readers.
As the coronavirus death toll in the United States spikes, there is more grim news from New York and the search for efficient testing and effective treatment continues.
Here's what we're watching this Thursday morning.
---
As coronavirus pandemic in U.S. grows worse, Trump points finger at WHO
The coronavirus death toll in the U.S. continues to rise, now standing at nearly 15,000, according to an NBC News tally.
New York is still bearing the brunt of the pandemic, with779 coronavirus-related deaths in the state in 24 hours, Gov. Andrew Cuomo reported Wednesday. That was the pandemic's deadliest day yet, up from 731 fatalities the day before.
Although, on a hopeful note, Cuomo said "we're flattening the curve because we're rigorous about social distancing."
As the pandemic continues to spread across the country, President Donald Trump has taken aim at the World Health Organization.
The White House's Office of Management and Budget is working on a possible plan to cut U.S. funding to the WHO, the agency that oversees international public health, administration officials said Wednesday.
Trump's focus on the WHO comes as he continues to face questions about his early statements playing down the virus and how unprepared his administration has been.
The president has accused the WHO of being "China-centric" and slow to sound alarms about the coronavirus.
The director-general of the WHO, Tedros Adhanom Ghebreyesus, responded Wednesday by essentially accusing Trump of politicizing the virus.
"The focus of all political parties should be to save their people. Please don't politicize this virus," Ghebreyesus said. "If you don't want many more body bags, then you refrain from politicizing it."
Here are some other developments:
---
'Cardiac calls' to 911 in New York City surge, and they may really be more COVID cases
Since the beginning of the coronavirus outbreak, residents of hard-hit New York City have been talking about ambulance sirens and how the wailing never seems to stop.
They're not imagining things — but the reality is even grimmer than some may have guessed.
A huge number of those ambulances are responding to fatal or near-fatal heart attacks suffered by New Yorkers whose true health issue may be COVID-19, the disease associated with the coronavirus.
Emergency Medical Services, the part of the fire department that runs the city's paramedic response, is responding to three or four times its average daily number of cardiac calls, with each call almost twice as likely to involve a death.
NBC News was provided with raw numbers by FDNY data analysts who have been comparing the number of cardiac arrest calls this year to those last year. The difference is stark.
From March 20 to April 5, 2019, cardiac calls averaged 69 a day in New York City, with an average of 27 deaths — 39 percent of the calls.
For the same period this year, cardiac calls averaged 195 a day, with an average of 129 deaths, meaning 66 percent of those calls involved a death.
For the NYC first responders, the surge in cardiac calls is simply "devastating."
"Every cardiac arrest I go to, I leave very emotional. I cry, because it's real. It's serious," said Elizabeth Bonilla, a paramedic working in New York City. "People are outside walking around, and they don't see the inside of what we see."
---
Hopes for at-home finger-prick coronavirus test dashed after accuracy is questioned
It was promoted as a potential coronavirus game changer, a breakthrough that would allow millions of people to resume their daily lives within a matter of days.
Governments and companies around the world put great faith in the idea of an "antibodies test" — a home-administered finger-prick kit designed to detect whether someone has had the coronavirus in the past and, crucially, has built up immunity.
But the initial optimism was dented this week after leading British scientists revealed that none of the tests they had tried so far were accurate enough to be of any use.
"Sadly, the tests we have looked at to date have not performed well," said Sir John Bell, the Oxford University professor heading up the tests for the British government.
Meantime, the U.S. government's guidance on emergency usage of the antimalarial drug hydroxychloroquine for COVID-19 patients may have actually set the medication up for failure.
That's because the guidance limits the drug's usage to those sick enough to be hospitalized. Many doctors suspect, however, that if the drug does turn out to be beneficial, it may work better early on in the course of the illness.
At least anecdotally, a handful of critical care physicians across the country have told NBC News they've seen no evidence the drug is helping their sickest patients in intensive care.
"I'm not convinced it works," said Dr. Ken Lyn-Kew, a pulmonologist in the critical care department at National Jewish Health, a hospital in Denver."I've not seen anybody have anything near what I would call a miraculous recovery because of hydroxychloroquine."
In one glimmer hope, China has begun releasing data on asymptomatic coronavirus patients, a move experts say could help provide crucial insight into how the virus is spread.
---
Sanders bucked the establishment, again. Here's why it backfired.
Bernie Sanders chose to run his 2020 campaign similarly to his 2016 campaign, leaning into his base and failing to reach out to the Democratic establishment.
With little patience for stroking the egos of politicians, he underestimated traditional endorsements like that from Rep. Jim Clyburn of South Carolina, which eventually turned the tide toward Joe Biden and led Sanders to end his bid for president on Wednesday.
---
Want to receive the Morning Rundown in your inbox? Sign up here.
---
PLUS
---
THINK about it
Bernie Sanders dropped out because his "progressive majority" doesn't exist, author David Mark writes in an opinion piece.
---
Is it safe to run outside?
"Running keeps me sane," is a familiar mantra among runners. But in the era of social distancing, is it still safe to do it?
Experts say you can and should still exercise outdoors to relieve stress. Here's how to do it safely.
---
Quote of the day
"On behalf of American truckers, slow down, people. Just get enough for a few days for your family."
— Long-haul trucker Dee Sova imploring Americans to stop hoarding goods.
---
How to help medical professionals on the front lines
While the average person cannot provide the things hospitals in the thick of the coronavirus pandemic most desperately need, such as intensive care unit beds and ventilators, physicians on the front lines insist that there are still steps we can take to be of service.
Here are nine ways you can help doctors, nurses and hospital workers right now.
Number 1: Stay home.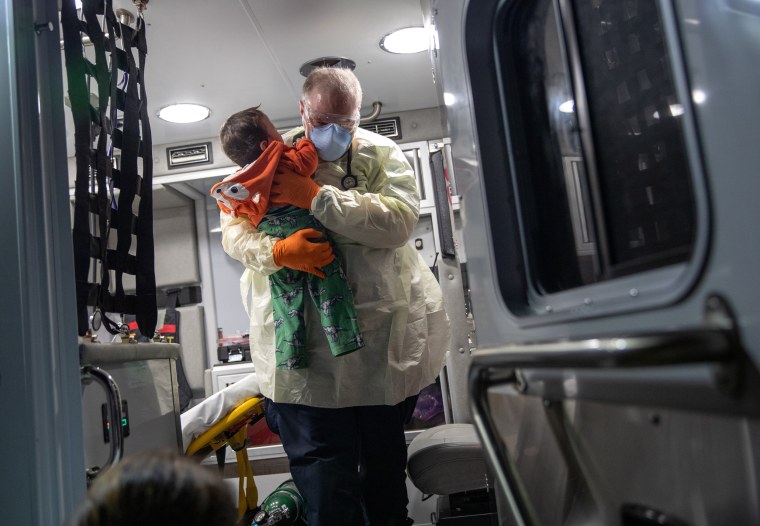 ---
Thanks for reading the Morning Rundown.
I appreciate hearing from you during this tough time. Please send me any comments or questions you have on the newsletter to: petra@nbcuni.com
If you would like to receive this newsletter in your inbox Monday to Friday, please sign-up here.
Be safe and stay healthy, Petra