Good morning, NBC News readers.
The number of coronavirus deaths in the United States surpassed 3,000 as of Tuesday morning. In New York City, the epicenter of the outbreak, doctors and nurses are struggling to keep up with the onslaught of patients overwhelming hospitals.
Here's what we're watching this Tuesday morning.
---
'So many patients dying': Doctors say New York City public hospitals are reeling from coronavirus crisis
A doctor at a major public hospital in New York City described having worn a single N95 mask, a critical tool in protection from the coronavirus, for an entire week. Normally, the Brooklyn doctor would change it after every visit with a patient.
Colleague after colleague, including nurses and residents, have been falling sick with the virus. Patients were coming in for unrelated health issues and suddenly testing positive for coronavirus after coming to the hospital.
"The situation is quite horrible and they're saying we haven't hit the peak yet and we're doing all sorts of crazy things to keep up," the doctor, who spoke on the condition of anonymity, said. "We're having so many patients dying."
The doctor said the pandemic was ravaging a public hospital that was "already underresourced and underfunded,"showing a critical weakness in the health care system as coronavirus cases continue to overwhelm medical facilities that often serve vulnerable populations.
New York City is scrambling to keep up with the health crisis, converting a host of public spaces into temporary hospitals. From turning the city's Javits Convention Center into a 1,000-bed facility, to building an emergency field hospital in Central Park and building another 350-bed facility at the Billie Jean National Tennis Center, which usually hosts the U.S. Open.
Still the city's doctors and nurses are pleading for more help as coronavirus infections soar and overwhelm the medical system.
"We see a tidal wave coming at us and we're scrambling to try to prepare for it as much as possible," Anthony Ciampa, an NYC registered nurse, told NBC News.
Now prisoners in the city's jails are sounding the alarm as coronavirus spreads there, too. "I fear for my life," said one prisoner.
But New York City's jails are only the tip of the iceberg. American jails are "ticking time bombs" for COVID-19, one retired sheriff said.
And we did a fact check on President Donald Trump's suggestion that medical supplies are "going out the back door" of New York hospitals. Spoiler alert: There is zero evidence to back up that claim.
Here are some other developments:
Spain saw a massive surge of 9,222 new confirmed cases and 849 deaths in a single day.
Spain and Italy held a moment of silence to honor their dead today. The two countries account for more than half of the deaths globally.
Get all the latest coronavirus updates in our live blog.
Watch "NBC News Special Report: Coronavirus Pandemic" tonight at 10 p.m. ET with Savannah Guthrie and Hoda Kotb. A team of the network's correspondents from around the world will report on the latest developments surrounding the epidemic and answer your questions.
---
Coronavirus deniers take aim at hospitals as pandemic grows
You can hear doctors and nurses in New York speak for themselves in the video above. But their stories all over the media landscape have not stopped coronavirus deniers from taking aim at hospitals as the pandemic grows.
Two videos making the rounds illustrate the stark disparity in how the coronavirus outbreak is being portrayed on different parts of the internet, with many people on the far right going so far as to allege that overworked health care professionals are not telling the real story.
---
The number of long-term care facilities with COVID-19 cases tops 400 nationwide
There are now more than 400 long-term care facilities nationwide, including nursing homes, with residents who are infected with the coronavirus, according to the CDC.
And the number of cases in each keeps rising.
---
Analysis: Trump fluffs MyPillow in Rose Garden coronavirus talk
As the U.S. death toll from coronavirus continues to climb, President Trump hosted what appeared to be a White House infomercial Monday, NBC News' Jonathan Allen writes in a news analysis.
Trump invited a lineup of CEOs to applaud him and advertise their companies from a podium bearing the presidential seal in the Rose Garden.
It wasn't until they were done congratulating one another that the victims of COVID-19, and the people fighting it on the front lines, became a focus of Monday's daily White House briefing.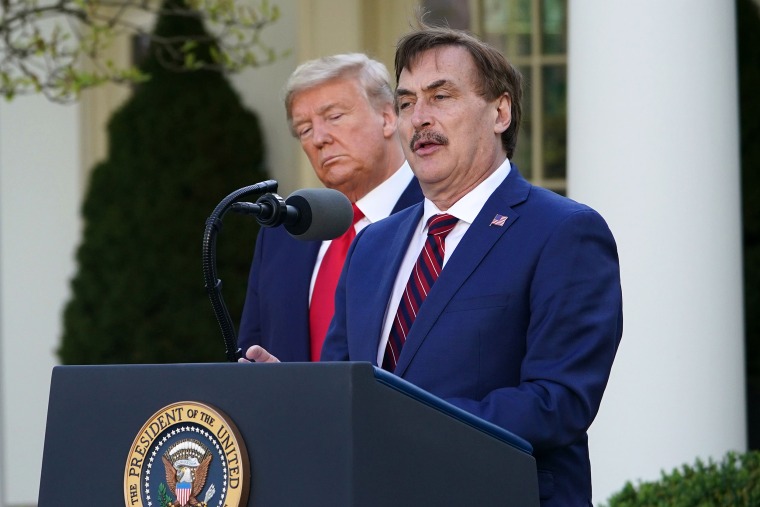 ---
Can you catch the coronavirus twice? What do we know about immunity?
Those who recover from the coronavirus are probably not going to catch it again, at least in the short term, experts say.
But it's unclear how long that immunity will last.
"It is reasonable to predict we will have some immunity. To say you will have lifelong immunity? We just don't know yet," said one microbiology professor.
---
Want to receive the Morning Rundown in your inbox? Sign up here.
---
Plus
---
THINK about it
Coronavirus and Trump's failures have #PresidentCuomo trending. But that's a fantasy, Susan Del Percio, former special adviser to Gov. Andrew Cuomo, writes in an opinion piece.
---
Shopping
Stuck at home and thinking of buying an indoor bike? Here are some of the best options, according to experts.
---
Quote of the day
"Anyone who says this situation is a New York City-only situation is in a state of denial."
— New York Gov. Andrew Cuomo on the coronavirus pandemic at a news conference Monday.
---
One fun thing
Amid a deluge of updates regarding how the global pandemic is disrupting daily life, actor John Krasinski's asked his Twitter followers to share some positive stories that "made you feel good this week or just made you smile."
"Boy, did you deliver," Krasinski said as he launched his new YouTube show called "Some Good News" that features uplifting true stories during the coronavirus pandemic.
---
Thanks for reading the Morning Rundown.
Please send me any comments or questions you have on the coronavirus so we address them in future stories: petra@nbcuni.com
If you'd like to receive this newsletter in your inbox Monday to Friday, please sign-up here.
Be safe and stay healthy, Petra Cahill