Good morning, NBC News readers.
The United States suffered its deadliest day of the coronavirus pandemic yet on Tuesday, just as the Chinese city where the illness was first reported finally lifted its lockdown. And a musical legend has been lost to the virus.
Here's what we're watching this Wednesday morning.
---
U.S. reports highest daily coronavirus death toll
The U.S. passed another grim milestone in its fight against the coronavirus COVID-19 pandemic Tuesday with its highest daily death toll, bringing the total number of deaths in the country to nearly 13,000, according to NBC News' tally.
New York City continues to bear the brunt of the outbreak with over 4,000 coronavirus-related deaths — more than the number of people killed in the Sept. 11th attacks.
The news comes as Wuhan, the Chinese city where the pandemic began, finally allowed its 11 million residents to leave their homes without special permission for the first time in nearly 11 weeks.
Here are some of the other major developments:
---
Country, folk legend John Prine dies fighting coronavirus
John Prine, the onetime mailman who told the plain stories of everyday people in folk albums that won him two Grammy awards and helped fuel the American roots music revival, died Tuesday at 73 from complications of the disease caused by the coronavirus.
Prine was particularly admired by his fellow singer-songwriters.
Bob Dylan called him one of his favorite songwriters, and Johnny Cash said he listened to Prine's music for his own musical inspiration.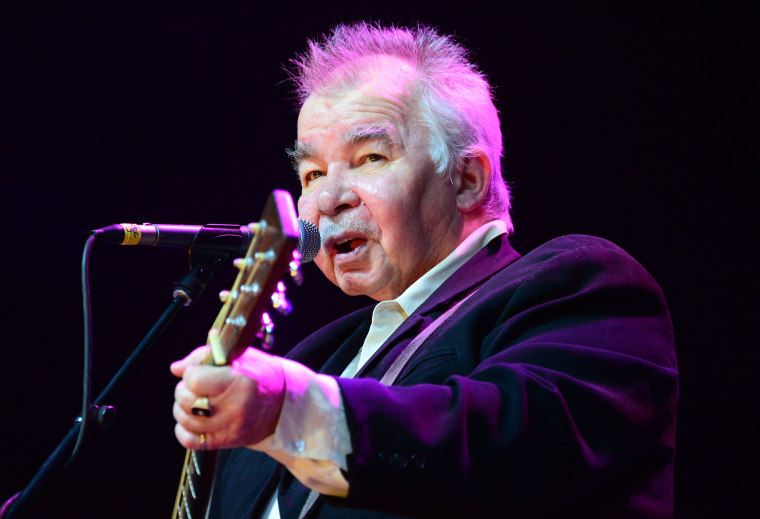 ---
Sadness, recovery at New Jersey hospital on the front lines of coronavirus fight
Arlene Van Dyk, a longtime intensive care unit nurse at the Holy Name Medical Center in Teaneck, New Jersey, has had an up-close view of the daily tragedies unfolding across the region.
Bergen County, where the hospital is located, has experienced 263 deaths and more than 7,500 confirmed cases of COVID-19, according to the New Jersey Department of Health.
Van Dyke, a single mother of two, is on the front lines of the fight.
"For us in the ICU, we see the sickest of the sick," Van Dyk said. But after weeks of exhausting work, she added, "we're starting to see positives, which we need right now."
---
African Americans may be dying from COVID-19 at a higher rate. But better data is essential, experts say.
In Chicago, a recent report found that 70 percent of people who died from COVID-19, the disease caused by the coronavirus, are black — even though the city's population is just 30 percent black.
In Milwaukee County, which is 27 percent black, the figure is 81 percent.
And public health officials tracking the coronavirus have seen similar disproportionate impacts on African Americans in Philadelphia, Detroit and other cities.
But just how widespread the disparities might be across the country is difficult to know, because most states and the federal government haven't released demographic data on the race or ethnicity of people who've tested positive for the virus.
"Our ability to fully understand and confront this pandemic requires and demands that we obtain racial data now," said one advocate.
---
Tested positive for coronavirus? Health workers may share your address with police
In a growing number of cities and states, local governments are collecting the addresses of people who test positive for the coronavirus and sharing the lists with police and first responders.
Law enforcement officials say this information sharing will help keep officers and EMTs safe as they respond to calls at the homes of people who have been infected.
But some public health experts and privacy advocates have raised concerns about police departments maintaining a list of addresses of confirmed coronavirus cases.
"With any infectious disease, there's going to be stigma and discrimination about who has it," said Robert Greenwald, a professor and the director of the Center for Health Law and Policy Innovation at Harvard Law School.
---
Want to receive the Morning Rundown in your inbox? Sign up here.
---
Plus
A leading Mayo Clinic cardiologist says it's "inexcusable" to ignore hydroxychloroquine side effects.
Coronavirus lockdowns have sent pollution plummeting. Now environmentalists worry about what comes next.
What are essential businesses? Buckling to pressure, many states say gun shops are.
---
THINK about it
Coronavirus shows us why the time to decide on end-of-life care is when you're not sick, three doctors write in an opinion piece.
---
Live BETTER
Prolong the shelf life of fridge and pantry items with these simple tips.
---
One fun thing: 'Zoomover'
With no end to the coronavirus quarantine in sight and domestic and international travel grinding to a near standstill, religious holiday gatherings like Passover and Easter will, for the most part, largely take place online via video conferencing platforms like Zoom, FaceTime and Google Hangouts.
Passover, which starts Wednesday and ends next Thursday, April 16, is the first major religious holiday to take place since the coronavirus outbreak hit.
One pair said they are expecting more than 50 people to join them in a video conference they're calling "Zoomover."
Jessica Cohn, 36, of Los Angeles was initially apprehensive of the whole idea, but now she is hosting a virtual Passover for about 18 friends.
"I hope that this will be grounded in tradition and comforting in that way, but also joyful and fun and funny, which is something we all really need right now," she said.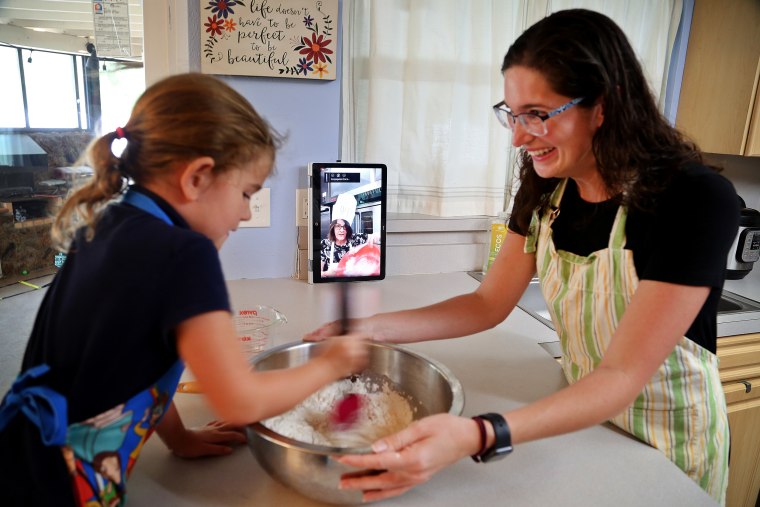 ---
Thanks for reading the Morning Rundown.
Hope you are doing OK wherever you are.
Please send me any comments or questions about the Rundown: petra@nbcuni.com
If you'd like to receive this newsletter in your inbox Monday to Friday, please sign-up here.
Be safe and stay healthy, Petra