Good morning, NBC News readers.
And now we have the text messages...
We've got the latest developments in the ongoing impeachment inquiry, as well as an exercise of emergency powers in Hong Kong.
---
Trump envoys pushed Ukraine to investigate as condition for White House visit, texts show
U.S. officials tried to persuade Ukraine to publicly commit to investigating President Donald Trump's political opponents and explicitly linked the request to whether the country's president would be granted an official White House visit, text messages given to Congress show.
The messages were released late Thursday by House Democrats conducting the impeachment inquiry.
"Heard from White House — assuming President Z convinces trump he will investigate / 'get to the bottom of what happened' in 2016, we will nail down date for a visit to Washington," former U.S. special representative for Ukraine negotiations Kurt Volker wrote President Zelenskiy's top aide on July 25, just before Trump spoke by phone.
That phone call led a U.S. intelligence official to file a whistleblower complaint that set off the cascade of fast-moving events, ultimately leading to the impeachment inquiry into the president.
Read the text messages released by Congress here.
---
Trump publicly urges China to start an investigation into the Bidens
The president, already facing an impeachment inquiry for pushing Ukraine to investigate his political rivals, publicly asked China to do the same thing from the White House South Lawn Thursday.
"China should start an investigation into the Bidens because what happened in China is just about as bad as what happened with Ukraine," Trump told reporters.
The public call mirrors the private behavior on which Democrats are partially basing their impeachment inquiry — using the office of the presidency to press a foreign leader to investigate a political rival.
By making his public request, Trump was thumbing his nose at those who say asking a foreign power to intervene in investigations that would benefit him politically is an abuse of power.
Instead the president is betting that he can "normalize" his behavior to voters, NBC News Jonathan Allen writes in an analysis.
---
How did we get here? The conspiracy theory at the heart of the impeachment inquiry
An anonymous post from March 2017 on the far-right 4chan message board teased a conspiracy theory that would eventually make its way to the White House.
"Russia could not have been the source of leaked Democrat emails released by Wikileaks," the post teased, not citing any evidence for the assertion.
And that was how it started.
We take a deep dive into the conspiracy theory at the heart of the impeachment inquiry.
---
Hong Kong invokes emergency measures
Hong Kong will ban face masks at public demonstrations as part of emergency powers announced Friday, as sometimes violent pro-democracy protests continue in the semiautonomous territory.
Carrie Lam, the city's Beijing-backed leader, told a press conference that the ban on face masks, which are worn by many protesters to hide their identities, would come into effect at midnight local time.
Before the new rule was confirmed, protests against it began across the Asian financial hub, with hundreds of office workers wearing masks gathering to march.
---
Want to receive the Morning Rundown in your inbox? Sign up here.
---
Plus
---
THINK about it
When we consume other people's trauma as true crime entertainment, it doesn't just titillate, shock or educate us, it affects the people who are still dealing with the psychological fallout of their own worst day.
Writing for NBC News THINK, Amanda Knox, who was convicted and later exonerated of killing her roommate in Italy in 2007, said this has happened to her more times than she can count.
---
Science + Tech = MACH
The mysterious force pushing galaxies apart and causing the universe to expand at an accelerating rate is known as "dark energy." What is the ominously titled phenomenon all about?
---
Quote of the day
"As I said on the phone, I think it's crazy to withhold security assistance for help with a political campaign."
— William Taylor, the top U.S. diplomat in Ukraine after Trump pulled Ambassador Marie Yovanovitch out of her post, in a text message to U.S. Ambassador to the European Union Gordon Sondland.
---
One fun thing: The Week in Pictures
It's not all bad out there! See some of the most compelling photos from the last week that capture not only the latest news, but some of the joys of life.
Here Juan Jose Soto kisses his son Juan Soto of the Washington Nationals following a National League wild-card baseball game in Washington on Oct. 1.
The Nationals defeated the Milwaukee Brewers 4-3.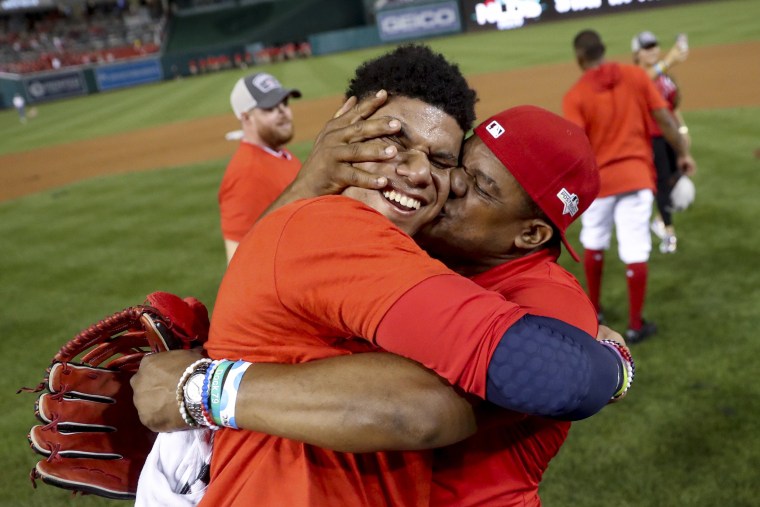 ---
Thanks for reading the Morning Rundown. Have a good weekend.
If you have any comments — likes, dislikes — drop me an email at: petra@nbcuni.com
If you'd like to receive this newsletter in your inbox Monday to Friday, please sign up here.
Thanks, Petra