Good morning, NBC News readers.
The televised impeachment hearings pick up again this morning, two American University professors have finally been freed by the Taliban, and a senior State Department official resigned after NBC News asked about more false claims on her resume.
Here's what we're watching today.
---
House staffers on a trip to Ukraine learned U.S. aid was frozen. Stunned, here's what they did next.
Two days after a whistleblower secretly filed a complaint about President Donald Trump's dealings with Ukraine in August, two top congressional staffers arrived in Kyiv on a routine business trip.
The staffers, who work for the committee responsible for federal spending, were shocked to learn from U.S. embassy officials that there was no new money coming into Ukraine.
That revelation set off a scramble in Washington to find out what happened to the hundreds of millions of taxpayer dollars that had been specifically earmarked by Congress for Ukraine and that now play a pivotal role in a mushrooming scandal that threatens to lead to the president's impeachment.
Meantime, the first public presidential impeachment hearings in over 20 years continue today with lawmakers' busiest day yet.
They are set to hear testimony from four witnesses — three of whom were listening in on the July 25th phone call between Trump and Ukrainian President Volodymyr Zelenskiy.
National Security Council staffer Lt. Col. Alex Vindman and Jennifer Williams, an aide to Vice President Mike Pence, will begin testifying at 9 a.m. ET. Former special envoy to Ukraine Kurt Volker and former NSC staffer Tim Morrison are scheduled to take begin testifying at approximately 2:30 p.m. ET.
Read more about who they are and the format for today's hearing here.
You can watch the hearings live on NBC, MSNBC and NBCNews.com.
And follow our live blog for the latest news and analysis on the hearings.
---
Russian web trolls boo Biden, often boost Gabbard, report finds
Among Democrats running for president, Tulsi Gabbard is most popular Russian propagandists, while Joe Biden draws the most criticism, according to a new analysis.
Mentions of the Hawaii congresswoman by English-language Russian propaganda outlets were 46 percent favorable, a research team from the Foreign Policy Research Institute found after analyzing more than 1,700 news stories put out by Sputnik and RT.
References to the former vice president, by contrast, were just 3 percent favorable and 53 percent unfavorable.
"When I watched Russian state-sponsored content and social media trolling headed into election 2016, it was overwhelmingly negative toward Hillary Clinton. The same could be said today of former Vice President Biden," said Clint Watts, a former FBI agent and NBC News contributor who led the effort.
---
Hundreds arrested, but 100 remain holed up at Hong Kong university
Hong Kong police continued to lay siege to one of the city's universities Tuesday as the former British colony's embattled leader urged around 100 protesters holed up inside to leave the campus "as soon as possible."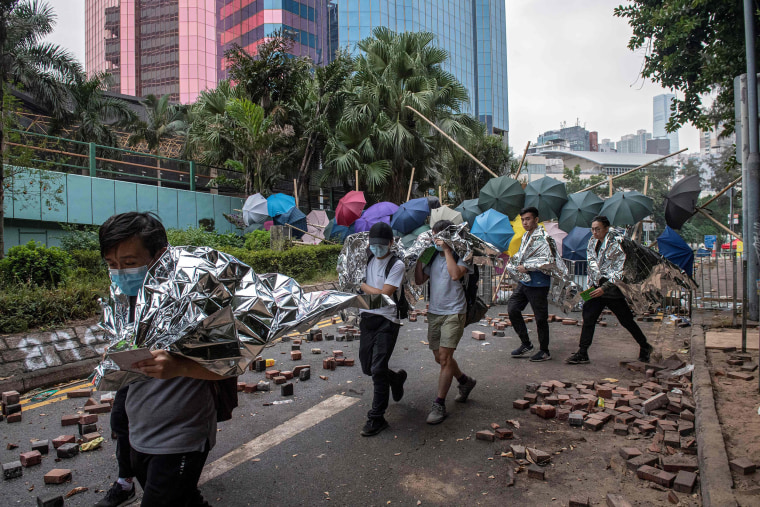 ---
Israeli settlements don't violate international law, U.S. says in major reversal
The United States on Monday reversed its decades-long position that Israeli settlements in the West Bank are illegal, marking a new blow to Palestinian aspirations for statehood under the Trump administration.
Secretary of State Mike Pompeo said in a press conference that declaring the settlements were in violation of international law had not worked in bringing about Israeli-Palestinian peace.
He called the shift in position a recognition of "the reality on the ground."
The United Nations and most of the international community considers Israeli settlements in the West Bank to be illegal.
---
'We don't have any choice': Thousands of kids perform backbreaking labor for America's products
In Madagascar, there's an underground army of child laborers digging up mica, a mineral used in millions of products around the world — from cars and planes to electronics.
A nearly year-long investigation by NBC News found that an estimated 10,000 children are toiling away in mica mines on the island nation off the southeast coast of Africa.
"My mother doesn't make enough money," said Manjoraza, a 10-year-old boy who doesn't go to school. Instead, he works for much of the day — and sometimes through the night — crawling through pitch-black tunnels inside the makeshift mine, his fingers picking through the earth, collecting and sorting shards of mica.
"I have to help her make money," he said.
---
Want to receive the Morning Rundown in your inbox? Sign up here.
---
Plus
---
THINK about it
Trump doesn't hate the tell-all "A Warning," penned by an anonymous author, because he knows how he can spin it, lawyer and radio host Dean Obeidallah writes in an opinion piece.
---
Live BETTER
Here are the 19 best fitness gifts for people who (want to) work out.
---
One fun thing
Happy 100th birthday to Zion National Park!
Utah's first national park known for its majestic pink and red sandstone cliffs is celebrating its centennial this year. A new film about the park will make its debut at Dixie State University tonight.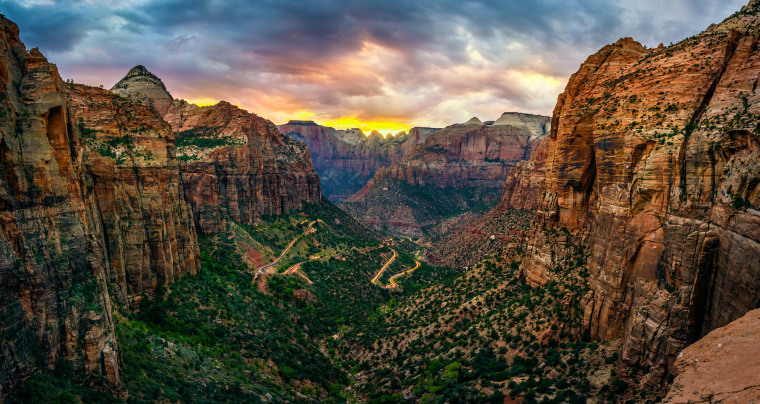 ---
Thanks for reading the Morning Rundown.
If you have any comments — likes, dislikes — drop me an email at: petra@nbcuni.com
If you'd like to receive this newsletter in your inbox Monday to Friday, please sign up here.
Thanks, Petra