Good morning, NBC News readers.
President Donald Trump's impeachment trial moves to the next phase as the fight over witnesses heats up, a plane full of Americans flees virus-hit China, and investigators identify a safety system that may have helped prevent Kobe Bryant's helicopter crash.
Here's what we're watching this Wednesday morning.
---
McConnell acknowledges GOP currently doesn't have votes to block witnesses
After President Donald Trump's lawyers wrapped up defense arguments Tuesday, Republican leaders admitted that they don't have the votes to block witnesses in the Senate impeachment trial.
Senate Majority Leader Mitch McConnell, R-Ky., acknowledged to Republican senators during a private meeting Tuesday that he did not currently have the votes to avoid calling witnesses in the trial, a GOP aide familiar with his comments told NBC News.
That doesn't mean they are going to stop trying. Senate Republican leaders were still "whipping the vote" and pressuring party members to vote against calling witnesses.
With a 53-47 GOP majority in the Senate, Democrats need four Republicans to join them in a vote for witness testimony.
What's next? The trial now enters a Q & A phase. Senators will have 16 hours to grill lawyers from the White House and the House managers before a vote on whether to subpoena witnesses or documents. Here's more on what to expect.
Analysis: Trump's lawyers appealed for a quick acquittal, but their arguments may have inadvertently made the case for extending his impeachment trial, writes NBC News' Jonathan Allen.
Back at it: The proceedings will resume at 1 p.m. ET. Watch live on NBC, MSNBC and follow our live blog for the latest updates and analysis.
---
Americans evacuated from virus-hit China as death toll soars
A chartered plane said to be carrying 201 American consulate personnel and citizens from an area of China at the center of the coronavirus outbreak landed at an airport in Anchorage, Alaska, Tuesday night.
The American evacuation comes as China struggles to contain the outbreak. Chinese health authorities said that as of late Tuesday local time there were 5,974 confirmed cases in the country and 132 people have died.
So far 56 cases have been confirmed in 14 other countries, according to a World Health Organization.
British Airways joined a growing list of major airlines to announce they were canceling flights to and from mainland China as part of efforts to contain the outbreak.
Meantime, U.S. health officials assured the public that they remain alert as the coronavirus spreads globally, but that the risk of it spreading in the country is low.
"This is a very fast moving, constantly changing situation," said Health and Human Services Secretary Alex Azar on Tuesday. "But at this point, Americans should not worry for their own safety."
---
FAA overruled safety system that 'could have helped' Kobe Bryant helicopter crash
The helicopter that crashed with Kobe Bryant, his daughter Gianna and seven other people aboard wasn't equipped with a safety system that the Federal Aviation Administration refused to make mandatory over the objections of the National Transportation Safety Board, a board member said Tuesday.
Jennifer Homendy, a member of NTSB, told reporters Tuesday that the helicopter didn't have a terrain awareness and warning system, or TAWS, which warns pilots when aircraft get too close to terrain.
"Certainly, TAWS could have helped," Homendy said, but she said she couldn't conclude that its use could have prevented the crash.
Meantime, the loss of Bryant is hitting his longtime friends and NBA teammates hard. Shaquille O'Neal broke down in tears during a television special honoring late Lakers legend Kobe Bryant on Tuesday night.
---
Trump unveils Mideast peace plan that would expand Israeli territory
The White House released its long-promised Middle East peace plan Tuesday that, if implemented, would create a conditional path to statehood for Palestinians while recognizing Israeli sovereignty over a significant portion of the West Bank.
Trump has called the proposal, whose development was spearheaded by son-in-law and White House senior adviser Jared Kushner, "the deal of the century," touting the prospect of brokering an agreement between the Israelis and the Palestinian as one of his top priorities since the first day of his administration — even as most observers have said the plan is effectively dead on arrival.
Palestinians, who publicly criticized the plan, have not been involved in the process, refusing to meet with Trump administration officials since the president's December 2017 announcement that the U.S. would recognize Jerusalem as Israel's capital.
Analysis: Israeli Prime Minister Benjamin Netanyahu has good reason to be grateful for the "deal of the century." Analysts say it essentially amounts to a two-way pact between Netanyahu and Trump while the two leaders face political turmoil at home and challenging re-election bids.
---
Want to receive the Morning Rundown in your inbox? Sign up here.
---
Plus
---
THINK about it
"The Biggest Loser" has no winners — except people who love to fat shame others, Kate Bernyk writes in an opinion piece.
---
Shopping
Valentine's Day is coming up — we've got thoughtful gift ideas for all your loved ones.
---
If you have 10 minutes
The curious cast of characters involved in the Ukraine scandal seems never-ending.
NBC News' investigations team did a deep dive on one name you might have missed: Anthony de Caluwe.
The Dutch man who claimed to have Marie Yovanovitch under surveillance when she was the U.S. ambassador to Ukraine has been masquerading as a U.S. federal law enforcement officer and told people he was starting a tech company that could track movements electronically, according to interviews and documents obtained by NBC News.
How de Caluwe, 54, a citizen of the Netherlands and an ardent, vocal supporter of President Donald Trump, ended up sending encrypted messages about Yovanovitch's supposed whereabouts has been mostly a mystery since his name first surfaced in news stories about the Trump administration and Ukraine this month.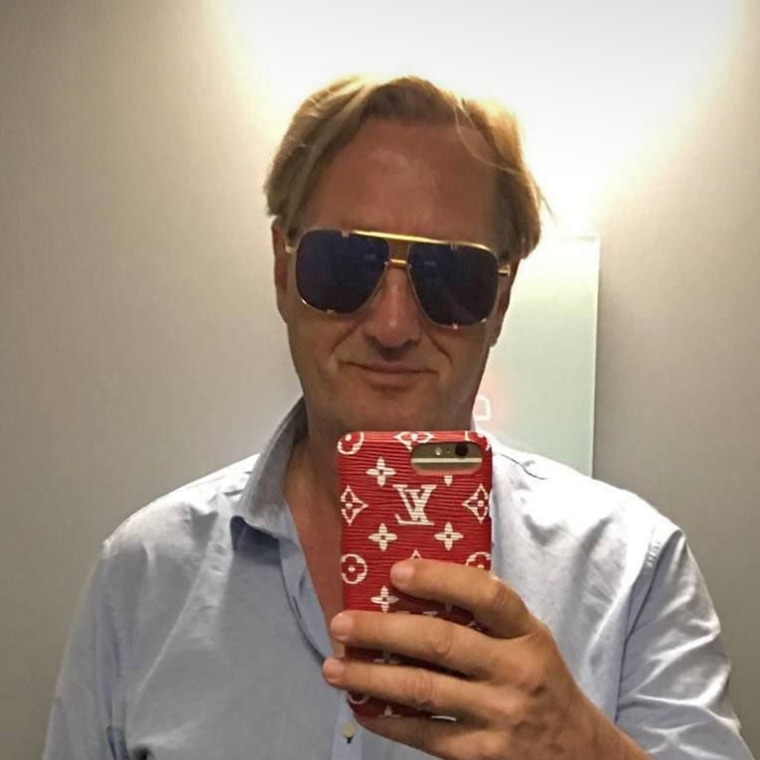 ---
Thanks for reading the Morning Rundown.
If you have any comments — likes, dislikes — drop me an email at: petra@nbcuni.com
If you'd like to receive this newsletter in your inbox Monday to Friday, please sign up here.
Thanks, Petra