Nearly every corner of the U.S. is experiencing extreme weather. Find out who qualified to participate in tomorrow's Republican presidential debate. And police give more details in the killing of a Southern California store owner. 
Here's what to know today.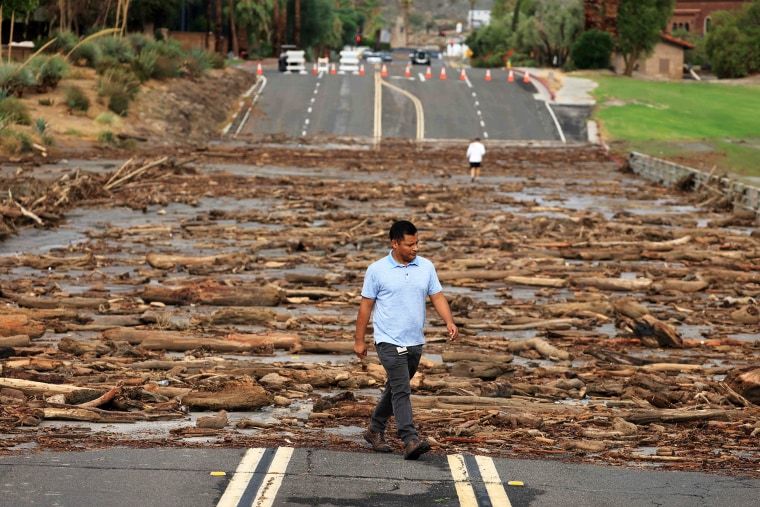 A wild summer of weather extremes shows no signs of slowing
Not much of the U.S. has been spared from this summer's deluge of storms, wildfires and heat. This week is no exception. 
After Tropical Storm Hilary passed through Southern California, cities began surveying the damage left in its wake. The storm is currently still moving inland. But today's predicted rainfall in Oregon will not be enough to cause major flooding, a National Weather Service meteorologist said.
It seems hurricane season is ramping up. Meteorologists are keeping an eye on three named storms in the Atlantic Ocean. And in South Texas, Tropical Storm Harold in the Gulf of Mexico is expected to hammer the region in the next two days.
This is Morning Rundown, a weekday newsletter to start your morning. Sign up here to get it in your inbox.
In Washington, smoke from Canada's wildfires resulted in deteriorating air quality. Seattle had the worst of any major city in the world on Sunday, but conditions improved yesterday. Multiple wildfires in the state are ongoing. 
But wait, there's more. Nearly 90 million people were under heat alerts yesterday, from the Midwest to the Southeast, with a heat dome baking the middle part of the country. In Texas and Louisiana, the heat, combined with windy conditions, escalated wildfire threats in some areas.
Does that sound like a lot? It is, said Golzalo Pita, an associate scientist and expert in disaster risk modeling at Johns Hopkins University. "We're looking at a multi-hazard situation, where we're being hit by a string of different events over a short period of time," he said.
As reporters Denise Chow and Evan Bush explain, it's an all-too-real look at the increasing risks and consequences of deadly weather events.
Read about Tropical Storm Hilary's impact:
8 candidates (not Trump) to participate in GOP debate
The Republican National Committee confirmed the eight candidates who will participate in tomorrow night's debate, with candidates like Florida Gov. Ron DeSantis, Sen. Tim Scott of South Carolina, businessman Vivek Ramaswamy and former U.N. Ambassador Nikki Haley soaring past the threshold to qualify. Here's who else made the cut — and who didn't.
Donald Trump's absence will loom over the event in Milwaukee. While he appears to have met qualifications, the former president and leading Republican candidate has said he won't participate in the debate. Instead, he'll appear in an interview with Tucker Carlson while debate host Fox News plans to limit the Trump campaign's access at the RNC debate.
Last night, Trump announced he will turn himself in on Thursday in Fulton County, Georgia, where he faces charges stemming from his efforts to overturn the 2020 election results. 
Killing over Pride flag investigated as possible hate crime
The death of Laura Ann Carleton — a business owner in Lake Arrowhead, California, who was fatally shot over a Pride flag displayed at her store — is being investigated as a hate crime, a San Bernardino County Sheriff's spokesperson told NBC News. Yesterday, authorities identified the man suspected of killing Carleton as 27-year-old Travis Ikeguchi and said he had a history of making social media posts critical of the LGBTQ community and law enforcement. During last Friday's deadly shooting, Ikeguchi "yelled many homophobic slurs" about the Pride flag at Carleton's Mag Pi clothing store before opening fire, authorities said. Ikeguchi was killed later that day in an encounter with deputies.
Carleton's death has prompted an outpouring of messages from celebrities and LGBTQ activists, while her daughter encouraged the narrative to stay on her mother. Ikeguchi, she said, "is irrelevant."
A community effort to locate Maui's missing
Maui resident Ellie Erickson's search for a 65-year-old friend after wildfires devastated the island two weeks ago was eye opening. She was able to locate her friend, but her experience made her realize the need for a centralized source of information where people could share information about survivors and victims. So Erickson, pictured above, started a Google spreadsheet and invited people to add to it. Now, the list of those missing exceeds 800 people. Maui officials say there are 850 people still accounted for.
Despite Erickson's success, others are clinging to hope until the entire disaster area has been searched. But researchers and forensics experts say it could take months and even years to identify some remains.
Today's Talker: The Ohio teen dubbed 'hell on wheels' was sentenced…
… to 15 years to life in prison. Mackenzie Shirilla was convicted last week on 12 counts, including murder, for intentionally crashing her car at 100 mph into a building, killing her 20-year-old boyfriend and his 19-year-old friend last summer. Shirilla cried as she spoke before the court ahead of her sentence. She apologized to the victims' family and friends and called her boyfriend her "soul mate."
Politics in Brief
Iowa caucus: A new poll shows that more than half of likely Republican caucusgoers say they believe Donald Trump's claims that he won the 2020 presidential election despite no evidence of widespread election fraud. 
Trump investigations: Special counsel Jack Smith pushed back against Trump's request to delay his federal election interference trial, saying in a new court filing that a 2026 start date would deny the public a speedy trial. 
2024 election: Virginia Democrats are worried the national party isn't doing enough to stop Republican Gov. Glenn Youngkin, who they fear could potentially mount a presidential bid.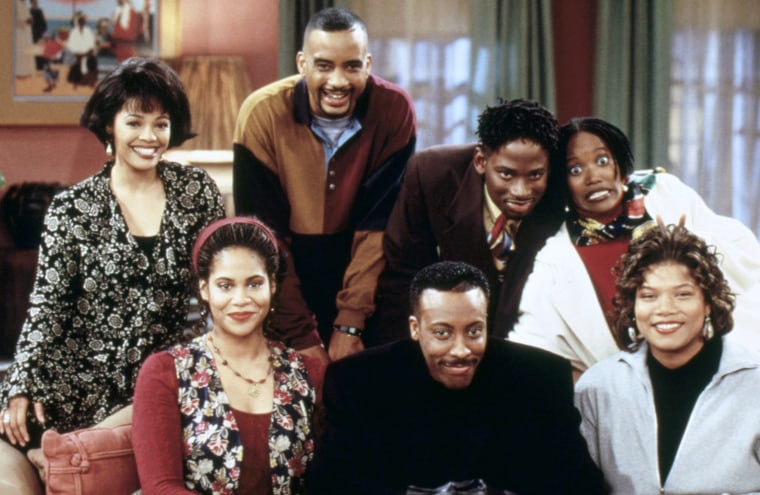 Staff Pick: 'A love letter' to Black women
It has officially been 30 years since "Living Single" premiered. Even after three decades, clips from the show regularly trend on social media, which show creator and writer Yvette Lee Brown calls a testament to its legacy and cultural impact. In this trip down memory lane, Bowser reflects on what it took to get "Living Single" off the ground and why she thinks audiences still love the show today. — Elizabeth Robinson, newsletter editor
In Case You Missed It 
Select: Online Shopping, Simplified
There is a wide range of gadgets to help make your life easier, improve your health, keep your family entertained and more. Our Select team rounded up 24 top-rated tech gadgets under $50 that you can find on Amazon, from bluetooth speakers to security cameras.
Sign up to The Selection newsletter for exclusive reviews and shopping content from NBC Select.
Thanks for reading today's Morning Rundown. Today's newsletter was curated for you by Elizabeth Robinson. If you're a fan, please send a link to your family and friends. They can sign-up here.