Eight candidates will participate in the first Republican presidential debate of the primary season. Defendants in the Georgia election interference case have begun turning themselves in. And a review of school suspensions nationwide reveals a system in which students have little power.
Here's what to know today.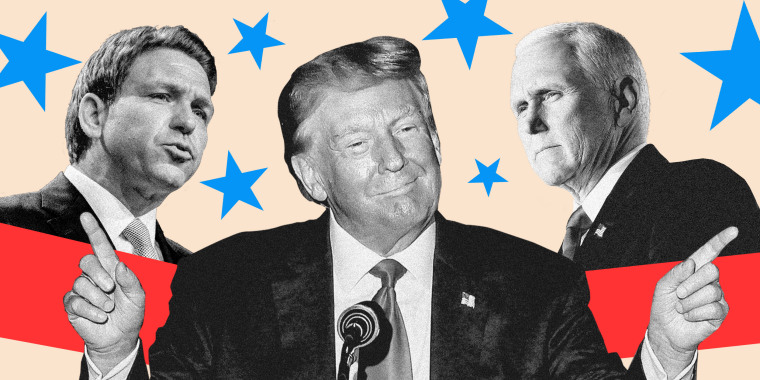 What to watch for during the first GOP presidential debate
The first Republican presidential debate of the primary season — happening tonight in Milwaukee — will be a test in different ways for each candidate. Will Florida Gov. Ron DeSantis be prepared for the attacks likely coming his way? Will former New Jersey Gov. Chris Christie find a target for his criticisms other than former President Donald Trump? How will businessman Vivek Ramaswamy handle the national spotlight? 
Perhaps the biggest question — and one that affects all eight candidates: How will they handle Trump's absence?
This is Morning Rundown, a weekday newsletter to start your morning. Sign up here to get it in your inbox.
The current Republican front-runner for the 2024 nomination, will be present in spirit. Maybe we'll hear about his criminal indictments. Candidates may bring up his fitness for office or how they would have handled Jan. 6 if they had been in his shoes. However, not every candidate has signaled they're open to directly criticizing him. 
Here's what else to know ahead of tonight's debate, hosted by Fox News. The action starts at 9 p.m. Eastern. 
New poll numbers
77% of likely Republican Iowa caucusgoers say they are more likely to vote for a candidate who supports using the U.S. military to secure the southern border, and 65% say they are more likely to back a candidate who fights the "left's woke agenda."
4 Trump co-defendants surrender in Atlanta, with more expected
As of this morning four of the 19 defendants had surrendered to Fulton County authorities in the Georgia election interference case. They include Scott Hall, a bail bondsman facing charges tied to a voting system breach in Coffee County, and Trump-allied lawyer John Eastman. Fulton County officials released their mugshots last night. Rudy Giuliani is expected to travel to Atlanta today, two sources familiar with the matter said. Follow our live blog for the latest updates.
Donald Trump has said he will surrender tomorrow and is expected to be released under an agreed-upon set of conditions. That includes a $200,000 bond and an agreement that he'll "make no direct or indirect threat of any nature," and that includes on social media. So what happens if he violates those conditions? Legal experts explain the possibilities.
Cleanup in California, storms in Texas and a heat dome in the Midwest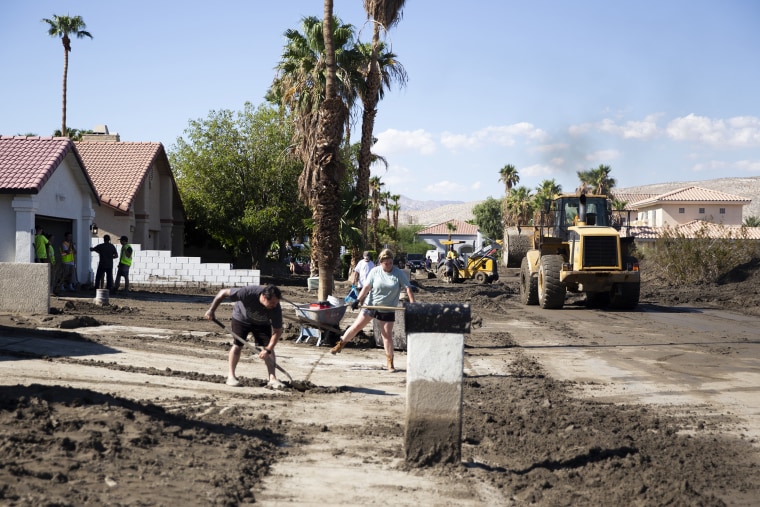 Two days after Tropical Storm Hilary dumped rain on the Coachella Valley, parts of Cathedral City had the feel of a block party. Residents say cleanup efforts here have been a community effort, with strangers showing up to their neighbors' houses ready to help. One resident told reporter Dennis Romero that people he had never met volunteered to clear enough mud from his driveway and front yard so that he could get in and out of his home. "Most of this was done by hand," he said, pointing at the cleared area. "Twelve people we've never seen before." 
Meanwhile, tropical storm warnings were discontinued yesterday evening in South Texas, hours after the system named Harold made landfall as a tropical storm. There is still a risk of heavy rain today in some parts of the region. 
In other parts of Texas and stretching up to the Upper Midwest, more than 100 million people were under heat alerts yesterday because of a "heat dome" that remains parked over the country. For example, Chicago could see heat index values of 111 degrees Fahrenheit this week.
Dancers re-upped contract with Lizzo even after alleged harassment
Three dancers who filed a lawsuit against Lizzo earlier this month, accusing her of sexual harassment and a hostile work environment, had re-signed contracts for the third leg of the singer's tour before their lawsuit, according to documents obtained yesterday by NBC News. Arianna Davis, Noelle Rodriguez and Crystal Williams agreed in April to remain on retainer for Lizzo's international shows through July 31. The three filed a lawsuit in Los Angeles County earlier this month. 
"Clearly, even at this early stage of the process, their case has been irreparably damaged," an attorney for Lizzo said in a statement. But the dancers' attorneys said they were confident the suit and the contract agreements do not change the facts of the lawsuit. Read more about the latest developments. 
UPS workers ratify their hard-fought contract
UPS workers voted to approve a Teamsters-negotiated labor deal yesterday, allowing a new five-year contract to go into effect. Boosted hourly pay for full- and part-time workers and added protections for working in high temperatures are among the most impactful changes to the contract covering 340,000 employees. The hard-fought win for workers averts the threat of a strike that had the potential to cause widespread disruptions across the U.S.
The new agreement could fuel other major negotiations as workers across other industries ask for pay increases and improved working conditions.
Today's Talker: A viral trend in which parents crack an egg on their kids' heads…
… has some medical experts worried about the potential short-term effects. "We're literally smacking salmonella on their foreheads," one doctor said. While parents partaking in the prank likely see it as lighthearted fun, some TikTok users also expressed concern that the children are being hurt or humiliated.
Politics in Brief 
Classified docs case: A key witness against Donald Trump and his two co-defendants in the Mar-a-Lago documents case recanted previous false testimony and provided new information implicating the defendants, special counsel Jack Smith's office said in a new court filing. 
Biden in Maui: Conservative pundits used low-quality video to spread a false claim that President Joe Biden fell asleep during a memorial for Maui wildfire victims. 
Immigration: An NBC News review of border crossing data shows that the Biden administration is expelling fewer migrants per day back to Mexico than before the end of Title 42. There are a few possible reasons for the decrease.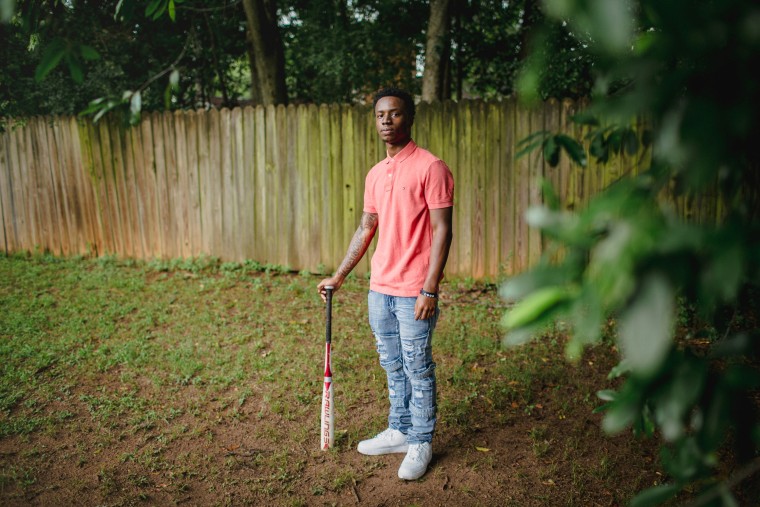 Staff Pick: Kicked out of school without legal protections
When I set out last year to interview families about their experience with suspensions and expulsions, I was surprised to learn how often punishments are handed down to students by their schools with few ways for them to challenge the evidence against them. That sent me on a quest to read the laws protecting student rights in all 50 states. I learned that some states largely let school districts decide which legal protections students should have before they're kicked out for weeks, months, a year — or, in some cases, forever. The result: Some students are punished for things they didn't do. — Erin Einhorn, reporter
In Case You Missed It
Select: Online Shopping, Simplified
Skin care routines can feel just like that: routine. Face masks, on the other hand, are an every-once-in-a-while treat for your skin. We spoke to dermatologists about which sheet masks are worth your time and money. Here are nine highly rated options leave your face feeling nourished and hydrated.
Sign up to The Selection newsletter for exclusive reviews and shopping content from NBC Select.
Thanks for reading today's Morning Rundown. Today's newsletter was curated for you by Elizabeth Robinson. If you're a fan, please send a link to your family and friends. They can sign-up here.