Ohio voters reject a ballot measure that would make it harder to protect abortion rights. Arizona's iconic cacti can't stand up to this summer's extreme heat. And a lucky Mega Millions player in Florida hit the billion-dollar jackpot.
Here's what to know today.
Abortion-rights supporters prevail in Ohio special election
When Ohioans decide whether to enshrine abortion rights in the state constitution this November, they'll only need a simple majority. That's thanks to voters overwhelmingly rejecting Issue 1 last night, a Republican-backed ballot measure that would have changed how future state constitutional amendments were passed.
With 97% of precincts reporting, 56.7% voted against the measure in the special election, while 43.3% voted to support it, according to the Ohio Secretary of State's office. 
This is Morning Rundown, a weekday newsletter to start your morning. Sign up here to get it in your inbox.
Issue 1 would have raised the threshold of support required for future state constitutional amendments to 60% — currently, just a majority is needed. The measure also proposed toughening rules for groups trying to place future measures on the ballot and eliminated a 10-day "curing" period during which groups could gather additional signatures to replace any previous signatures that officials deem invalid.
While the measure didn't explicitly mention abortion, reproductive rights groups maintained that it was designed to make it more difficult for pro-choice voters to pass their own proposed amendment in November, designed to counteract the state's "heartbeat bill."
Tuesday's victory illustrates how abortion remains a major liability for GOP candidates. Reporter Adam Edelman dives into the race that normally would have been a late-summer, off-year special election but instead drew national attention and massive spending.
More complaints against Lizzo surface in wake of lawsuit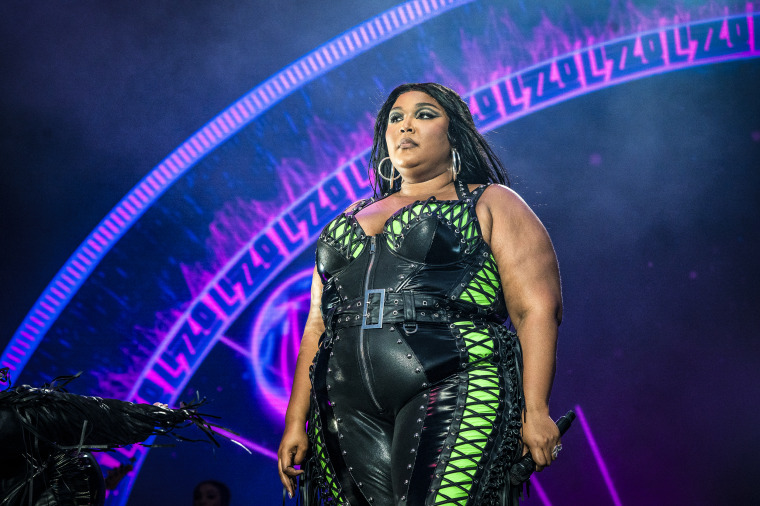 Lawyers representing three of Lizzo's former dancers said they've been reviewing new complaints since she was accused of sexual harassment, creating a hostile work environment and weight-shaming in a lawsuit filed last week.
Ron Zambrano said his firm, which focuses on employment law, is vetting new allegations from at least six people who said they toured with Lizzo, including other dancers and some who said they worked on her Amazon Studios reality show, "Lizzo's Watch Out for the Big Grrrls." The allegations, he said, are of a "sexually charged environment" and failure to pay employees. 
A representative for Lizzo declined to comment on Tuesday. Find out more about the latest developments in the case.
Hearing scheduled to decide what evidence Trump can talk about publicly in 2020 election case
U.S. District Judge Tanya Chutkan has ordered attorneys from special counsel Jack Smith's office and Donald Trump's lawyers to meet Friday to discuss restrictions on what evidence the former president can publicly disclose about the investigation in the 2020 election case.
Trump's attorneys contend that the prosecution's proposed order is too broad and could muzzle Trump as he seeks the Republican presidential nomination. Federal prosecutors countered that Trump's requested revisions would enable him to "try this case in the media rather than in the courtroom."
Before yesterday's order, Trump said at a rally that the government's proposed order was an assault on his First Amendment rights. 
Massive explosion at a factory near Moscow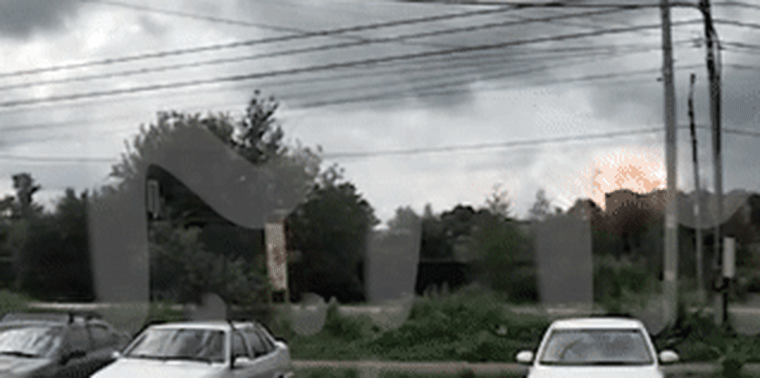 Dozens were injured and six people were in intensive care after a massive explosion in Moscow on Wednesday. Officials said there may be more people trapped under the rubble of the plant, which state media reported makes optical devices for law enforcement agencies and civilian use. The explosion comes amid an unprecedented number of drone attacks that the Kremlin has blamed on Ukraine, but local officials suggested this blast was unrelated.
What to know about the EG.5 Covid subvariant
There's a new dominant Covid strain in the U.S., and it goes by EG.5, or, as some health experts have nicknamed it, "Eris." Estimates from the CDC show that EG.5 now accounts for the largest proportion of Covid infections nationwide. While EG.5 accompanies the first rise in Covid hospitalizations in the U.S. this year, it's too soon to tell whether the new strain is to blame. 
Here's what experts had to say about its transmissibility and what symptoms to watch for.
Arizona's plants are struggling to stay alive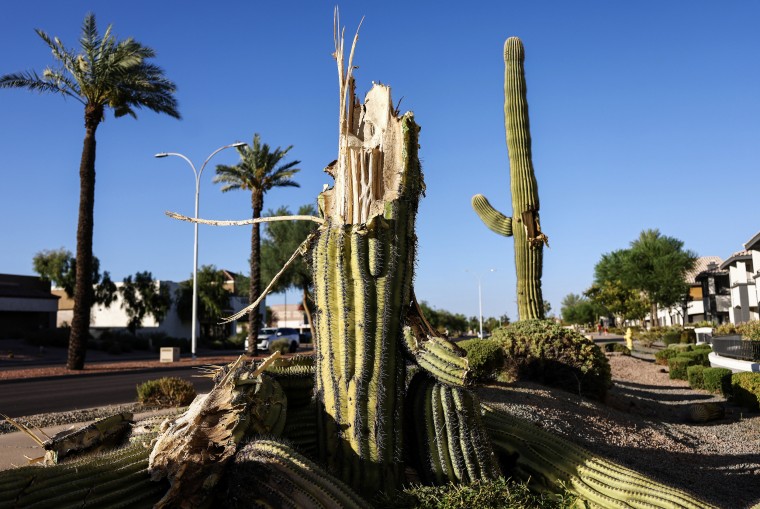 Several saguaro cacti dropped their iconic arms last week at Phoenix's Desert Botanical Garden. Elsewhere, some agave plants began "melting" and collapsed on the ground into "mush." And researcher Frank Reichenbacher worries that it will soon be over for the rare Sonoran desert vines that he's been monitoring for over 40 years. 
With few sustaining rains this monsoon season and ongoing excessive heat, ecologists are concerned that this summer's weather is pushing some of the region's plants past their limits.
Three charged with assault in Montgomery riverfront brawl
Three Alabama men are facing misdemeanor assault charges after a group of white men attacked a Black dockworker on Saturday during a brawl involving multiple people along the Montgomery Riverfront. Police are also looking to speak with a Black man shown on social media videos wielding a folding chair in the brawl, authorities said when announcing the charges yesterday.
Videos circulated in the wake of the incident, which was sparked when dockworker Damien Pickett attempted to get a group to move their pontoon boat. Several members of the group refused and then attacked Pickett. When asked if the situation constituted a hate crime, Montgomery police said it didn't. Read the latest here.
Today's Talker
A winning ticket in the $1.58 billion Mega Millions jackpot…
… was sold in Florida, the winning numbers being 13-19-20-32-33 with the Mega Ball of 14. The estimated jackpot is the largest in the game's almost 27-year history, and it appears to be the third-largest lottery jackpot in U.S. history overall. Now, the jackpot resets to a lousy $20 million. 
Politics in Brief
Staff Pick: Steps toward living a longer life
Are you under the age of 60 and curious how to cut your overall risk of death in half? Sounds like the start of a bad late night infomercial, right? It's actually one of the fascinating datapoints in new research about the health benefits of daily walking. It turns out that we don't need to be ultrarunners to reap the rewards of a little bit of walking each day. Find out how much is enough to really make a difference — and where that old notion we need 10,000 steps per day may have come from.  — Richie Duchon, deputy platforms director
In Case You Missed It 
Select: Online Shopping, Simplified
The first step when looking for the best food for your cat: Check the first few ingredients on the label. Experts recommend seeking out foods with protein, natural ingredients and vitamins and nutrients and avoiding peas and legumes, raw food and "exotic" ingredients. Here are 10 cat food options they recommend.
Sign up to The Selection newsletter for exclusive reviews and shopping content from NBC Select.
Thanks for reading today's Morning Rundown. Today's newsletter was curated for you by Elizabeth Robinson. If you're a fan, please send a link to your family and friends. They can sign-up here.