The 15th Biennial National Black Theatre Festival (NBTF) is not only the premiere festival for African-Americans but it's the largest of its kind in the world, with a mission that fosters artistic diversity and excellence.
Produced by the North Carolina Black Repertory Company, this year's festival, which celebrated 30 years of operation with recording-breaking attendance, took place July 31 – August 5 in Winston-Salem, North Carolina, affectionately known as the City of the Arts.
Before the NBTF, which was founded by the late Larry Leon Hamlin, the black theater community was isolated; no other national or global organization represented as wide a range of disciplines or offered as much support in the theater community.
Thanks to the NBTF, theater goers have the opportunity to witness and patronize the full range of diverse works of the African American diaspora in one place.
"This festival has brought in more first-time festival goers," says executive producer Sylvia Sprinkle-Hamlin, who has helmed the organization since her husband's death in 2007. "We have been producing the festival since 1989, so we have it down to a science now."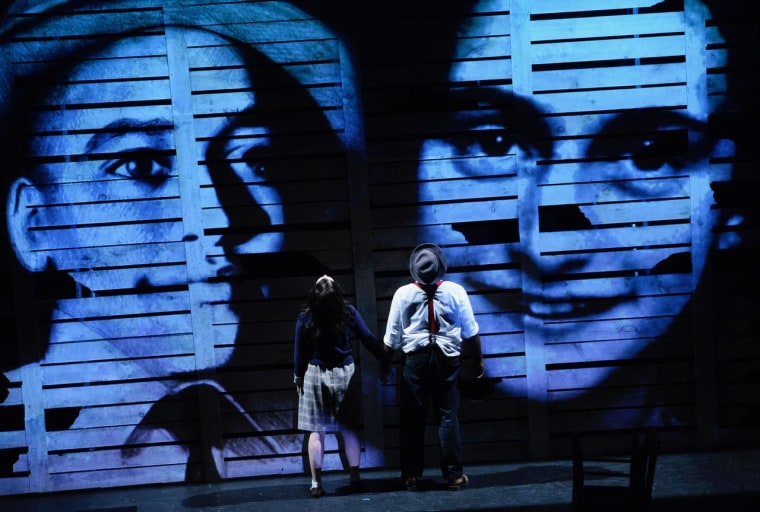 According to city officials, the NBTF has averaged 60,000 attendees with an $8 million impact on the city's economy. This year, the conference has grown exponentially. With more than 140 sold-out theatrical productions over a six-day period, the NBTF featured musicals, plays, one-person shows, children's productions, and more. The NBTF invited 40 theater companies to participate, including two from the United Kingdom; Cape Town, South Africa; and Ado-Ekiti, Nigeria.
At the NBTF's Opening Night Gala on July 31st at the Benton Convention Center's Salem Ballroom, more than 20 awards were presented to a full range of industry professionals. The acting awards were particularly notable; for many years, theater has been one of the last frontiers within performing arts where African Americans have been accepted in the mainstream.
And though non-traditional or integrated casting is a recent phenomenon to many, Black actors from Hollywood to Broadway have often struggled to be cast in stage productions. The validation they received from the NBTF has been essential to their careers.
Academy Award winner Louis Gossett, Jr., received the Sidney Poitier Lifelong Achievement Award. "This award is special to me in many ways," says Gossett, who attended the first NBTF 30 years ago, when Dr. Maya Angelou was the chair. "It's always good to be recognized by your people. This festival is vital to the survival of black theater. Being here brings everything in my career full circle."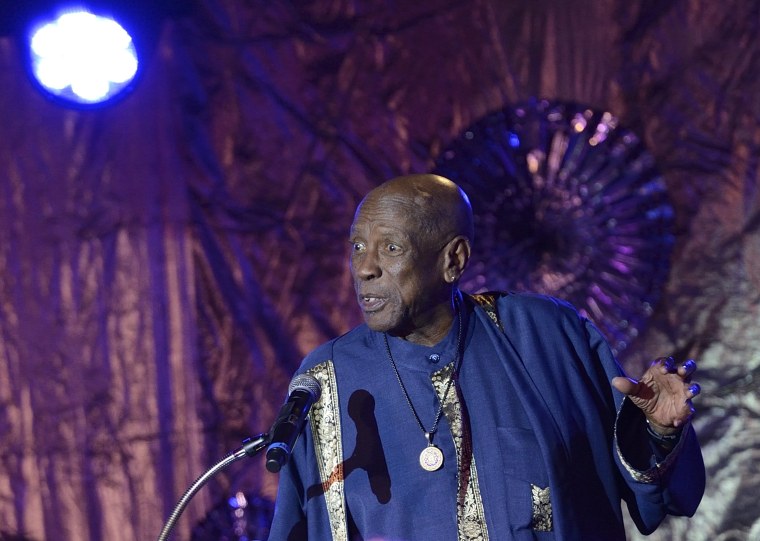 Other noted awardees included Ron Himes, founder of the St. Louis Black Repertory Company, who received the Larry Leon Hamlin Producer Award. Acclaimed playwright and actress Dominique Morisseau was presented with the August Wilson Playwright Award. Her works Skeleton Crew and Pipeline were recently produced off-Broadway, and her forthcoming production, Ain't Too Proud: The Temptation Musical, will open at the Berkeley Repertory Theatre in California.
Director Timothy Douglas received the Lloyd Richards Director Award while Broadway producers Stephen Byrd and Alia Jones-Harvey, along with Tony-winner Corey Mitchell and Cleopatra Solomon, were among the recipients in of Special Recognition Awards.
"We are extremely honored to receive this acknowledgment from our community," says Alia Jones-Harvey, who with Byrd was featured the next day at an invitation-only reception presented by NBTF's Artistic Director Jackie Alexander in a discussion with directors and producers on how to successfully package and produce a show on Broadway. "We share a commitment to the survival of black theatre, and we are inspired to continue opening doors on Broadway and London's West End for people of color."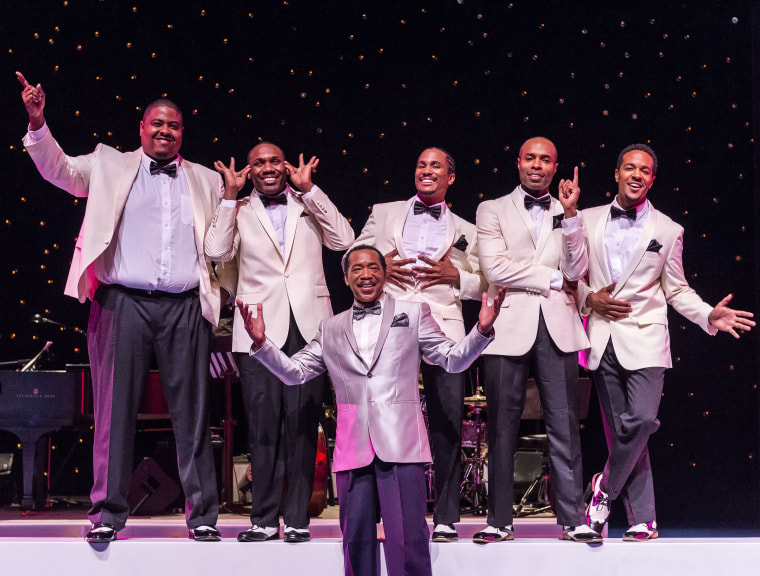 The NBTF presented Living Legend Awards to makeup artist Thelma Pollard, artistic director Mabel Robinson, and actors Ed Wheeler and Allie Woods. Several first-time Outstanding Achievement Awards were also presented to Gregory Horton for costume design; Antoinette Tynes for lighting design; and Chris Cumberbatch for scenic design.
The gala featured the musical Five Guys Named Moe, presented by the Ebony Repertory Theatre, which stars acclaimed actor Obba Babatunde, the co-chair of the festival (Babatunde and co-chair Anna Marie Horsford currently star on CBS' The Bold and the Beautiful).
This year's NBTF celebrates the 25th anniversary of Five Guys Named Moe, a tribute to 1940s bandleader Louis Jordan, which premiered on Broadway in 1992.
"It's thrilling to be back in Winston-Salem, North Carolina, also known as Black Theatre Holy Ground," says Babatunde. "And to open the festival with Five Guys Named Moe is exhilarating and an honor."
The NBTF received more than 100 video submissions, including new works, and diverse musicals: How I Got Over: A Gospel Musical by the Westcoast Black Theatre Troupe of Sarasota, Florida; Men of Soul by the Black Ensemble Theater of Chicago, Illinois; and Sammy: Celebrating The Legacy by David Hayes Productions of Reno, Nevada; and GOGO and Big Sister by Spirit Sister Productions of Cape Town, South Africa.
Two children's musicals were featured: The Fantasy and Adventures of Oz, a dance adaptation of The Wiz, and Something Like A Fairytale.
The NBTF presented a wide range of plays, including Anne & Emmett by playwright and award-winning journalist Janet Langhart-Cohen. The play is an imaginary conversation between Anne Frank and Emmett Till that left the audience in tears.
"I'm so proud to present a story about two teenagers who had their innocence stolen due to intolerance and hatred," says Langhart-Cohen. "And this same act of violence on those of us who are different still exist today. I'm hoping this imaginary conversation will stir your soul in ways unimaginable."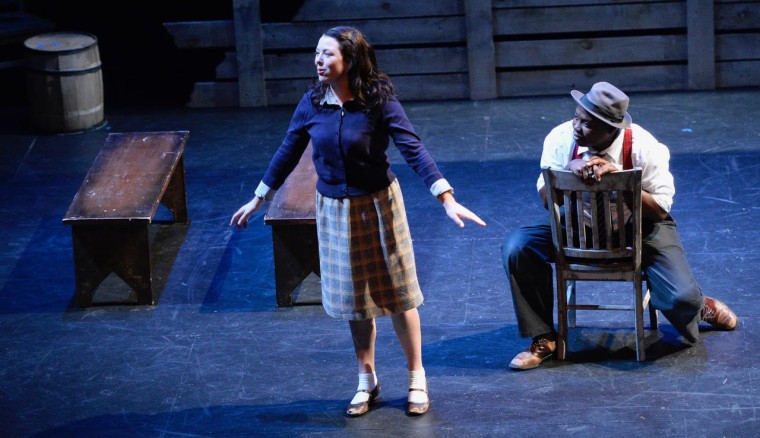 Other highlights and audience favorites included: Black is the Color of My Voice and Little Girl Blue, a double-billed performance of the life of Nina Simone, which highlighted two different perspectives; Maid's Door, which deals with health issues surrounding Alzheimer's disease, and The Sting of White Roses, a story about breast cancer, which were both produced by the North Carolina Black Repertory Company; comedian Michael Colyar's Momma, a story of his mother's unyielding support of his career; What I Learned In Paris, a story of a divorcee and what happens during her trip to Paris, which earned rave reviews; and Miss Julie, Clarissa And John, a period piece that takes place in the 1800s.
The NBTF also presented one-person shows. Just An Ordinary Lawyer is the story of Britain's first black judge, Nigerian Tunji Sowande, and his black liberation struggles. Type/Caste features 17 characters written and performed by Nigerian actor Rotimi Agbabiaka of San Francisco.
Other one-person productions include: We Love You Shirley Chisholm by Hope Productions of New York; Sugar Ray by Faith Steps Productions of New York City; The Fannie Lou Hamer Story by Healing Through the Sound of Music of Atlanta, Georgia; and Power! Stokley Carmichael by Meshawn Labrone Productions of Silver Springs, Maryland.
The National Black Theater Festival features other nightly productions including An Evening with Two Theater Divas with Broadway legends Ebony Jo-Ann and Vivian Reed; the Midnight Poetry Jam; the National Youth Talent Show; and the Storytelling Festival, from the North Carolina Association of Black Storytellers, who present oral interpretations of African folktales for young children.
"My husband was a visionary," says Sprinkle-Hamlin in closing. "He knew this festival would grow. He had big dreams. One of the things he wanted to do is create a National Black Theatre Hall of Fame and Museum. He would be proud. We honored the black theater community in love, truth, and spirit. It's a family festival and reunion."