The first round of Republican presidential debates are done and they were for the most part, everything that everyone could've wanted them to be.
After all of the consternation from Fox News, the RNC and the individual candidates about who should be involved in the debate, the end result probably pleased everyone. Fox News got great theatre with spontaneous and unpredictable fights breaking out between candidates on stage over actual policy differences.
The RNC can breathe a sigh of relief that none of the major contenders (in their mind) committed any irrevocable gaffes. And lastly just about every candidate can go back to their donors and supporters saying that they "won". With almost two hours of questions and 10 candidates, there are dozens of highlights but the top take-aways from the debate are pretty evident.
1. Trump Wins Again
Donald Trump knows more about good television than anyone else on the stage including moderators Megyn Kelly, Chris Wallace and Bret Baier. It was obvious, and almost unseemly, how dedicated the Fox moderators were to insulting, diminishing and marginalizing Donald Trump at almost every turn.
In particular Chris Wallace seemed to almost sneer every time he spoke to Donald Trump. While many candidates faced tough questions Trump was the only one Wallace insisted "answer the question" while other candidates were allowed to slip by with stump speeches and talking points.
But in a classic example of why you don't bring a knife to a gun fight Trump flipped the questions on Wallace, and his "Rosie O'Donnell" answer got a laugh out of Megyn Kelly when she thought she'd caught him on a question about his sexist comments.
Any Trump supporter saw the establishment puppet masters try to take him down and frankly, he stood up to them. Anyone who dislikes Trump saw the arrogant blowhard they always see. Anyone on the fence about Trump after this debate probably isn't going to vote in the primary anyway.
2. Rand Runs with It
The key to winning any political debate, verbal joust, or even battle raps is to take down your opponent by staying on brand. If your brand is the nice guy, and you have to get nasty to fight back in the debate, you've already lost. Rand Paul is a firey libertarian, who seemed to be in the political wilderness for months despite a strong base of support with young voters and libertarians. In recent months he had been reduced to cheap stunts to gain attention and distract from a string of scandals that could end his campaign.
Despite all of this the first term Kentucky Senator seemed to remember himself once he got on stage and the Libertarian lightening rod brought himself back from the brink. They talked about scaling back foreign aid, the mistakes of the Iraq War, and the importance of privacy and security even while fighting terror.
He also took it to Trump on "single payer" healthcare and went head to head with Governor Christie on federal government wiretapping in what was the most substantive policy fight on stage all night. In the end, Rand Paul won out when Chris Christie had to pull out the bloody flag of 9-11 to justify his actions. Paul stayed on-brand and Chris Christie sounded like a throwback politician from the early 00s.
If you think Chris Christie won that fight you probably think Meek beat Drake too.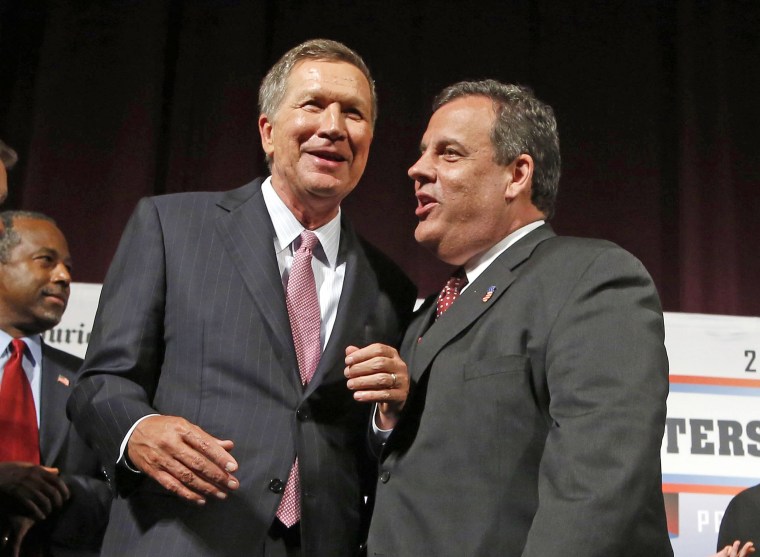 3. Affirmative Action Works
Affirmative Action is all about giving a fair chance to people who might've been locked out of an opportunity because of circumstances beyond their control. Circumstances like being born into poverty, racial discrimination, gender discrimination, or in the case of Ohio Governor John Kasich, "Timing Discrimination."
Kasich was the 16th out of the 17 Republicans to announce his candidacy two weeks ago. Based on everything that Fox News had been releasing about their criteria for getting into the first debate (mainly that you had to be in the top 10 within 5 of the most recent national polls before the debate) there are some real questions as to whether or not John Kasich should've made the cut.
However, the RNC and Fox News knew that keeping Kasich out when the first debate is in Cleveland and next year's convention is in Cleveland might cause some hard feelings down the line. So he got some GOP brand affirmative action. And like most recipients of Affirmative Action, once given a fair shake they excel beyond expectation.
John Kasich was masterful in his few short questions during the debate, justifying his purple state policies on Obamacare, gay marriage and choosing on his own to address racial injustice during his questions. His comments and views would've been wasted during the afternoon debate, but was a welcome and significant addition to the main event. And it's likely that he legitimately earned a top 10 spot from now on.