Throughout the month of March, NBCBLK, NBCLatino, and NBC Asian America have partnered with the Ms. Foundation for Women for #31Days of Feminism to spotlight women of color who, through their actions and words, lead the way toward a more equal world.

Mary Ignatius – Statewide Organizer, Parent Voices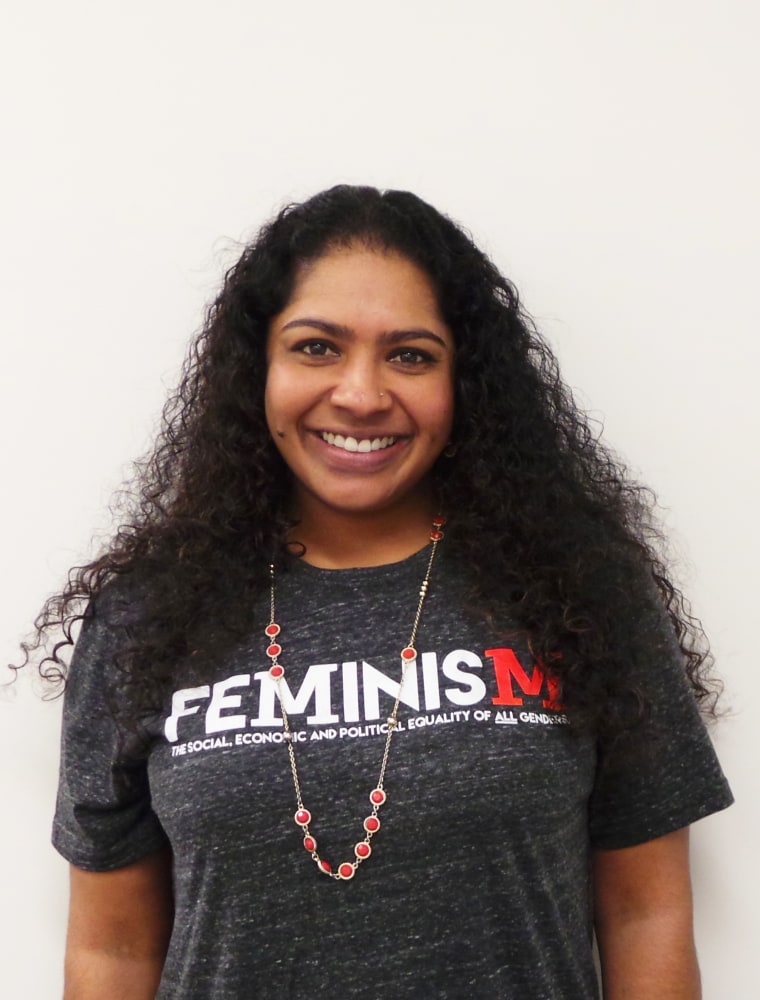 Mary Ignatius is the Statewide Organizer of Parent Voices, a parent-led grassroots organization fighting to make quality child care accessible and affordable for all families. Under her tenure, Parent Voices has won campaigns to update income eligibility guidelines to qualify for subsidized child care, restore a child care program that was eliminated, and protected child care subsidies for thousands of families.
What do you love the most about the work you do?
That I get to witness the moment parents become activated & recognize their own power. A lot of mothers come to us shy, unsure, isolated and with histories of trauma. To watch them build their confidence, go back to school, dream bigger, and build community with our other members is an extraordinary gift that keeps me inspired. As one of our member's stated: "We get to channel our love for our children into social change." I love that for the past 10 years as the Statewide Organizer I have been part of this movement!
What is feminism to you?
The belief that all people, regardless of race, class, ethnicity, gender identity, ability, who you choose to love, what language you speak, where you were born, etc, should be supported and encouraged to achieve their full potential.
Can you pinpoint the moment when you decided to become a feminist?
When I was seven years old and I tutored in a classroom of differently abled children. I saw their different learning styles and how teachers adapted to what their student's needed. I think it molded in my young mind that I wanted to be part of a world that catered to each of our strengths rather than focusing on what society deems as "deficits."

What is the best way we can all be "feminists"?
Believing no one is better or more deserving than the other; fighting for equity not just equality when it comes to social, political, and economic power; teaching boys and young men about consent and respect when it comes to how we interact with women and girls (I have two sons so this is very important to me); fighting against gender norms like what colors or toys are appropriate for our kids to wear or play with, end the mommy wars and don't play into the way we are pit against one another!
Who are your "sheroes"?
My mother for one. She came to this country from Southern India in the 70's. She made a beautiful life for her 3 kids with a lot of sacrifice, facing discrimination, working long hours, and for the most part, doing it by herself. Her strength and modeling guided my own journey to becoming an independent, strong willed woman.
Secondly, the fierce and resilient mothers who make up our Parent Voices membership. Step into the shoes of one of our members for one day, from the time they wake up to the time they get a few hours of sleep at night and you will understand the definition of a "Shero." Despite the countless barriers and obstacles they face trying to get our of poverty, their spirits are unbreakable, their drive is unlimited, and their devotion to their children is unwavering. They inspire me everyday.
Favorite feminist anthem?
"I Will Survive" by Gloria Gaynor
Favorite feminist artist?
Arundhati Roy, Frida Kahlo, Maya Angelou, Meera Nair