The murder of Emmett Till happened 60 years ago today, but his death has found new resonance on this anniversary, as the continuum stretching back to the lynching of a 14-year-old boy in Jim Crow Mississippi has reached into cities from Ferguson to Baltimore in recent months.
While the parallels between Till's murder on August 28, 1955, and the shooting death of Michael Brown on August 9, 2014, are not direct, the similarities are nonetheless undeniable. Both events galvanized a black community that had been unheard and spawned movements around what many saw as particularly egregious racial incidents.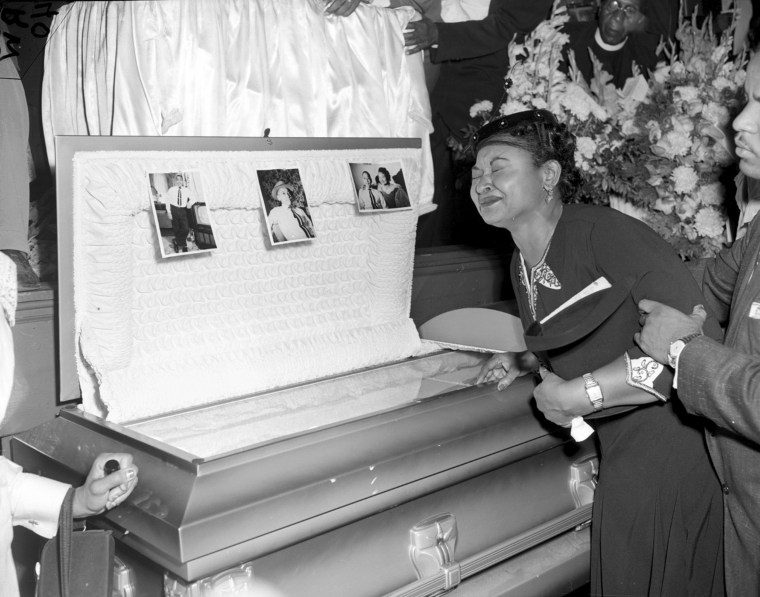 "It's not exactly like Jim Crow, but when you have confessed murderers go free, a sham of a legal process and people not being held accountable … When we reflect back, we're seeing things that are very similar," said Deborah Watts, a cousin of Till's and co-founder of the Emmett Till Legacy Foundation. "Black lives do matter. They mattered then, and they matter today. Emmett's death … helped to wake up America."
Related: Events Mark Emmett Till Slaying 60 Years Later
Till's death is seen by many as a major catalyst for the Civil Rights Movement, and Brown's is largely regarded as the beginning of the Black Lives Matter Movement.
While neither were the first incidences of violence against black people in an unequal society, seeing the bodies of these young men haunted, angered and rallied many African-Americans into action.
In 1955, thousands of blacks were shocked and sickened to see Till's bloated, disfigured corpse on the pages of Jet Magazine and at his open casket funeral.
"The center of gravity was Emmett Till," said comedian and activist Dick Gregory, who was 23 when Till was killed. "It was a different type of story. It was the first time those of us who lived up North felt a kinship … It was a shocker. Everybody's got an Emmett Till story."
Similarly, African-Americans grew enraged as the image of 18-year-old Brown's body lay on the concrete — in plain view of the residents of a surrounding apartment complex for more than four hours — spread across social media.
Kayla Reed, a field organizer for the Organization for Black Struggle in St. Louis who has been an active protester in Ferguson for the past year, said that while she learned about Till's story as a child, she didn't connect it to the larger picture of black liberation until it was in her front yard.
"I didn't contextualize it to Ferguson," said Reed, 25. "I'm sure there was someone my age who was radicalized through that moment, when they saw his body in that open casket. It was what I saw in Michael Brown as he laid on the ground for four and a half hours. It was being able to understand how these moments exist, where it takes a tragedy to light a fire under a community."
Indeed Till was on the minds of many last August: in the days after Brown's death and his Aug. 25 funeral, some of Till's relatives attended the services in solidarity. Seeing Brown's mother, Lesley McSpadden, brought to mind the grief of Mamie Till Mobley, and her determination to honor her son's memory and preserve his legacy for a larger purpose.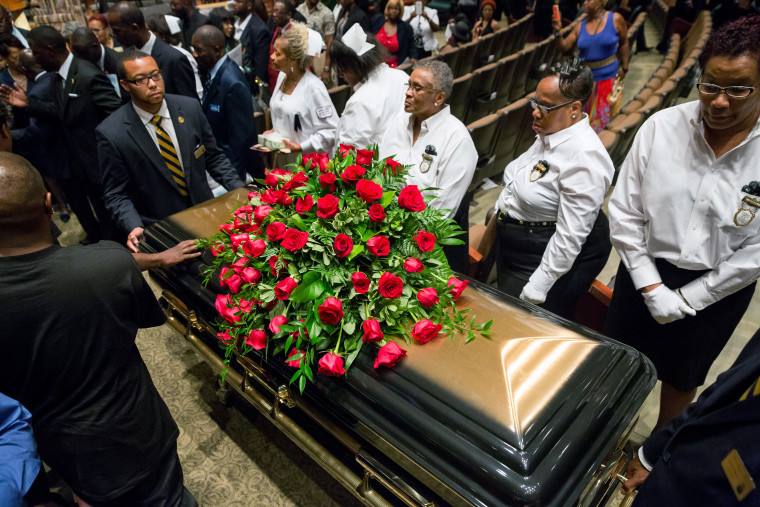 "The notion of her trying to come to grips with this great tragedy by saying her son was crucified on the cross of racial injustice, and use that death to make sure Emmett didn't die in vain was unbelievably important and powerful," said Lonnie Bunch, director of the Smithsonian's National Museum of African American History and Culture.
Watts said her family feels a kinship with Brown's parents and the families of other unarmed African-Americans who have been killed in recent years.
"The tears that we've cried, the same sort of pain or loss, the lack of having the country understand that things need to change … the similarities are there, said Watts, who added that she and other Till family members have met with and attended events for the families of Trayvon Martin, Tamir Rice, Jordan Davis and others.
Related: 'Crying for Justice': Thousands Mourn Michael Brown at Funeral
The role of the media was instrumental in bringing and keeping international attention on both cases. In the Till murder, it was the Black Press that relentlessly covered the murder and trial in an attempt to fully expose the horrors of the segregated South. In Brown's death, social media quickly dispelled any notions of a post-racial society.
Both cases highlighted not only two gruesome deaths, but the enforcement of a separate, unequal America. In Mississippi, civil rights reporter Simeon Booker — who covered the Till case for national black newsmagazine Jet in 1955 — recalled life in the Deep South for African-Americans as completely foreign to lifelong Northerners like him.
"It was like you were going to another country, where you didn't speak the language," he said. "I'd heard about the South, but I didn't know what it meant until I confronted it."
Likewise, the stories of hundreds African-Americans living in and around Ferguson in the wake of Brown's murder — covered by the news media and later referenced in the Department of Justice's report on the city's predatory police department and court system — also described lives that were unrecognizable to much of the country.
Despite the intense media coverage and overwhelming calls for Ferguson Police Officer Darren Wilson to be prosecuted, a grand jury in November declined to find him criminally responsible for killing Brown. In 1955, Till's killers, Roy Bryant and J.W. Milam, were found not guilty by an all-white Mississippi jury after a five-day trial.
Though the people responsible for killing them weren't punished, both Till and Brown are credited with focusing national attention on racial injustice and inequality.
The 1960s brought the end of legal segregation and the expansion of civil and voting rights, and the past year has seen increased attention on community policing practices — and Black Lives Matter is still unfolding.
When Rosa Parks refused to give up her seat on a Montgomery bus on December 1, 1955 — 100 days after Till's murder — she later told reporters, "I thought of Emmett Till, and when the bus driver ordered me to move to the back, I just couldn't move."
And as organizers planned the 1963 March on Washington, it was no coincidence that they chose Aug. 28 as the date.
"The murder of Emmett really did spark a period of real transformation," Bunch said. "What you hope is whether it's Black Lives Matter or something else, you've got this moment … to really spark a new movement that will demand and force America to live up to its stated ideals."