A $98 silk nightcap is drawing comparisons to a sleep bonnet, a cap that has long been worn, in particular by black women, and prompting backlash and accusations of cultural appropriation.
Sarah Marantz Lindenberg, founder of NiteCap, said she got the idea while planning her wedding. She said she was experiencing breakouts on her face, neck and back at the time and wanted something that would protect her hair and skin when she slept.
Lindenberg, who is white, says she began sleeping with a vintage silk scarf "to preserve her hair and complexion," according to the NiteCap website.
"To her delight, she noticed how much better her hair looked in the morning, her blowouts lasted longer and yes, her skin improved too," it states.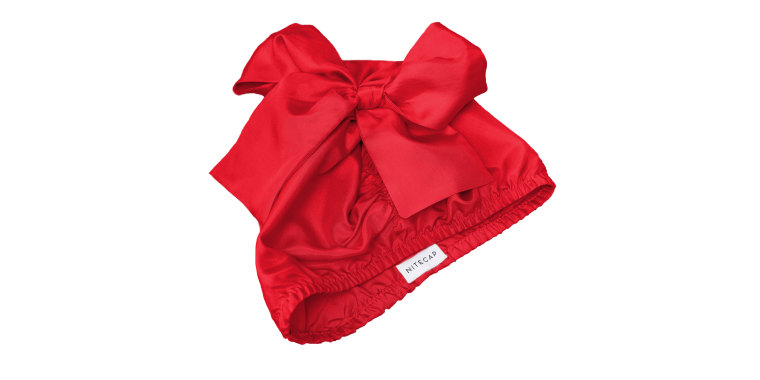 Lindenberg, the director of marketing at womenswear brand Pink Tartan, said she was inspired by "the rich history of hair wrapping."
A large part of that history, Twitter users noted over the weekend, is rooted in black culture — a fact that was absent from a profile on NiteCap published Friday by Fashion Magazine. An editor's note has since been added to the piece, saying, "Though not strictly used just for sleeping, the item has a long history in black hair culture."
"(Un)believable, @fashionmagazine. Black women have been wearing their hair in bonnets for DECADES, and this woman's product is written about as though it's some sort of innovation," one woman opined.
Tia Tyree, a communications and culture professor at Howard University, said the benefits of hair wraps have been well documented in the African American community.
"In understanding or hearing her story, it's amazing to me that her product was precipitated on an invention that came from a once-in-a-lifetime problem," Tyree told NBC News. "The benefits of hair wraps have been known for generations, so for anyone to market their product in a way that appeals to individuals as if this is a new idea is simply unacceptable because it negates the fact that African American women have had and used this product for decades."
Some form of hair coverings have been worn for centuries, including by many slaves in the United States while working and, later, when sleeping.
In the 1700s, the Tignon Laws forced African women in Louisiana to wear a scarf or handkerchief over their hair as a visible sign of "belonging to the slave class, whether they were enslaved or not," according to the U.S. National Park Service.
"Those women affected by the law did, in fact, cover their hair, but they did it with elaborate fabrics and jewels — an action which technically meant the letter of the law but also allowed them to maintain their standards of fashion and beauty," the National Park Service's website states.
Some Twitter users also took exception with the cost of Lindenberg's NiteCap, which retails for $98.
"There is no way every other bonnet on the market for less than $30 didn't work for her," one Twitter user wrote, adding that other women unfamiliar with black culture have been "conned" into thinking Lindenberg's design is original.
Tyree said the price was "mind boggling."
"This goes deeper than cultural appropriation, it goes into ignoring the work that black women have already done to solve a problem that they have had to deal with," Tyree said.
Black women have worn sleep bonnets and head wraps to help protect their hair and make natural hairstyles last longer. For many, it is a part of their nightly routine, experts say.
"For many Black girls, tying your hair up at night with some sort of head covering is akin to brushing your teeth," journalist Aria Hughes wrote in the Undefeated. "There's no formal ceremony or ritual behind the act, it's just something you have to do to maintain whatever style you're wearing at the moment."
Many others on Twitter mentioned that Grace Eleyae, a black woman who co-founded Slap (Satin-Lined Cap), has been selling this type of head covering since at least 2014.
"A brand new bread company doesn't come on the market claiming to be the thought leader on the slicing of bread — sliced bread has been around for decades," Eleyae told NBC News. "Similarly, satin and silk are tried and true."
Satin minimizes hair breakage and loss.
Eleyae describes her products — which include satin-lined caps, turbans and headbands and range in price from $10-$44.95 — as "modern-day improvements on what has been used since our grandparents' day and beyond."
In the African American community, there are outlets that sell products similar to the NiteCap for less than $10 or $20, Tyree said.
A representative for Lindenberg did not immediately return NBC News' request for comment Monday.