Sheila Tyson knows Southern politics.
The Birmingham, Alabama, native registers voters — Republicans and Democrats, black, white, Latino and Asian — helping them get identification and persuading them to get involved in the policymaking process.
Tyson, 58, was one of millions of black Super Tuesday voters key to former Vice President Joe Biden's victory in 10 of the 14 states holding primaries that day. Tuesday's sweeping win mirrored Biden's strong showing just days earlier in South Carolina's primary, in which many black voters described him as the practical choice, not necessarily their first choice.
"I think he has direct knowledge of the president's seat," Tyson said. "We don't need anyone going into the White House behind this mess that Trump has created, practicing and trying to get it together. It's like trying to make a cake. There's a certain kind of cook, like my grandmama, who could come in, taste the mix and tell you exactly what was missing. Biden knows the recipe."
In the days since the field broke sharply for Biden, supporters of other candidates have expressed disbelief at best — derision and racist disdain at worst — for the black voters responsible for his recent successes. But for many black voters, Biden was the best-known option — the candidate with the right experience who could appeal to the widest cross-section of Democrats. He was, to others, President Barack Obama's forever vice president, a man who could take on President Donald Trump in what could be a bare-knuckles battle for the White House.
He also had a meaningful ground game, according to Tyson.
Jill Biden, the candidate's wife, visited Birmingham, where Tyson lives, multiple times. Biden's staff met with black voters to talk about their top priorities and accepted what Tyson called "a packet" from activists outlining those concerns. The Biden campaign bought tables at banquets and ads in event programs and ran what Tyson called "a real campaign on what we knew was a limited budget."
In comparison, while Tyson had never in her 21 years in politics seen anything like the television ad blitz from the billionaire businessman and former New York Mike Bloomberg. But where she didn't see him was on the ground: not at a Birmingham church, school or community center. Sen. Bernie Sanders, I-Vt., had big ideas but few details, she said. And Sen. Elizabeth Warren, D-Mass., was bright and admirable and, of course, had intricate plans, but she did not register as someone with the capacity to deliver "a sailor's cussing" in combat with Trump, Taylor said.
Then there was Biden's own presence in Alabama.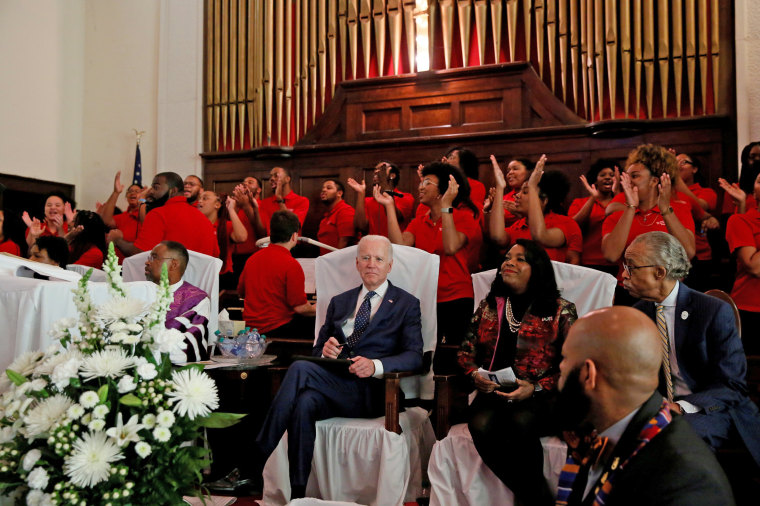 In January, he spoke at 16th Street Baptist Church in Birmingham, site of a 1963 bombing by white supremacists that killed four black children. And when he stopped Sunday in Alabama after a resounding win in South Carolina, he committed to some of the issues listed in the packet: a $15-an-hour federal minimum wage, expansion of the Affordable Care Act, elimination of gender and racial pay disparities, and support for a modern, rail-based mass transit system in Alabama.
By Super Tuesday, Tyson was team Biden.
Deborah Breedlove, a retired financial adviser from Columbia, South Carolina, who is active in local Democratic politics, said her vote for Biden hinged on a realistic approach to putting a Democrat in the White House.
"I sensed a strong lean toward Biden that had nothing to do with conservatism or moderate thinking," she said. "Older African Americans know the deal and the hand dealt to us. The sooner we feel our power, the sooner this destructive administration will be dismantled."
An NBC News analysis of exit polling data found that among all voters, those who prioritized defeating Trump in November voted overwhelmingly for Biden.
But the pragmatism of black voters, experts say, should not be confused with ignorance or some form of political captivity.
"That's not unlike our day-to-day life," said Candis Smith, an associate professor of political science and African American studies at Penn State. "How black folks navigate the world, how we deal with every major feature of our lives must involve some sort of calculation about what white people are going to do — is this safe to do around them? What will the consequences be? How must I smile to ease any fear you may have of me? Which injustice will I protest? That is part of black life in America. Why would voting be any different?"
Download the NBC News app for breaking news and politics
Others see a self-limiting but logical voting pattern that merits examination.
"It's frustrating," said Cliff Albright, a co-founder of the nonprofit Black Voters Matter. "Even most of the black people voting with Biden aren't with him because they think he's best on the issues. It's a lot of 'I'm with him because I think he's the best person who can beat Trump.'"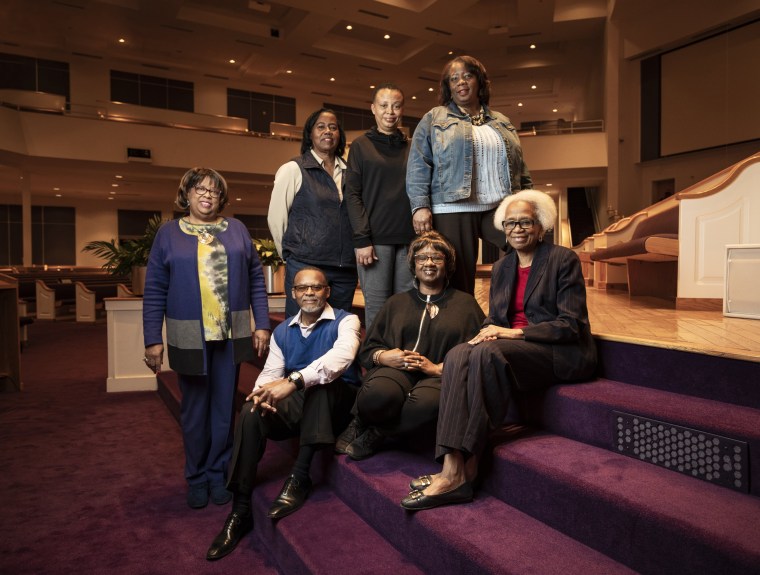 In North Charleston, South Carolina, last week, Black Voters Matter held a forum. Health care, specifically "Medicare for All," and medical costs prompted the largest number of "moans and amens," he said. But when the organization conducted an on-site poll, Sanders, the candidate who has called for universal health care, lost by a few votes.
"That's something, because that's just not the way we have made change in this country," Albright said. "Acting in concert with what we think the white community will support will not get us far. We have always moved this country forward by forcing other people to adjust to what we feel is just and what we feel is possible."
Sitting in the pews at First Nazareth Baptist Church in Columbia days before the South Carolina primary, J.P. Jones, 71, a retired school district employee, sighed when asked about her vote.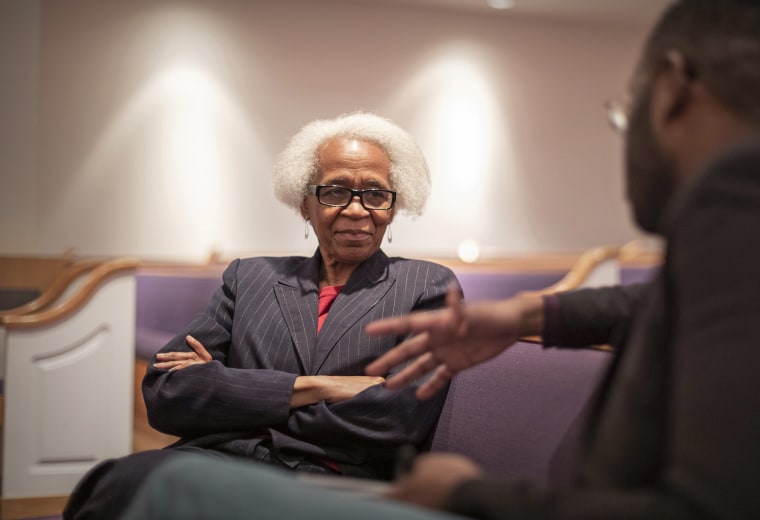 "Biden," Jones said, "unfortunately."
The lifelong Democrat added, "I'm going to make a default choice that I'm not excited about."
Jones was excited about Democratic Sens. Kamala Harris of California and Cory Booker of New Jersey, and she was "devastated" when their campaigns ended. To beat Trump, she said, she went with Biden.
"I really think he can handle Trump," she said. "Bernie Sanders is not a Democrat, and I think a lot of his promises are just that — promises."
M.L. Kohn, 69, a retired science educator in Columbia, said that days before the South Carolina primary, she was still deciding between Biden and Sanders. She liked Sanders' progressive policies and that he had galvanized young people, but removing Trump from the White House is her top priority. So she went with Biden.
"I've been a Bernie advocate, but I felt he shot himself in the foot with his Castro statements and his socialism stance — we need a sure winner in November," she said. "Trump would tie 'socialist' so tight around his neck that he would choke on the debate stage."
Nia Byas, 20, a student studying mass communications at Benedict College, a historically black institution in Columbia, said she liked Warren but ultimately voted for Biden because "he didn't come to South Carolina using black figures to get black votes."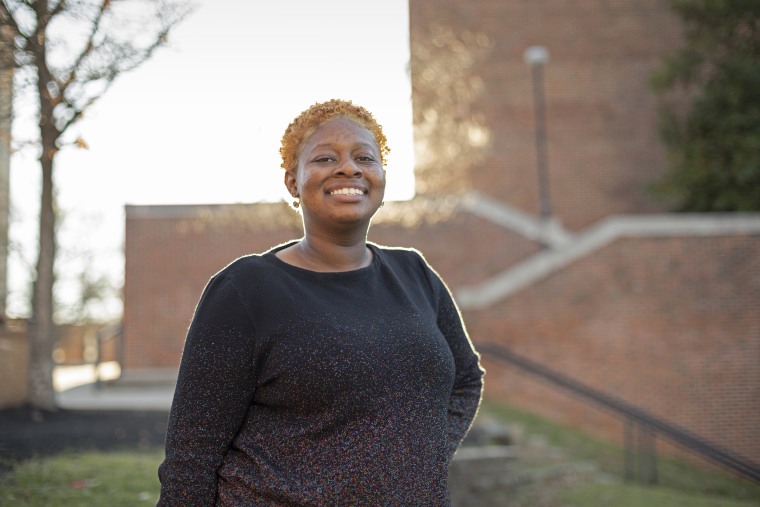 She said she saw the former vice president himself working for the vote.
"Not like Tom Steyer who brought Juvenile, Yolanda Adams and DJ Jazzy Jeff to a historically black college," she said, referring to the billionaire activist from California who dropped out of the race Saturday.
She said that Jim Clyburn's endorsement of Biden did not influence her but that he "would not have won South Carolina if it wasn't for Clyburn," the South Carolina representative who, as majority whip, is one of the top Democrats in the U.S. House.
James Martin, a veteran born and raised in South Carolina, retired from a career in sales and marketing in Maine. He arrived at Azalea Drive Church of Christ in North Charleston on Saturday with three candidates on his mind.
Martin said he was a fan of Bloomberg and Steyer. But Bloomberg wasn't on the ballot in South Carolina, and Steyer, who struck him as "a good guy with a good mind," had no experience and no chance, Martin said. Sanders wasn't a serious consideration, he added, describing him as an "inexplicably angry white man with few details about how to finance his ideas."
So he cast his ballot for Biden, a fighter with a solid reputation on the world stage. Biden can beat Trump and straighten out the damage the president has done to environmental regulations and Obamacare, Martin said.
"The thing is, Biden does know how to get things done," Martin said. "Black people, we shed a lot of tears and blood for this privilege. So I am always going to vote. And I am always going to do the practical thing."