The American Civil Liberties Union has filed a lawsuit against the city of Milwaukee and its police chief over the department's controversial stop-and-frisk policy, which the civil liberties group says has been used to unfairly target black and Latino residents.
In the suit filed on Wednesday, the ACLU claims that since 2010 the police department has "engaged in an unlawful policy, practice, and custom of conducting a high-volume, suspicionless stop-and-frisk program" that allowed officers to stop people without reasonable suspicion of criminal activity.
The policy has "created and deepened public fear of and alienation from" the police department, the suit states.
"Black and Latino people throughout Milwaukee — including children — fear that they may be stopped, frisked, or otherwise treated like criminal suspects when doing nothing more than walking to a friend's house or home from school, driving to and from the homes of loved ones, running errands, or simply taking a leisurely walk or drive through the city," the suit says.
Milwaukee Police Chief Ed Flynn reacted sternly to the suit Wednesday, telling reporters, "There's no more serious allegation in 21st century America than to be accused of racist orbiased behavior. So I'm going to take this opportunity to categorically and unequivocally reject the base of the assertions made by the ACLU in their lawsuit.
"We've gotta get beyond the fingerpointing that does nothing except depolice at-risk communities. that's not anybody's goal. There's a better way to do that than lawsuits," Flynn added.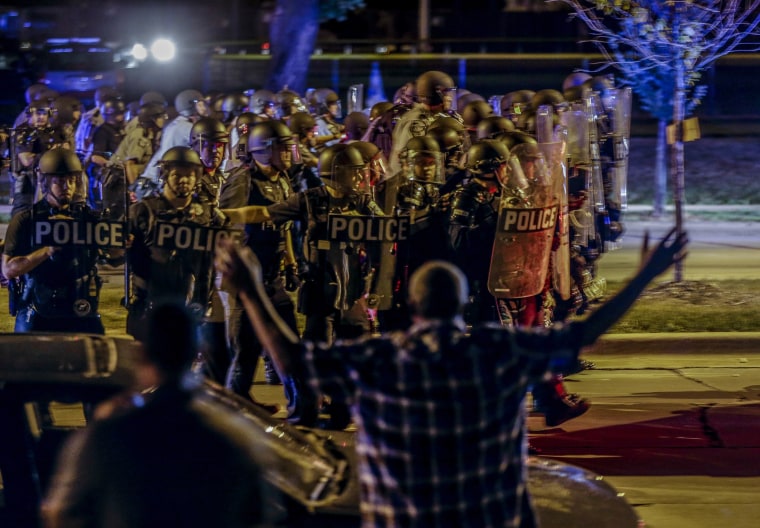 The ACLU's suit comes on the heels of on-going tumult and tension between police and communities of color following a string of high-profile killings of black people by police in recent years, and the city of Milwaukee has had its own troubles.
In 2011, Derek Willilams died while handcuffed in the back of a Milwaukee police squad car, pleading for medical help that went ignored. A year later, a group of police officers were criminally charged for conducting public, illegal strip searches and body-cavity searches of mostly black men between 2008 and 2012. And again in 2016, the city again erupted in days of protests and violent clashes after a former rookie police officer shot and killed 23-year-old Sylville Smith. Smith was fleeing a traffic stop, allegedly armed, when Heaggan-Brown fatally shot him. The officer was eventually charged in the killing and fired from the force.
Critics of stop-and-frisk say the policy places too many innocent people in contact with police, contact that too often turns hostile at best, deadly at worst.
"You look at what has been happening and it's very clear," said Mandela Barnes, a former state representative who has pushed for greater police accountability and community justice. "In certain neighborhoods if you're a black man walking around with a backpack he's probably going to get stopped. That might seem like a good idea in a high-crime neighborhood but when you dig deeper it's a huge problem that has persisted for a very long time."
The number of traffic and pedestrian stops by Milwaukee police has skyrocketed in recent years, jumping from 66,657 in 2007 to 196,434 in 2015. That nearly 300 percent increase was driven primarily bu young men of color, according to the ACLU.
Blacks are 34 percent of the city's population but made up 72 percent of the people stopped by the police between 2010 and 2012.
"No matter where they are in the City, black and Latino people face the constant fear that they and their children may be subjected to police harassment even if they are doing nothing wrong," the suit says.
Stop-and-frisk has been a controversial police tactic nationwide. The practice is an offshoot of "broken windows" policing, developed and pioneered by the New York Police Department in the early 1990s, wherein police aggressively targeted minor infractions as a means of interrupting larger crime trends. Police focused mainly on poor communities of color, as did its successor, stop-and-frisk, which randomly stopped citizens for questioning and frisking.
Despite being lauded by law enforcement, studies showed the practice was ineffective.
Between 2004 and 2012 New York police stopped 4.4 million people. A weapon was found in less than 1% of those stops. Just 1.5% of all stop-and-frisk arrests resulted in a jail or prison sentence. And while blacks and Latinos were more likely to be subject to random stops and searches, a report compiled by then-public advocate Bill de Blasio found that whites stopped and searched by the police were more likely to be found with contraband like drugs or weapons.
In 2013 a federal judge determined that the NYPD's use of stop-and-frisk violated the constitutional rights of the people they stopped, more than 90 percent of whom were innocent.
The ACLU claims that Milwaukee police have mimicked New York-style stop-and-frisk and the result was much the same.
In recent years the city of Milwaukee has paid a hefty price for its stops of innocent residents. Last year alone the city paid out $5 million to 74 African American residents who said police illegally strip searched them.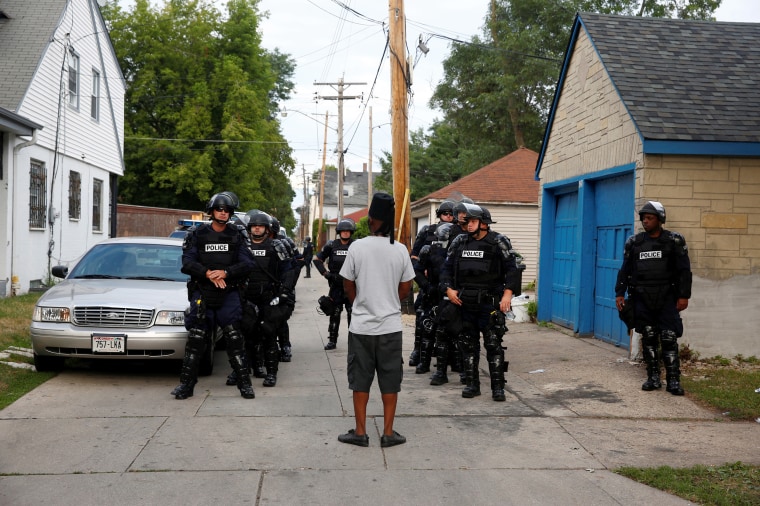 The plaintiffs in the suit include six black or Latino residents: a 67-year-old former nursing assistant and military veteran; the mother of a 17-year-old son who'd been stopped by police; a 24-year-old recent college graduate pursuing an advanced degree; a 29-year-old job coach with Goodwill who holds a master's degree in public administration; a 32-year-old man and a 62-year-old Latina who works as a high school secretary.
Each had been stopped by police at least once, some multiple times, "while engaged in routine, lawful activities," according to the ACLU. Each suffered "humiliation and indignity of being wrongfully branded as criminal suspects due to their race or ethnicity."
Chief Flynn has defended the department's use of stop-and-frisk, saying in a 2013 interview that the practice was focused on saving black people from crime, not criminalizing them. And that the policing of particular neighborhoods over others is simply a matter of targeting crime.
"With about 40 percent of Milwaukee's population, African-Americans represent 80 percent of homicide victims," he said in an interview with Milwaukee Public Radio. "They represent 60 percent of our robbery victims and 80 percent of our aggravated assault victims."
"It's as though the arresting of African-Americans takes place in a vacuum," he said. "If I draw an ellipse over our poorest neighborhoods and then find an ellipse and draw it where our most 911 calls are, and then draw the ellipse over where most of our crime victims are... it's the same neighborhoods and the same zip codes."
The chief's assertions ring hollow for many city residents, particularly those among the many who fear they'll be targeted by police, or worse.
"As a black man in Wisconsin, I'm edgy when I'm going outside," Charles Collins, one of the plaintiffs, told the Milwaukee Journal-Sentinel. "There's an anxiousness about going and moving… You should have the freedom to move around freely with no apprehension, no dread."