Fifty years after Dr. Martin Luther King, Jr.'s death, advocates are renewing efforts to make his "Poor People's Campaign" a reality. The campaign, envisioned by King before his assassination in April 1968, aimed to draw attention to poverty in America as a global human rights issue.
As the country celebrates King's life on the Jan. 15 federal holiday, a new Smithsonian exhibition housed at the National Museum of American History in D.C. will help commemorate his legacy.
"City of Hope: Resurrection City & the 1968 Poor People's Campaign" was organized by the National Museum of African American History and Culture. The exhibit features rare images by photographers such as Robert Houston, archival film, music of the era and new oral histories with individuals such as Marian Wright Edelman and former U.N. Ambassador Andrew Young, who were instrumental in the '60s poverty campaign.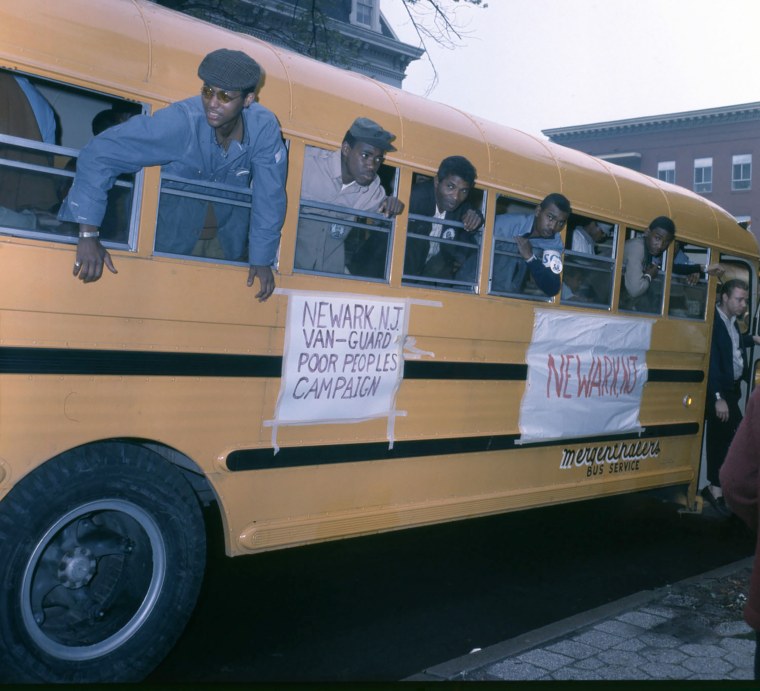 A panel discussion held Tuesday at the museum included civil rights and anti-poverty advocates, among them journalist and organizer Marc Steiner, Georgetown University law professor Peter Edelman and Marc Morial, president of the National Urban League.
Morial said that while the U.S. has made "great economic progress" in certain areas, too many Americans are being left behind. It would be even worse, he said, without Social Security and other programs.
"The numbers have not changed much since the War on Poverty," he told NBC News, noting the initiative launched in the early 1960s by former President Lyndon B. Johnson's administration. "In this new dynamic of now, we're seeing working people impacted. Wages are not keeping pace with inflation."
Edelman, who is also a faculty director of Georgetown's Center on Poverty and Inequality, agreed. A onetime aide to former U.S. Senator Bobby Kennedy, he's spent decades working on issues impacting the poor.
All these years later, the panelists said poverty continues to decimate rural communities and cities alike, and impact people from myriad backgrounds.
While current numbers of America's poor differ, according to 2016 data from the U.S. Census Bureau and the Department of Labor, 40.6 million people were living in poverty. The median household income in America was $59,000. The federal poverty line is $24,600 per year for a family of four and $12,060 for individuals.
Edelman cited 23 percent of African-Americans and 24 percent of Latinos among the poor compared to nine or 10 percent of whites, although their actual numbers are greater.
"About 20 million Americans have incomes below $10,000. And seven million have incomes composed only of food stamps," he said. "The largest number is single moms with kids below 18."
Many advocates across America believe the conditions that motivated the original Poor People's Campaign still exist.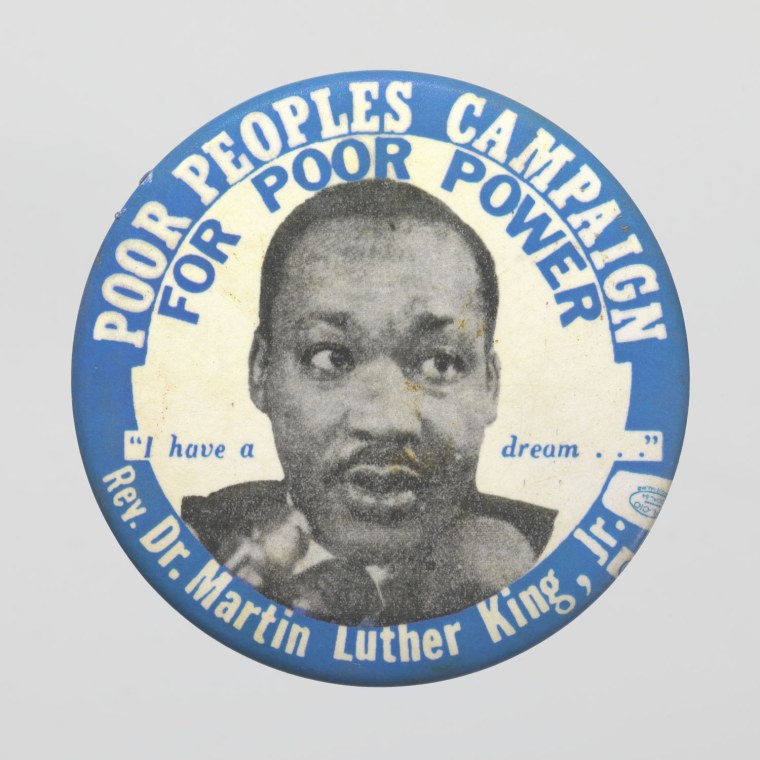 "Poverty has remained entrenched," said Jennifer Jones Austin, Esq. She is CEO and executive director of the Federation of Protestant Welfare Agencies (FPWA), an anti-poverty, policy, and advocacy nonprofit made up of more than 170 human services and faith-based organizations in New York City. "There's an urgent need for a modern day anti-poverty movement."
Rev. Dr. William Barber and Rev. Dr. Liz Theoharis are co-chairs of The Poor People's Campaign: A National Call for Moral Revival, a modern day anti-poverty effort launched in December by religious and social justice activists nationwide. The group is mobilizing a series of non-violent demonstrations and civic actions over the course of this year.
"Even before the election of [President] Donald Trump, the evils of systemic racism, poverty, the war economy, ecological devastation and the country's distorted national morality were tearing apart the social fabric in America," Dr. Theoharis told NBC News. "But with extremists who stand against voting rights, living wages, health care and immigration reform gaining even more influence today in Washington and in statehouses across the country, the need for this campaign is more urgent than ever."
In the 1960s, as the U.S. emerged as a global model of wealth and democracy, an estimated 25 million Americans lived in poverty. In response, The Southern Christian Leadership Conference (SCLC) — led by Dr. King and Rev. Ralph David Abernathy — strategized with allies to develop what became the Poor People's Campaign.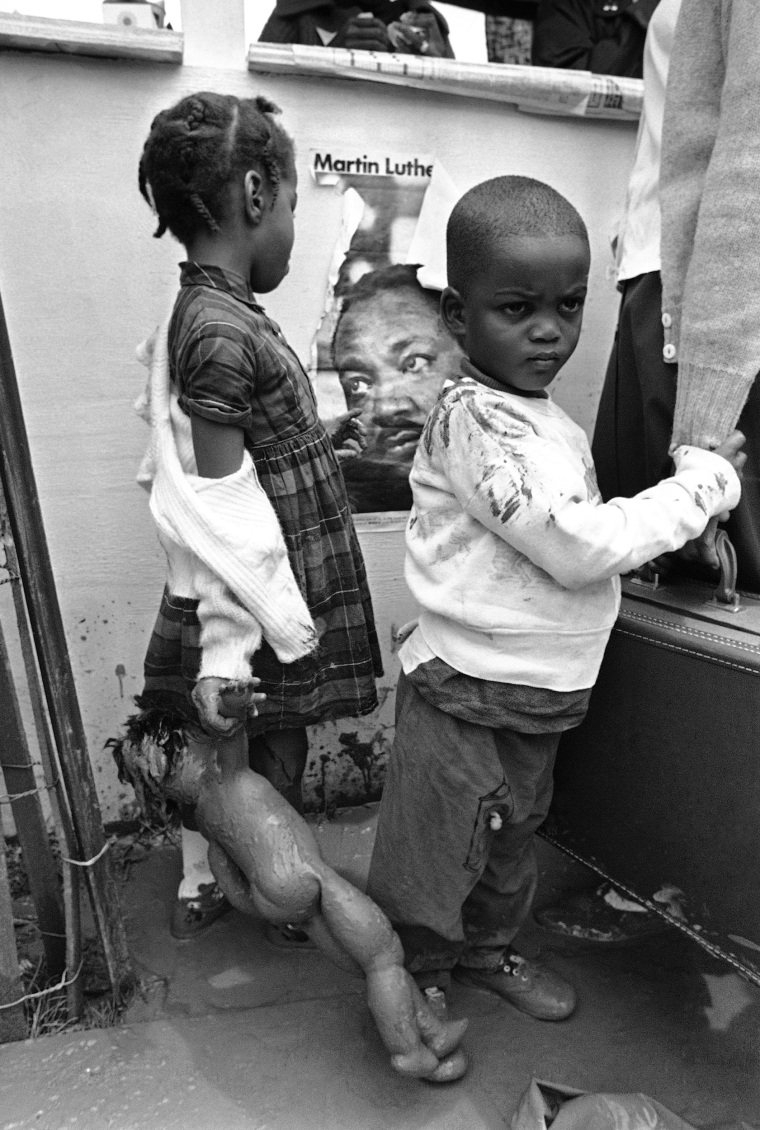 The movement comprised of civil rights and labor groups, tenant unions, farm workers and grassroots organizers. The coalition was multiracial and multi-ethnic, made up of African-Americans, Mexican Americans, Native Americans, Puerto Ricans, Asians and poor whites from Appalachia and rural communities.
King didn't live to see it, but the campaign commenced in May, on Mother's Day, with Coretta Scott King and women from around the country. For nearly six weeks during spring and summer of 1968, close to 8,000 people occupied the National Mall in a live-in tent and shack community that was dubbed "Resurrection City." People were fed, given health services and more. Leaders presented demands to Congress that included jobs, living wages and access to land, capital and health care, hoping to stem the crippling effects of poverty for minorities, children and the elderly.
According to lead curator, Aaron Bryant, the new exhibit will highlight this history with wooden tent panels, lapel buttons, placards, murals and original sound recordings of musical performances and conversations from the era, which were provided by the Smithsonian's Center for Folklife and Cultural Heritage. The film footage shown at the exhibit includes people traveling in a caravan of mule-drawn wagons from Mississippi to Memphis for Dr. King's memorial service, then onto Washington to participate in the Poor People's Campaign.
Lonnie G. Bunch III, director of the National Museum of African American History and Culture, described the exhibition as a "rare look" at the "legacy of Dr. King's final campaign for economic justice." 
"Although the Poor People's Campaign did not achieve its goal of eradicating poverty, it spawned a multi-ethnic and multiracial movement for economic fairness whose belief in helping America live up to its ideals still inspires to this day."