Five area performers show the struggle, triumph and ultimate sacrifice of America's bloodiest war at Ford's Theater's spring production of "Freedom's Song: Abraham Lincoln and the Civil War," playing now as the historic venue recognizes the 150th anniversary of Lincoln's assassination.
The musical, reimagined from the 1998 Broadway production, entitled "The Civil War," deserved, in the eyes of the cast and crew, a much needed makeover.
Now, with a new "approachable" title, a talented cast of seventeen, and songs stemmed from the words of our nation's 16th President, highlights abound for audiences making their way to a theater infamous for what took place on Good Friday, 1865.
"I felt the [original] score was under-appreciated and the book was not as successful in tying the numbers together," says Tony-award winning director, Jeff Calhoun who spoke to NBCBLK by phone from the site of his next production in Las Vegas.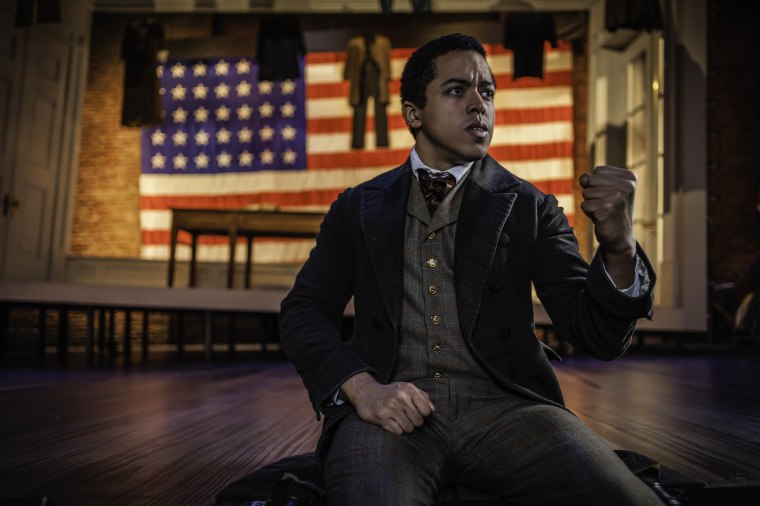 While collaborating with Ford's artistic director Paul Tetreault, they felt the need to get rid of the book completely and instead, through the work of Richard Hellesen and Mark Ramont, turn the speeches and letters of Abraham Lincoln into lyrics and premiere it in time for the sesquicentennial Ford's Theater had planned.
It proved an extraordinary task considering the venue, the site where Maryland actor and Confederate sympathizer, John Wilkes Booth, entered the unguarded box containing President and Mrs. Lincoln, planting a single shot to the back of the President's head.
"The constant omnipresence of doing this production a mere 12 feet from where Booth jumped and broke his leg is very profound," shared Jeff, "and I don't think this show would resonate anywhere else in the country or any other theater."
For Calhoun, whose work in past Ford's Theatre productions include "Violet," "Shenandoah," and "Big River," this was not only an opportunity to better connect audiences to Lincoln, but introduce them to several new and dynamic voices. "What I love is that this has brought new African-American talent to Ford's Theatre," says Calhoun.
NBCBLK spoke with these five cast members, all native to the Washington DC region, on the historic stage to discuss their roles, what they've learned and the growing strength their respective characters have given them through the course of the show.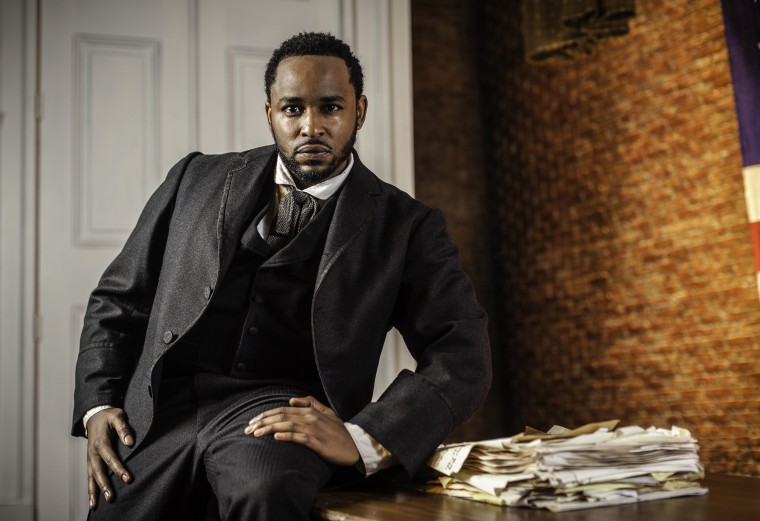 "I dabbled in theater and even auditioned for 'The Lion King,'" shared Rayshun LaMarr Purefoy, who not only attended D.C.'s famed Duke Ellington School of the Arts with cast mate Jobari Parker-Namdar, but still leads the congregation in "Praise and Worship" at Victory Baptist Fellowship, where he was discovered, in Silver Spring, Maryland.
After performing in the Langston Hughes penned musical "Black Nativity," friend and fellow cast member Nova Payton prodded Purefoy to audition. "I felt he should be heard," shared Payton, the Helen Hayes award-winning actress well known across local stages.
"I was asked if I knew any black men who can sing. Rayshun can not just sing, he can SAAAANG!" she motioned to laughter from the cast.
Payton knew it was Purefoy's time to be showcased, portraying a slave turned abolitionist with hands outstretched in victory in a memorable and musical reading of the Emancipation Proclamation, the titular "Freedom's Child."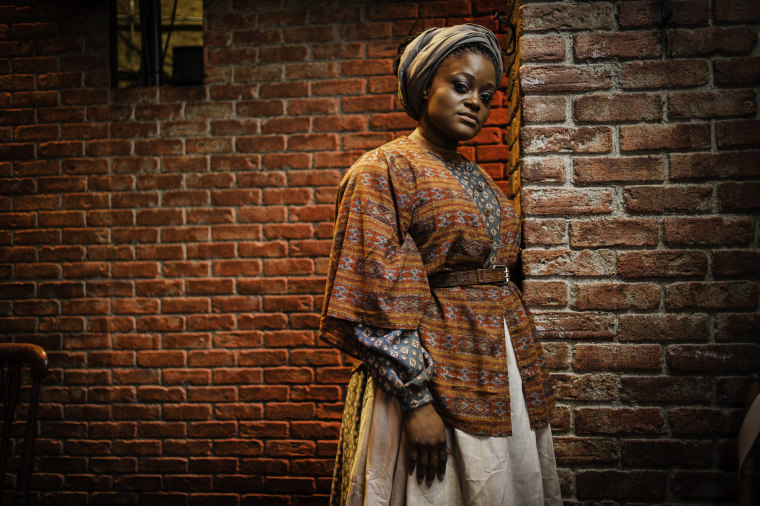 Payton, whose "storyteller" role bookends the 90-minute performance was also working with cast member Kevin McAllister in Ford's production of "Violet" when approached to workshop the new musical.
"My initial reaction was that I don't think people are going to get this," shared McAllister of the early experience of transferring Lincoln's speeches and letters of the time into song lyrics. "Now, I feel a lot of it lands."
McAllister, who is a stand out in his performance of "Father, How Long?" and regarded by Calhoun as a 'local star,' explained his early reservations.
"I think there is a huge responsibility, not only to us as performers, but as African Americans. How do we get from cliche to make these people individuals, intelligent individuals, who have stories and a commitment to love, or even escaping?"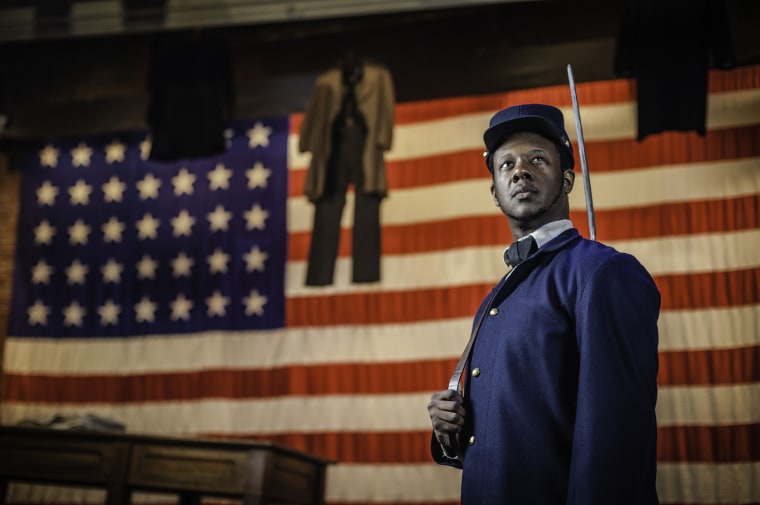 Historian Edna Greene Medford, chair of Howard University's History Department, provided a recollection of that time in our nation's capital, April of 1865.
"I think first we need to remember that even though Washington was a little sleepy town, it was an urban environment," says Medford. "While limited, opportunities for African Americans were available because it was a federal enclave. It was a cosmopolitan community. By then the majority of African Americans in Washington were free."
Medford not only highlights the role and recognition of President Lincoln during this era but also points to figures not often recognized when discussing emancipation and the abolitionist movement, including the immediate action of slaves in the South.
"The minute the war starts, they start running away," says Medford. "Enslaved people led the way. They see the struggle between white men as an opportunity to escape. Long before Lincoln, that freedom is in the air and black people smell it."
She further highlights the protests of slaves in the South while still in bondage, whose masters were called to war and the ability of slaves to do "every conceivable thing" to resist further enslavement.
"You see these letters coming from women in their plantations," shares Medford,"begging not only their husbands to come home, but their [slave] overseers, as well."
According to Medford, the idea of black men and women waiting on the sidelines is just not true. She further describes the important work of abolitionists, a note the Director Calhoun agrees with and depicts in "Freedom's Song."
For the three women on stage during the number "Candle in the Window," there is what Calhoun describes as a "literal nod toward history." As the women sing of the pondering President, weighing his options to preserve the Union by candlelight, they represent the nurses caring for wounded soldiers, the abolitionists or the fugitive slave looking to return home as free.
"I think there is a huge responsibility, not only to us as performers, but as African Americans. How do we get from cliche to make these people individuals, intelligent individuals, who have stories and a commitment to love, or even escaping?"
"We never got specific with history" says Calhoun in terms of giving them names. Even President Lincoln is represented by a slight silhouette, a coat and his famous top hat.
McAllister, who plays a fugitive turned soldier, describes the experience of playing these roles in a theater that is known more for what took place off stage than on.
"It's daunting at times, it's overwhelming, and it's exciting. With each production here there's a huge responsibility," McAllister says. "There's an obligation for historical accuracy and a commitment to truth that we're attached to, as performers. Not only because we're in a place where history is living and breathing every single day [but] because we are coming from a standpoint of slavery."
He says "the responsibility for the cast and crew is huge and we're finding that truth in a musical way."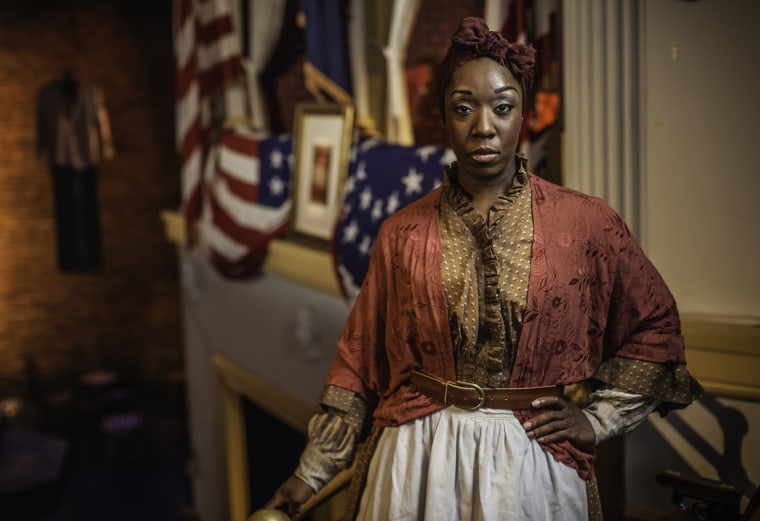 Ashley Buster, who is making her Ford's Theatre debut while finishing up her graduate studies between performances, describes a critical scene when the entire cast looks up at the President's Box, draped as it was that 14th day of April: "In that moment, we become a teacher and historian, they're not just coming to be entertained," Buster says.
There is so much history and subtext that happens on the stage, but Parker-Namda says he was never worried about what he describes as the "Lincoln scholars" in the audience. "They relate to what we're doing. They see the pain, the anguish, the hope. They relate to it on a human level."
For Parker-Namdar and his cast mates, that anguish resonates as much now as it does in their portrayal of days past. "Something that stuck with me early on, was how relevant these songs still are," he says.
"We've been in this country and 'how long' do we have to keep fighting before we are in a place where we can be at peace? Just be Americans...Fellow Americans."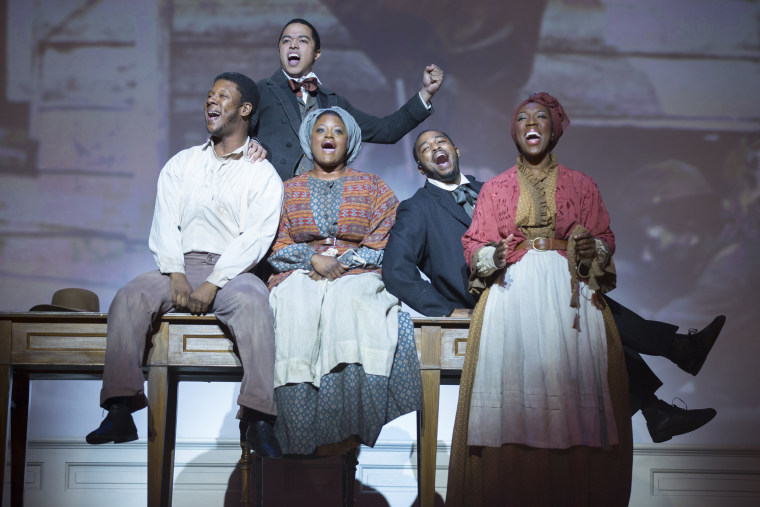 [Freedom's Song: Abraham Lincoln and the Civil War plays at Ford's Theatre through May20th]