Baltimore Orioles center fielder Adam Jones on Tuesday challenged the unknown Boston Red Sox fan who yelled a racial slur at him to "square up — let's fight and get it over with."
Jones confirmed remarks attributed to him in USA Today, telling reporters at a news conference Tuesday that the vitriol grew so hostile during Monday night's game at Boston's Fenway Park that at one point, a bag of peanuts was thrown at him while he was on the field.
"I heard the N-word," Jones said Tuesday, a day after the Orioles beat the Red Sox, 5-2. "It was not clever. It was stupid and ignorant."
He said his first reaction was: "OK. This is really how it's going to go down here. ... Square up. Let's fight and get it over with."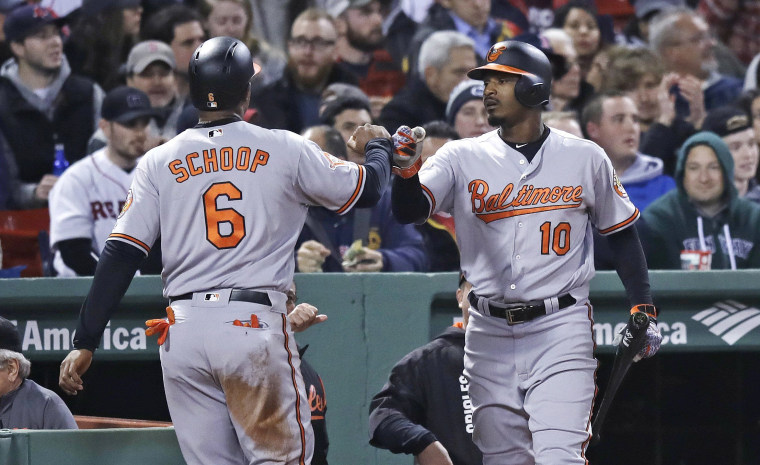 The Red Sox apologized Tuesday, saying, "No player should have an object thrown at him on the playing field, nor be subjected to any kind of racism at Fenway Park." The entire organization, the team said, was "sickened by the conduct of an ignorant few."
Jones said Red Sox principal owner John Henry also visited him and Orioles manager Buck Showalter on Monday night to apologize in person.
"I liked and appreciated he came and talked to me face to face," Jones said. "He expressed his disgust and apologized for the whole city."
Jones said players accept fan abuse as part of the game — as long as it's "normal."
"Berate us. Cuss us out. Tell us we suck," he said, but "leave it to performance-based comments."
"It's Orioles-Red Sox. I don't need any special treatment," he added. "I just don't want any racial stuff."
Related: 'Crude, Racially Insensitive': American University Finds Bananas Hanging in Nooses
In 2013, Jones — a widely respected humanitarian who has been honored with the Babe Ruth Museum Community Service Award and was named Major League Baseball's Marvin Miller Man of the Year two years ago — said a fan threw a banana at him during a game in San Francisco against the Giants.
Tuesday, he said he doesn't have enough "fingers or toes to keep count" of how many times he's been targeted with racial abuse.
"Nothing's at rest when it comes to race," he said. "It's all about the conversation. Once you have the dialog, you can work toward the resolution."
Major League Baseball Commissioner Rob Manfred said Monday's episode was unacceptable, saying in a statement: "My office has been in contact with the Red Sox, and the club has made it clear that they will not tolerate this inexcusable behavior. Our 30 Clubs will continue to work with fans and security to provide a family-friendly environment."
Massachusetts Gov. Charlie Baker and Boston Mayor Marty Walsh used the same word — "unacceptable" — in reactions they posted to Twitter.
Meanwhile, Jones got a standing ovation for his first at bat in Fenway on Tuesday night.