Over the past 12 years Afropunk — which started in Brooklyn, New York with just one stage and a skateboard park — has become a cultural haven celebrating Black culture and alternative Black music.
As the festival has evolved and spread its arms around the world from London to Johannesburg, many things have changed — the artists, the size, the locations — but the space for expression that Afropunk not only creates but also cultivates, has remained constant.
Photographers have gathered images of the funky-eclectic outfits, body art, wearable fashion and beautiful hairstyles worn by artists and attendees of the festivals, but few have captured why these images are so culturally and politically important.
Artists, creatives and activists spend all year planning designs intended to not only be photo-worthy, but to make statements about Blackness through their work.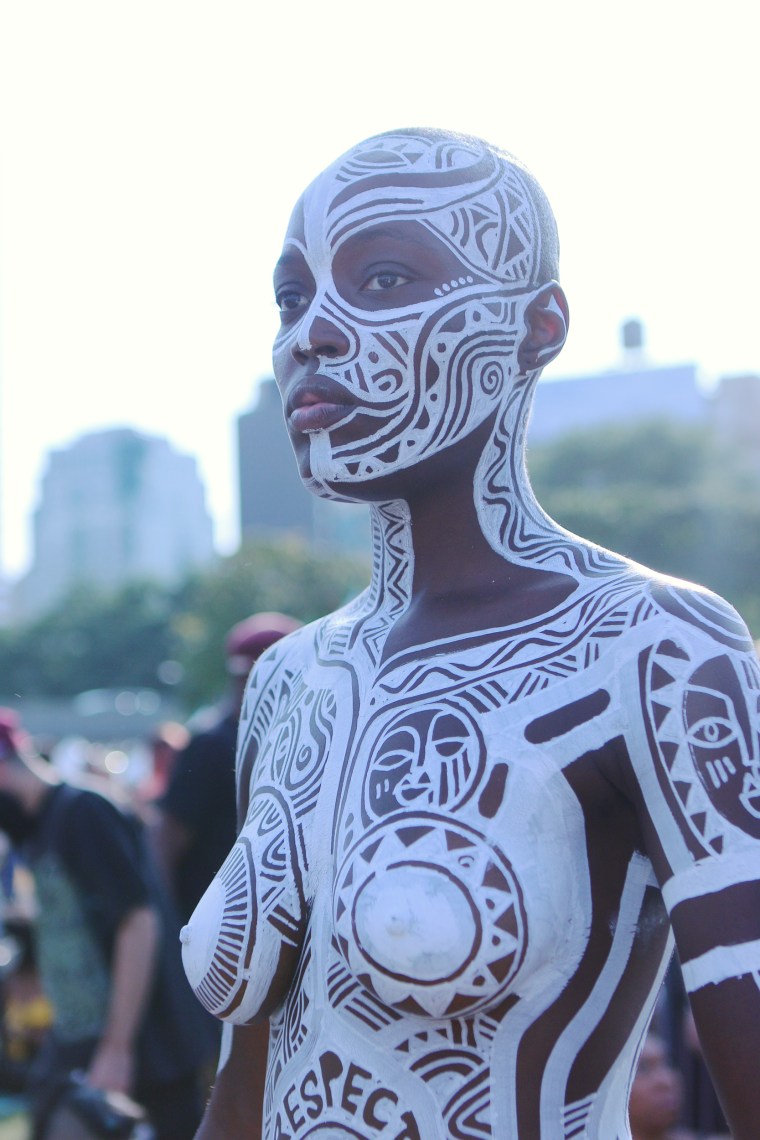 In an age of free speech rallies and increasing support for Confederate statues and Nazi symbols of hate and oppression, many looked forward to the space created by Afropunk for self-expression and promotion of Black culture. Others took advantage of the opportunity to promote and inform people about Black history and the radical beauty of expressing Blackness.
From artists wearing hand-painted signs reading "F--- Alt Right" to designers like Peter Gaona of ReformedSchool using eco-friendly materials to create fashion that teaches African-American history, fashion was more than fashion at Afropunk; for many it was an act of defiance.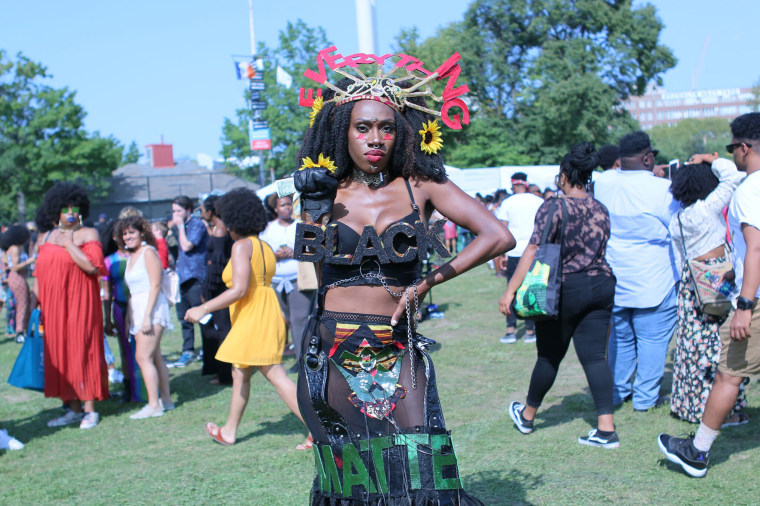 "We're literally wearing our movements on our chest," said Michaela Angela Davis, a writer and image activist. Davis' platform MAD FREE partnered with Gbenga Akinnagbe's clothing line Liberated People to create a line of t-shirts. Each t-shirt features a pro-feminist message like "Patriarchy is a Bitch" and "Liberated Woman." In addition, part of the proceeds from sales are donated to various nonprofit organizations including Black Women's Blueprint and Planned Parenthood.
From Davis's perspective, Black beauty itself is an act of defiance. "Our sense of extreme beauty, our sense of exquisite expression is radical. We're doing stuff with our body and our hair that nobody else can do. We're doing that because it is our instinct to make beauty and create culture," said Davis. "But it's also radical to express Blackness because of the white oppressive beauty standard that very few people in the world can achieve. [Expressing Blackness is] a direct affront to that."
Davis feels that Afropunk creates a uniquely empowering space for Black people. "I've seen people that I know are corporate who are out here with spikes and tulle and flowers because they can't do that at work but they come here and they can express themselves."
Staceyann Chin, a spoken-word poet, performing artist and LGBTQ rights activist who performed this year said Afropunk is more important than ever before.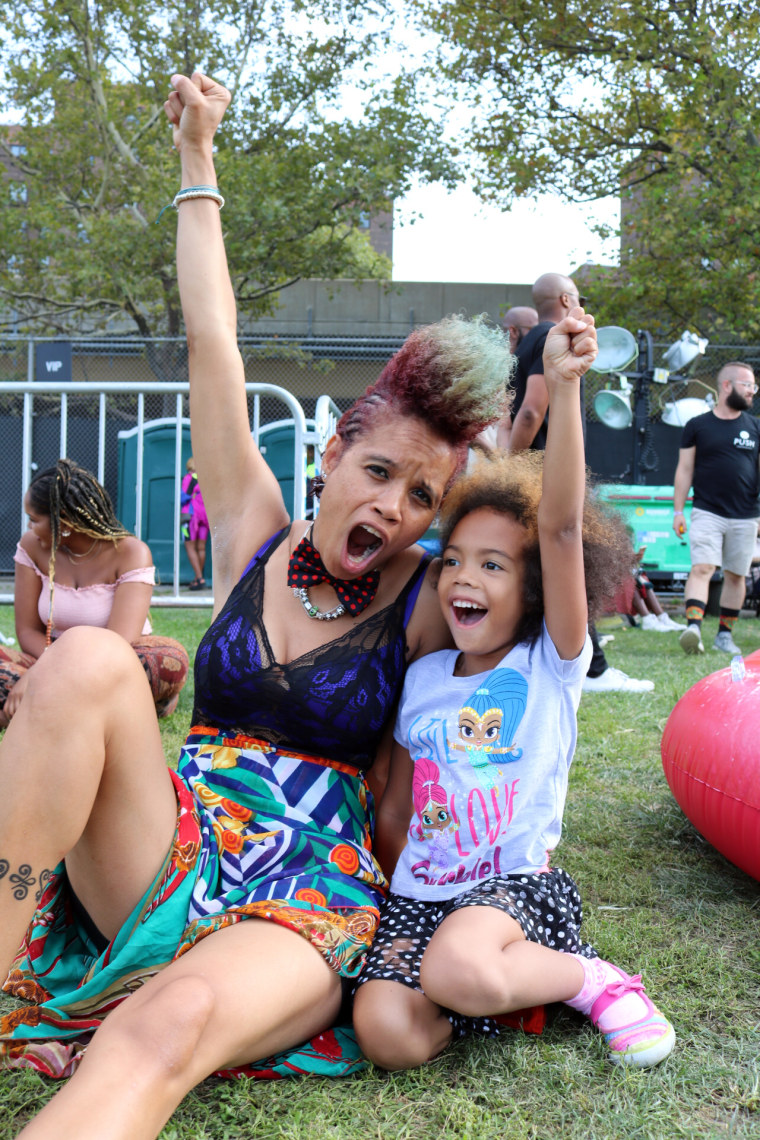 "I think it is important in this time that these images are not just created, but created in massive numbers and are in everyone's feed so that these white supremacists who feel they have the freedom to go march in any city of their choosing, that they can understand that this is not going to be a fight without resistance," said Chin. "It is not going to be a fight without push back… Not just marching in the streets, not just raising their fists, not just being angry but, being bright, joyful, black and visible."
Related: Grey Worm From 'Game of Thrones' Transforms as Musician Raleigh Ritchie
Chin said spaces like Afropunk — that value and celebrate pro-Blackness — show that Black people are deserving of being admired as beautiful, as important, and as autonomous.
"We see women in the tiniest of shorts and in the brightest of colors and hairstyles that say 'I matter,' in bodies that do not apologize for curves, for aging, for blackness or Afrocentricness," she added.
London Bambi, a designer originally from Chicago, is the owner of Black Balloon. He designed his outfit, a long black tunic featuring the Langston Hughes' poem, 'Warning.' He chose this poem because he believes it's vital to convey that Black people will not sit idly by.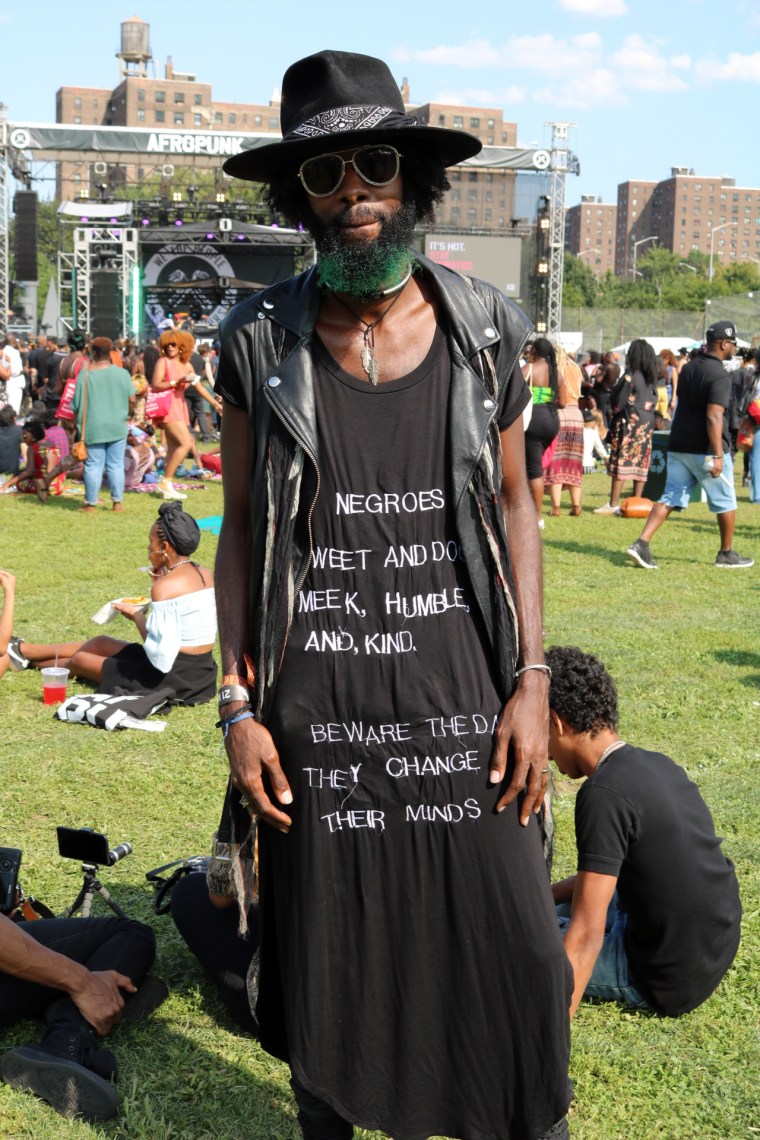 "I think right now, especially for people of color, we need to show our uniqueness and that we are still are here," said Bambi. "You see vibrant colors, you see everyone in their unique state and everyone has an interesting discourse you can't get away from. I've always loved that. It is poetic in itself."
"People are flying in from everywhere to celebrate Blackness. It's really important that we're coming together on this weekend, because for me it's beyond the music," said Jessica Nabongo, Founder and CEO of Global Jet Black, a boutique travel firm offering services to individuals, governments and brands to encourage tourism to countries in the African diaspora. "I would pay to go to Afropunk even if there was no music. To me the energy is so amazing."
Being known as a safe space for people of color and the LGBTQ community isn't an accident, it is by design. During performances attendees are reminded of the Afropunk motto printed on huge banners flanking the stage: "No Sexism. No Racism. No Ableism. No Ageism. No Homophobia. No Fatphobia. No Transphobia. No Hatefulness."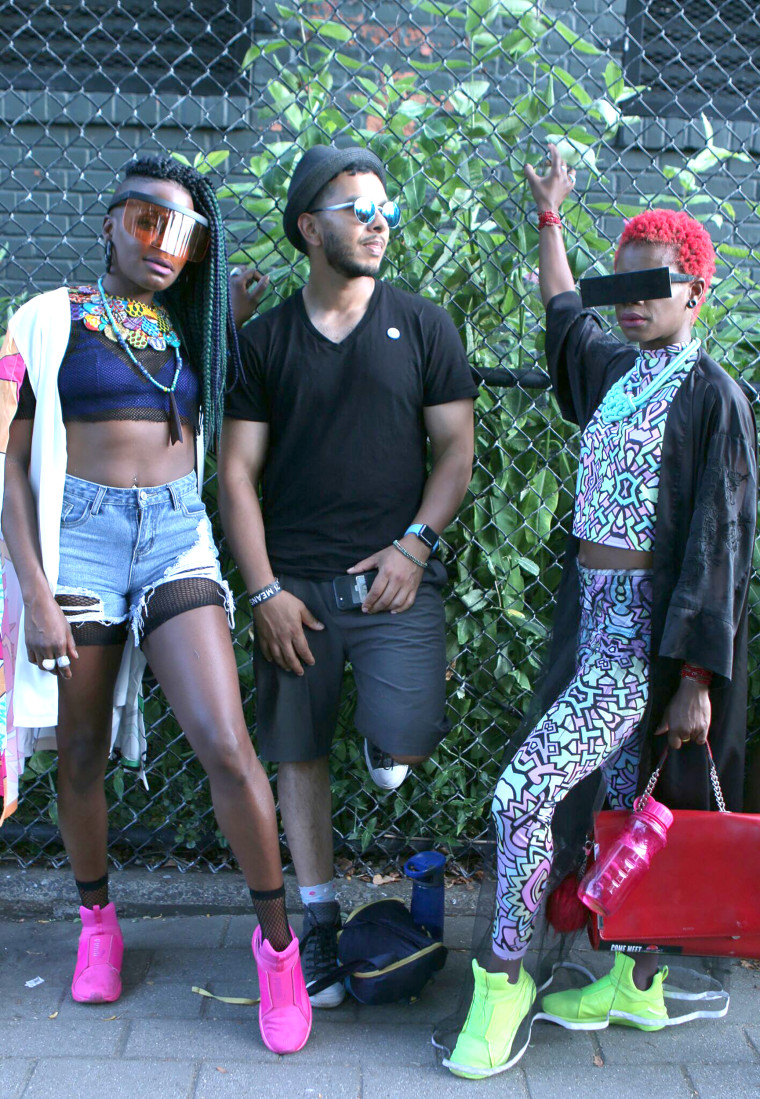 This safe space, rare particularly in the current political climate, is one of the reasons that style at Afropunk is what it is, said Nabaongo.
"We are free Black folks despite everything else going on in the world. At the end of the day we are free and I feel like this weekend in New York really helps us to feel and believe that," she said.
Peter Gaona, a southside Chicago native and owner, creator and designer of the fashion line ReformedSchool, branched out into clothing with a purpose to make a more impactful statement.
In response to the deaths by gun-violence in his neighborhood, he created a special piece of clothing as his way of speaking out. "I did a jacket with the recreation of the 'I Am a Man' poster using fabric made out of recycled plastic bottles. So people were like, 'you know you need to add that to your line.' And it just kind of grew out of that."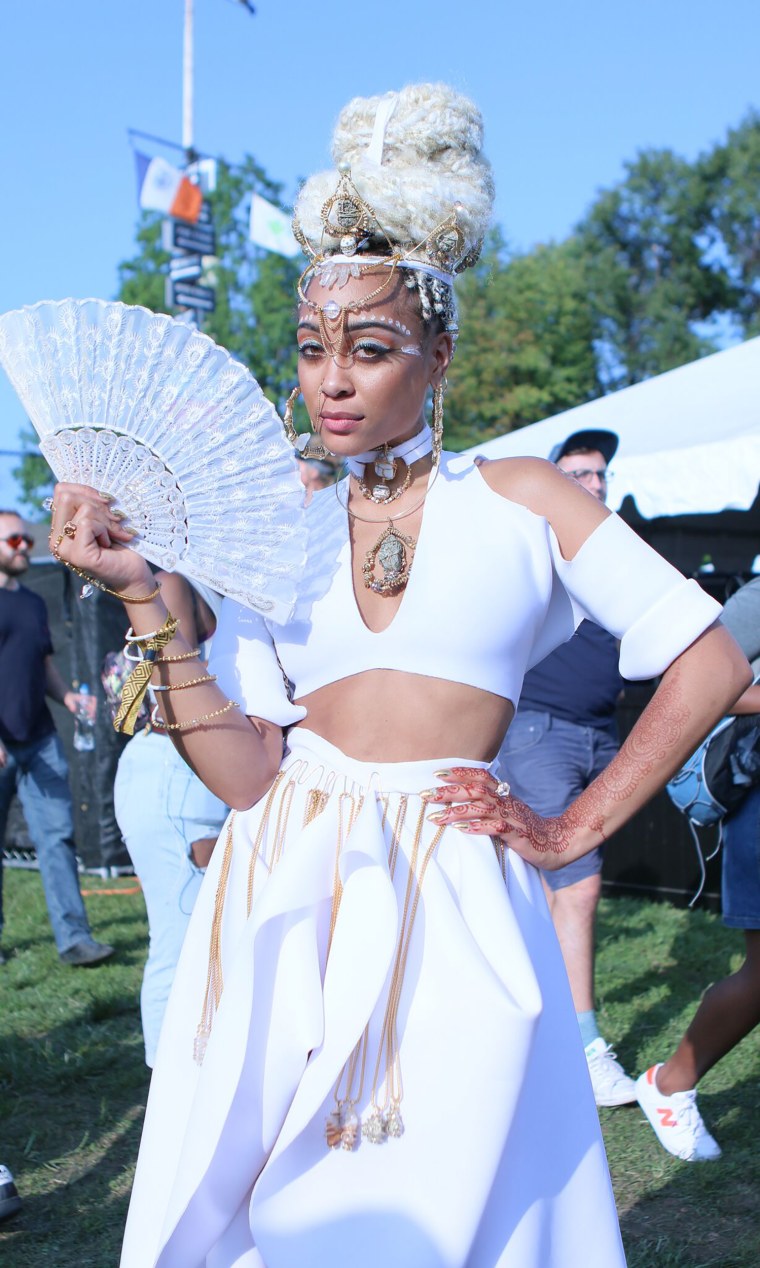 "Teaching Black history and informing people about Black history using fashion is really important. We're not taught it in schools. Across the country it is considered separate from American history and it is really a part of American history. I think everyone should know Black history. So I think using fashion to do it helps open people's eyes," said Gaona.
In the beauty of all these designs there were also those who outfitted themselves with personal messages to express their views. The morning before Afropunk, Anthony Price, a cinematographer from New York, and his girlfriend designed a piece of fabric to attach to his one piece linen jumpsuit opposing the alt-right movement.
"I put 'F-- Alt Right' on the back of my shirt because I feel that it resonates with all people. It is not just Black people who are tired of the oppressors trying to keep us down," said Price. "Defiance through fashion is speaking your language through your style… if you put all your feelings on the outside there's not much that you have to say."