When Antwon Rose, a black teenager from East Pittsburgh, Pennsylvania, was fatally shot by police this month, it took prosecutors one week to charge the officer with homicide.
In southern Georgia, it also took a week for the officer who killed black driver Anthony Marcel Green to be charged with voluntary manslaughter.
Experts say these cases represent a shift in how police-involved shootings in minority communities are being handled by authorities.
Prosecutors are bringing charges that take witnesses and videos into account, while at the same time acknowledging that they are going to have a difficult time going to trial and obtaining a conviction, said Philip Stinson, an associate professor of criminal justice at Bowling Green State University in Ohio.
"They generally don't bring charges in any case if they don't think they can win," Stinson said this week. But moving ahead with charges "is a good thing from my perspective because prosecutors are supposed to seek justice, not count 'wins.'"
Charges against an officer remain rare, and convictions even rarer.
So far in 2018, there have been three cases of officers being charged with murder or manslaughter, according to Stinson's data reviewing on-duty shootings.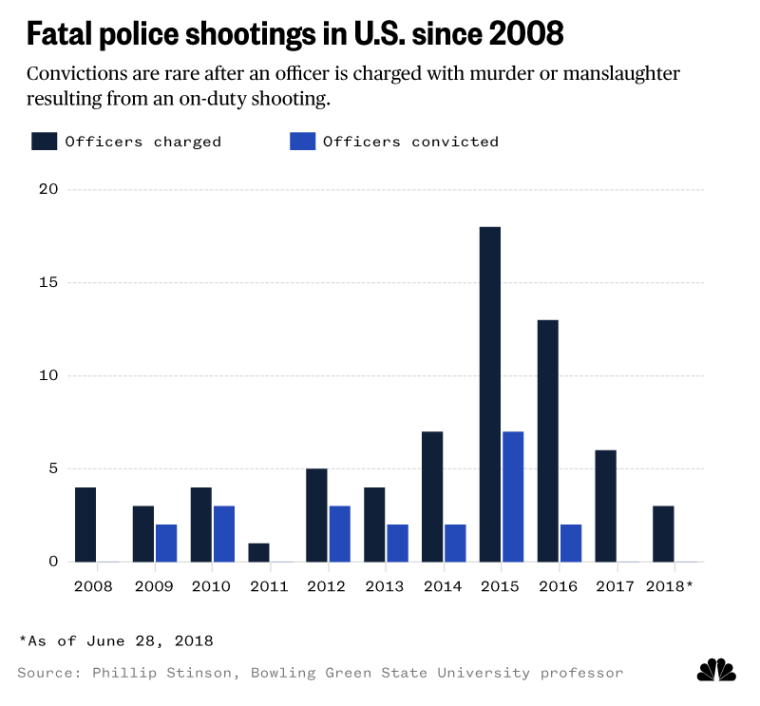 In the past decade, 69 nonfederal officers have been charged, while 21 have been convicted of some crime, according to the data.
But the convictions are often for a lesser offense, and just one has been for murder.
Last year, the police officer who shot South Carolina driver Walter Scott in the back as he ran away pleaded guilty and was sentenced to 20 years in prison for second-degree murder and obstruction of justice. In other high-profile shootings in recent years, including the deaths of Michael Brown in Ferguson, Missouri, Eric Garner in New York and Alton Sterling in Baton Rouge, Louisiana, no criminal charges were filed.
In Rose's case, the unarmed 17-year-old was shot in the arm, face and middle of his back as he ran away from police on June 19 after the car he was riding in was pulled over as part of a drive-by shooting investigation. Rose's shooting was caught on cellphone camera and led to several days of protests.
Fred Rabner, an attorney for Rose's family, said seeking justice in police-involved shootings is typically riddled with delays because of the nature of who's involved. In this case, video evidence helped to move the process along, he added.
"For some reason in our country, prosecuting an officer is different than prosecuting a lay person," Rabner said.
Stinson said the relatively fast homicide charge against East Pittsburgh officer Michael Rosfeld wasn't surprising given that Pennsylvania, unlike other states, does not require an indictment from a grand jury before charging someone.
Information from corroborating witnesses and the availability of video likely helped as well, he added.
"I don't think we have seen any seismic shift in the speed in which charges are brought," Stinson said. However, "in the past, the police have owned the narratives in these incidents, and bystanders' accounts have not been given much weight. Now we see that police investigators and prosecutors are giving more weight to witness statements especially in cases where there is video evidence."
Prosecutors aren't examining cases in a silo either — oftentimes they're enduring public outcry, large protests for answers, calls for resignation or the release of videos, and intense media scrutiny.
In Georgia, the fatal June 21 shooting of Green has not garnered the same kind of attention as Rose's case. Kingsland officer Zechariah Presley shot the unarmed 33-year-old as he bolted from his car during a traffic stop. The men got into a physical altercation before Green fled, and Presley shot at his direction multiple times, authorities said.
Kingsland's police chief on Wednesday made the unusual move to fire Presley as he turned himself in on charges of voluntary manslaughter and violation of oath of office. Presley joined the force in June 2017 and had a number of red flags in his personnel file and application, including domestic violence, marijuana use and intimidation, reported NBC affiliate WTLV.
"Police chiefs do have an interest in being perceived as being transparent," Stinson said. "It is a long hot summer ahead, and police chiefs don't want civil unrest."
Prosecutors, many who are elected to their posts, must also tread carefully in deciding whether to charge officers since courts have routinely ruled in the officers' favor when it comes to their use of force on the job.
In Sacramento, California, District Attorney Anne Marie Schubert has yet to announce whether she will charge officers in the death of Stephon Clark, the 22-year-old black man who was shot March 18 after police responded to a call of someone breaking car windows. Police said they believed Clark pointed a gun at them, and shot him eight times. He was found with only an iPhone.
Schubert, who won reelection earlier this month with strong support from law enforcement agencies, said it could take more than a year before charges are decided in the case.
Prosecutors such as Schubert shouldn't have to feel rushed as they wade through evidence, said Eugene O'Donnell, a retired NYPD officer and professor of law and police studies at John Jay College of Criminal Justice in New York.
The swift prosecution of police "is akin to the subprime mortgage problem a few years ago," he said. "There's a search for villains and a lack of acknowledgement that there are larger issues that need to be confronted within the policing system."
He added that while there may be instances of police bungling or worse in a shooting case, those don't always equate to criminality.
"The idea of due process rights should not be some kind of quaint notion," O'Donnell said. "Officers are being fired within 24 hours now, and the facts are casualties and the nuances are casualties."