When The National Memorial for Peace and Justice opened this April in Montgomery, Alabama, attorney and author Bryan Stevenson was told no one would want to claim such painful and egregious part of history.
Stevenson created the 11,000-square-foot memorial in the capital city through his organization the Equal Justice Initiative. The memorial features over 800 steel monuments with the names of over 4,400 black people who were lynched from 1877 to 1950. Over 200,000 people have visited so far, according to the organization.
"We've already heard from 300 counties, people in those communities saying we want to claim our monument, some community leaders, some elected officials, some faith people, black folks and white folks," Stevenson told NBC Nightly News anchor Lester Holt on Tuesday. "I'm excited that people seem ready to do something that feels like an act of truth telling towards reconciliation."
Elmore Bolling, a community leader and business man in Lowndes County, Alabama, was shot and killed on Dec. 4, 1947. His death was investigated by the NAACP and a marker at the site quotes that he had long been a "marked man" since he was rated by whites as "too successful to be a Negro."
His name is among those of nearly 60 people who were lynched in and around this city during the time, according to The Montgomery Advertiser.
Josephine McCall, a daughter of Bolling and board president of the Bolling Foundation founded in 2008 in his memory to improve educational opportunities in the county, said she was ecstatic by the memorial.
"My father had never gotten any recognition nor had we. We had never been recognized for the trauma that we suffered."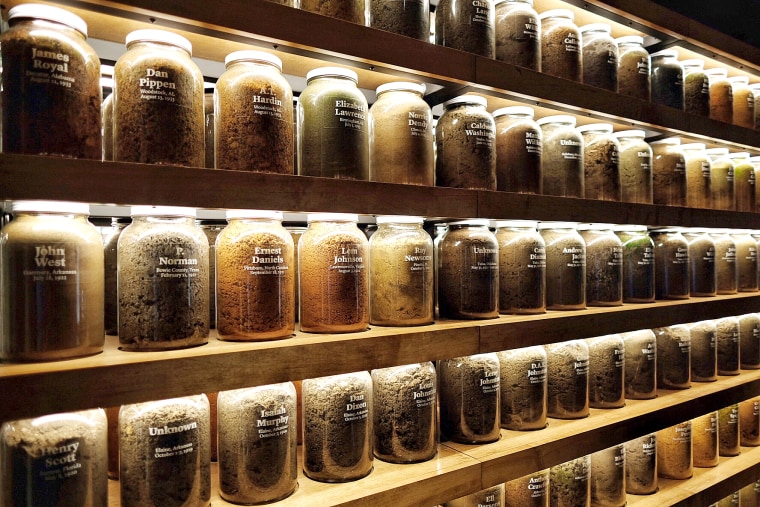 Inside the memorial there is a section of soil samples collected from lynching sites around the country — and at the EJI office, there are an additional 280 jars. Stevenson said he wants the samples to make the history of lynching tangible for modern visitors and will continue to honor history.
"When I tell people that they're digging soil, I say: 'You're not just digging soil. You're digging the sweat of the enslaved. You're digging the blood of those who were lynched. You're digging the tears of those who were humiliated by segregation. And you're putting it in the jar,'" said Stevenson.
"We can take the lids off," he continued. "We can actually begin to do some things. And that's what we want communities to do after they go through this process ... to plant something rooted in truth that yields something that is nurturing, that is healing."
CORRECTION (Oct. 13, 2018, 2:30 p.m. ET): An earlier version of this article misstated the name of the memorial in Montgomery, Alabama. It is the National Memorial for Peace and Justice, not the National Memorial for Peace and Equal Justice.