The Charles R. Drew Charter School boys golf team made history in May when it became the first all-black high school team — and the first team from the Atlanta public school system — to win the Georgia state championship.
For a sport that has always been overwhelmingly white, that's a big deal. The milestone even drew the attention of Harold Varner III, one of three African Americans on the PGA tour, whose foundation donated $5,000 to the team's program.
"I think it was very significant for them to win," Nyre Williams, one of the team's coaches and the founder of the golf program at Drew Charter, told NBC. "It gives young African Americans a chance to see that, hey, this can be done."
Golf has been much slower than most sports to diversify. But some experts say the Drew Charter team's victory represents the best solution to the challenge of making the costly, overwhelmingly white game more appealing and accessible to African American players.
Is the face of golf finally changing?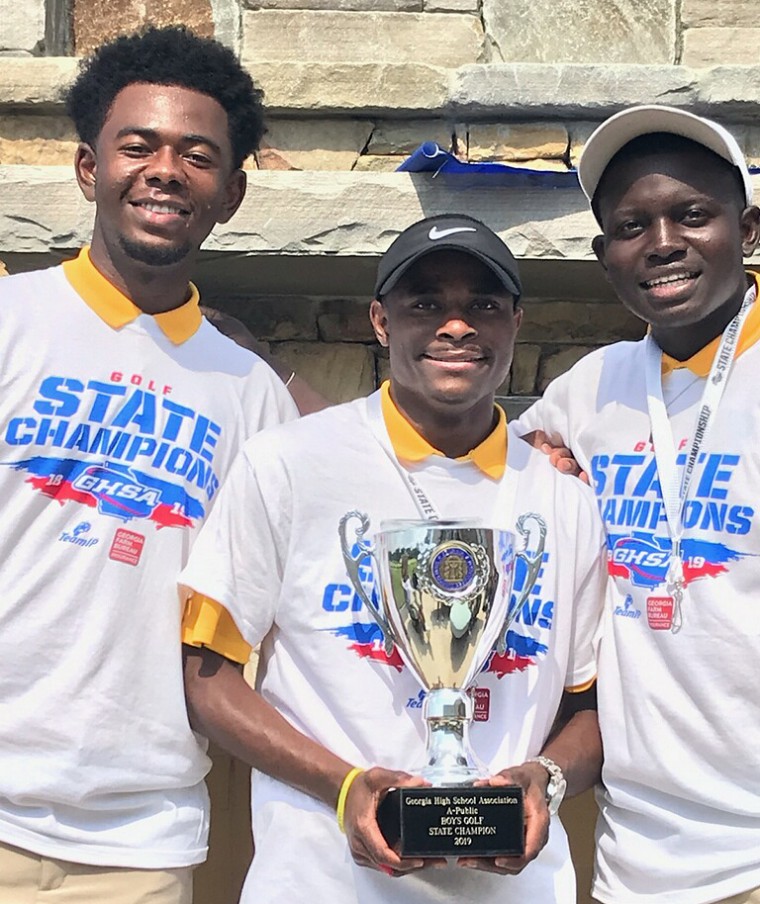 When the team arrived at the state championships, they quickly realized how much they stood out.
"No other teams looked like us," said Solomon Dobbs, who was a senior on the championship team and graduated in the spring, adding that they were "pretty much" the only black golfers there.
That's not surprising. According to the National Golf Foundation, only 3 percent of recreational golfers are African American — and that drops to 1.5 percent when it comes to competitive golfers. While the PGA tour has three African American, the Ladies PGA tour has just one member.
James Beatty, executive editor of African American Golfer's Digest, said that while there are ongoing efforts to increase diversity in golf, much more needs to be done.
"More than I think any other sport, golf has historically been dominated by white players," he said. "The golf industry has been slow, in my mind, to invite people of color, especially African Americans, into the economic mainstream of the sport."
One reason is the average cost of playing golf, which is much higher than most sports.
"It's easy to pick up a ball and go to a hoop and play. And it's easy to run track," said Craig Kirby, founder of the diversity-focused nonprofit Golf. My Future. My Game. "Golf is not cheap."
The significance goes beyond representation in the sport. Golf has historically been a gateway to a whole host of other opportunities, and is often associated with financial success and status.
Lane Demas, a history professor at Central Michigan University and the author of "Game of Privilege: An African American History of Golf,"said that golf's status as a symbol of wealth and privilege made desegregating it t an important, if contentious, goal for the civil rights movement.
"There's this powerful historical connection between golf and elite success, to such an extent that many in the 20th century civil rights movement actually say: 'This is not something we should be fighting for. This is elitism,'" Demas said. "On the other hand, there were others who said, 'You know, that's exactly why we have to get on the course. This game means something. It is connected to power.'"
Dobbs, now a freshman on the Morehouse College golf team, said he hopes to use his golf skills to open doors that might otherwise be closed to him.
"When it comes to college, when it comes to business, investing, like a lot of the things I want to do outside of golf, I've met people that do those things while playing golf," he said.
Georgia has long been at the forefront of diversity and desegregation in golf
The Drew Charter School team gathered together again in October to receive their championship rings in a ceremony aptly named after Calvin Peete, the most successful African American golfer on the PGA tour until Tiger Woods. (Peete spent his final years in Atlanta and died in 2015.)
For Williams and his team, it was a good moment to recognize the significance of their victory not only for other young African American golfers, but for their community as well.
"That was a big deal, not only for the school, but the community and the city of Atlanta," he said. "Just to see those kids put those big rings on, and the smiles on their faces, they clearly understand that they've done something special."
Georgia was a major battleground in the fight for equality in golf going back to the Jim Crow era. One of the first cases of court-ordered desegregation in American history was Holmes v. Atlanta in 1955, in which the Supreme Court ordered the integration of the city's public golf courses.
"Right in the aftermath of Brown v. Board of Education, but before Brown was implemented, before a court ordered direct integration anywhere in the modern era, it was the golf courses in Atlanta," Demas said.
Atlanta was also home to the famed black-owned Lincoln Country Club, which served as the de facto center of the black golf world in the segregation era. The club periodically hosted NAACP meetings, and even briefly counted W.E.B. DuBois as a member.
Decades after Tiger, golf's racial disparities are an ongoing challenge
There was a moment in the late 1990s when commentators, journalists and analysts predicted the sport was on the precipice of a demographic equalization. The catalyst, of course, was the rise of Woods, who became a beacon of hope for African American representation in the sport. But this hope was misplaced, Demas said.
"Everyone's talking in 1997, saying the floodgates are going to open and the PGA Tour will be all black and all these things," he said. "What we've seen, of course, is that that's totally not true. There's fewer black golfers today than there were before Tiger."
The golf industry has taken initiatives to improve its diversity. In 2011, the World Golf Foundation created a Diversity Task Force, which aims to "promote and increase diversity and inclusion across the game and the business of golf."
But some experts say such moves and efforts undertaken by the organizations involved in "We Are Golf," a diversity initiative, are simply not enough, especially when it comes to increasing African American representation in the sport. For Beatty, improving diversity means introducing minority players to the sport at a young age — an exposure that black children rarely get.
"If we look at golf on the professional level, be it in the PGA or LPGA, I think we would see a common thread: that many of these folks were introduced to the game of golf at a very young age," Beatty said. "Simply by comparison, most African American children don't have that same opportunity."
The Drew Charter School golfers are living proof of Beatty's thesis. Williams said that the majority of the championship-winning team started playing in elementary or middle school, around when he created the program 12 years ago, and have been playing ever since.
Dobbs said he started golfing when he was 7 — and he noticed how unique that was in his community.
"At first it seemed kind of odd when all my friends wanted to be playing basketball, football, soccer," he said. "But I caught on, and you just realize that everybody can't do the same thing."
Demas said that this is what experts got wrong in the '90s — young people don't pick up golf because they see a player they want to emulate (though he admits there was a bump at the peak of Woods' popularity.) They play, he said, because of a family or community connection to the game, something that is much more common if you're white than if you're black.
"Golf is a unique sport," he said. "Young people don't play golf because they see it in movies. Young people get into golf through connections, because their friends are playing or, even more importantly, because their family is playing. And that's very unique in the world of American sport."
For a while, black golfers found their connection to the sport at Historically Black Colleges and Universities, or HBCUs. The significance of these golf programs to increasing diversity in the sport at large, much like the significance of HBCU football and baseball programs diversifying , cannot be understated, Demas said.
"For many years, these football programs were the key to generating the fire for football in the black community, especially in the South," he said. "HBCUs did that for a time in the world of golf, too."
But that began to change when HBCUs ran into financial problems. Demas said programs were cut dramatically, or would increasingly recruit wealthier white players to fill out their rosters, which is still a problem to this day. Some attempts have been made to revitalize these programs' potential to produce more professional black golfers — NBA star Steph Curry single-handedly funded the reincarnation of Howard University's golf program this year — but the HBCUs have yet to recreate their success in diversifying other sports with golf.
"The broader challenge with HBCU programs is that talented black golfers, those that are out there, will often choose to attend a predominantly white institution. So they often have to start sort of recruiting white golfers in these things to stay afloat," Demas said. "Integration takes place by sort of piecemeal taking black talent away from the black institutions, and then basically those black institutions begin to sort of suffer. And that's what has been happening in the world of golf."
In the Atlanta team's victory, some experts see a model for the future
So how does the golf industry tackle the issue of diversity in the game? Some experts say that Williams' program at Drew Charter — funded by community organizations like the East Lake Foundation and First Tee Metro Atlanta, which helped introduce golf to students who would otherwise have difficulty accessing the resources necessary to play — is a good blueprint.
For Beatty, organizations like First Tee are becoming the best way to increase diversity in a sport that has a notoriously high barrier to entry. He and other leaders in the African American golf community even met with Congressional Black Caucus members in May to discuss how best to support the growth of organizations like First Tee and give more young black people the opportunity to play golf.
"Part of the conundrum, at least in my mind, is that golf has to figure out a way to bring these resources to underserved and underprivileged children," Beatty said. "The First Tee has been a great program to get more African American kids involved. But we do need an ongoing and sustained effort to get kids involved through community-based programs throughout America."
And it doesn't hurt to win big, either. Dobbs said that after winning the state championship, he has received messages of support and admiration from aspiring black golfers across the country, and he believes his team's victory has been inspiring young African Americans in his community and beyond to pick up a club.
"We just created a ripple in the golf pond where it gets more black kids interested in golf, it gets more all-black golf teams together like this dynamic we had," Dobbs said. "This is just the first link in a long chain."