Donald Glover has everybody talking.
The award-winning artist and entertainer, whose musical stage name is Childish Gambino, made his "Saturday Night Live" hosting debut this weekend. He also performed his new song, "This Is America" and later released an accompanying music video online.
And that's when social media exploded.
The video is packed with symbolism and satire. The song deals directly with race, gun violence, police brutality and the concept of freedom in a chaotic world.
Glover is at the center of it all, dancing shirtless in a massive warehouse. He transitions from scene to scene, committing acts as heinous as murder and as joyful as playfully dancing with a group of kids in school uniforms.
By Tuesday morning, the video had amassed more than 32 million views on YouTube.
It opens with Glover dancing alone to lyrics like "We just wanna party," before he casually shoots a man who had just been playing the guitar.
The next lyrics are simply, "This is America" — a seemingly brutal nod to how normalized gun violence has become.
Next, a man enters the screen and takes Glover's gun away with a soft cloth. The gesture left some wondering if Glover was trying to show how guns are treated more delicately than people.
And that's just the opening minute.
Several users weighed in online on other themes of the video:
In another part of the video, an all-black choir is singing and dancing when Glover quietly enters the "room." He dances alongside them and then kills them with an assault weapon. The brutal scene was an apparent reference to the 2015 Charleston church shooting, in which nine black parishioners were shot and killed during Bible study at Emmanuel African Methodist Episcopal Church.
There's so much happening in the video, some commented it was hard to even notice some of the awful things occurring in the background.
Others thought this may have been by design.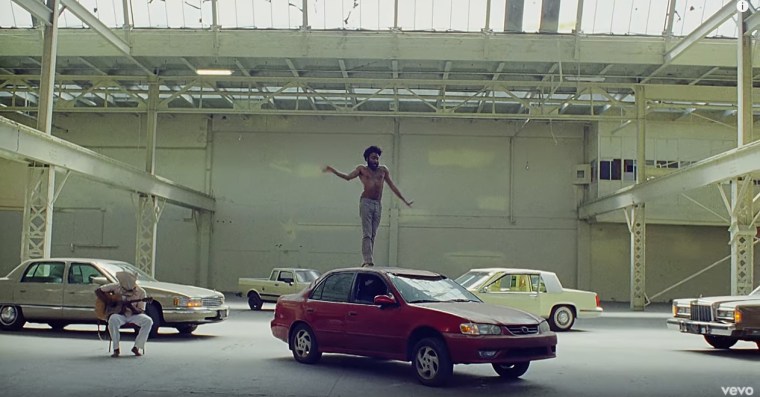 Some observers questioned if Glover's "killing" scenes and other acts of violence were necessary.
Kanye West, who Glover poked fun of during a "SNL" sketch, shared "This is America" to his more than 28 million Twitter followers.
Singer Erykah Badu called Glover a "genius," while Bruno Mars and Adele offered praise on their social media accounts.