We now know who the nominees are and the race for Best Picture at this year's Oscars appears to be a battle between the two front-runners from the Golden Globes. "La La Land," a film about Hollywood and its idiosyncrasies, took the Musical or Comedy prize; whereas "Moonlight," the coming-of-age narrative of an urban-raised black gay man, won in the Drama category.
But something about this year's Oscar nods seems eerily reminiscent of the 2006 awards season.
During that time, a movie about everyday racism and bigotry in Los Angeles scored a major upset over a celebrated film that detailed the secret love affair of two white cowboys in 1960s Wyoming. It was "Crash," which wasn't even nominated for the Best Picture category at the Golden Globes, and didn't win from any nominations that evening. Yet it went on to beat out "Brokeback Mountain" at the Academy Awards —despite the film having won more Globes than any other film that year.
Here's how that relates to the 2017 race. "La La Land," a relatively light-hearted and jazz-infused musical, centers on the life, love, and career struggles of two up-and-coming white actors in Los Angeles. It just won a whopping seven Golden Globe Awards, and seems poised to run away with the Oscar race. Meanwhile, "Moonlight" deftly tackles issues of race, gender, sexuality and poverty, and mostly takes place in the smaller, but well-known metropolitan area of Miami. The film scored its sole win at the Globes for Best Picture - Drama.
Related: Naomie Harris on the "Emotional Journey" Of Playing "Moonlight" Character
While there's no direct comparison between any of these films of merit—which handle matters of the heart in their own unique way—it should go without saying that the Academy's votes tend to reflect industry politics as well as the current cultural zeitgeist.
During the 2006 race, "Brokeback" arrived at a time when the country was amidst an intense debate over same-sex marriage, and the Bush administration helped push marriage definition amendments on state ballots all over the country during midterm elections.
And "Crash" arrived during a peak moment in conversations about racial divisions. In August 2005, Hurricane Katrina struck New Orleans, wreaking havoc on millions and leaving black residents disproportionately affected due to federal mismanagement. (Hence Kanye West's famous line that "George Bush does not care about Black people" during a Katrina phone-a-thon.)
As Will Leitch wrote at Bloomberg Politics in 2015, "You can learn a lot about Hollywood, and the world, from its Oscar winners." When "12 Years a Slave" won Best Picture in 2014, Leitch noted, it was "indicative of the Academy's longtime inability to figure out matters of race." Yet it's an issue that they're clearly still working through, if #OscarsSoWhite is any indication.
A few factors may come into play in the current race.
Of course the Best Picture contenders—which also includes films such as "Hidden Figures," "Manchester by the Sea," and "Fences"—will most certainly be scrutinized for their merit as standalone exemplars of good cinema (or so we hope).
Related: Oscar Nominations Are In: 'La La Land,' Diversity Dominate
All the while, last weekend, millions of Americans rose up in resistance to the newly sworn-in President of the United States, Donald Trump, who won office in large part by denigrating virtually every marginalized group. And during her Cecil B. DeMille award acceptance speech at the Globes, Meryl Streep denounced him without ever once mentioning his name.
And it also appears that the Academy, with Cheryl Boone Isaacs at the helm, is beginning to implement changes that reflect the #OscarsSoWhite pushback. So there's also the opportunity to select a Best Picture winner that reflects where Hollywood is headed—rather than where it's been, and been stuck.
In that sense, a vote for "Moonlight" would check all of these boxes, based on critical acclaim alone. But will that be enough for it to win the biggest prize come Oscar night?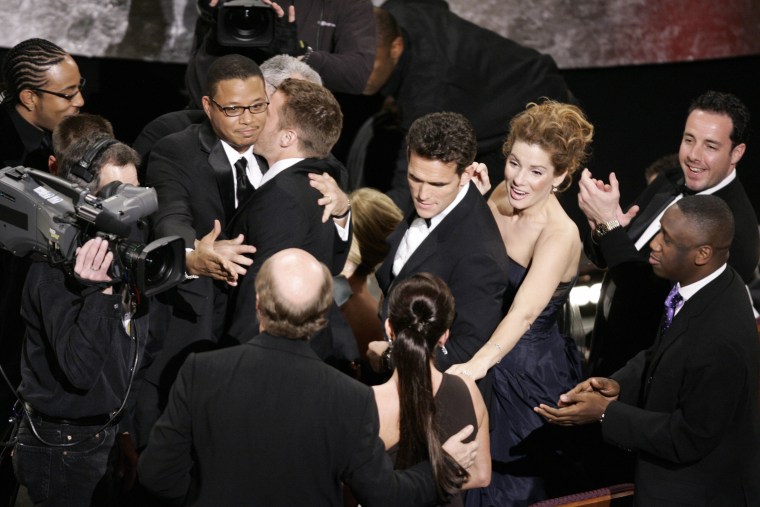 These awards shows can be as fun as they are intensely political. That's entertainment, after all. But Hollywood is still Hollywood, and no one can deny that it could be all too tempting for the voters to fete a well-crafted, yet fraught film that reflects some of the realities of their industry, while shining a light on the city in which most of them live and work.
But rewarding "La La Land" with the big win this year would send an off-key message at the most inopportune time.
The film, while fun and relatively upbeat, unwittingly reinforced some of the same insular pitfalls that, in part, inform the calls for more diversity and accurate representations in motion pictures. The film has already been panned by some critics, including MTV's Ira Madison III, as a "white savior" narrative, one in which its main protagonist explains his crusade to "save" jazz while erasing the black contributions at the very heart of the genre.
Instead, black folks were relegated to the background, as Anna Silman noted at New York Magazine. (While John Legend's appearance in the film felt refreshing in some ways, it didn't make up for the overarching problems in narrative. Personally, the film felt more like La La Bland.)
But on the flip side, "Moonlight" featured multiple stellar performances, a story that upended tropes about the realities of black urban poverty, and focused on issues of gender, sexuality, and masculinity in a bold, yet understated manner.
It's an inviting film that reaches the heart, imparts lessons, and prompts reflection and critical thinking on the very social issues that undoubtedly affected the 2016 presidential campaigns. And it's another example of how cinema that unapologetically centers black experiences can be seamlessly included and draw in audiences without being reduced to "niche market" status.
In 2006, when Jack Nicholson opened the Best Picture envelope to announce "Crash" had won the Oscar, he was visibly stunned. I'm sure millions of Americans who saw this year's field of nominees might have a similar, puzzled reaction if "La La Land" takes home the big prize.