Hillary Clinton and Donald Trump will square off at Washington University in St. Louis for their second presidential debate and while the topic of faith and religion was neglected during the pair's first encounter, it is possible that the conversation may go beyond generic statements about the significance of the Black church, and engage the issues of faith and belief.
Many pundits, writers and political strategists are convinced the African American community will determine the next President of the United States and that faith will play an important role in their decision-making.
Faith has been at the core of survival for the black community and for Robert M. Franklin, professor in Moral Leadership at Candler School of Theology in Atlanta, GA, faith should continue to be such a driving force.
"It is important to remember that African-Americans as a group have enjoyed complete, unfettered access to the ballot only since the mid-1960s," Franklin told NBCBLK via email. "And, in order to win this constitutional right, their faith and their congregations played a momentous role in the struggle for equal justice. We should expect that their faith would continue to play a role in guiding their political choices."
"Politicians have so often been tone-deaf and out of touch with Black people of faith's desire for real engagement on real solutions for our communities, not just rhetoric and Bible verses."
Reverend Dr. James C. Perkins agrees. He points out, however, that divine dependency is something that the country exercises as a whole.
"Religion has always played an important role in our nation and in our politics," Perkins, who serves as president of the Progressive National Baptist Convention, told NBCBLK. "We say we are 'one nation under God.' We say our prayers before Congressional meetings. We have Prayer Breakfasts, etc. These are religious actions that are intended to acknowledge our reliance on God."
Faith and religious expression is not anything new to the electoral process. Historically, a candidate's religious identity has impacted how voters supported the candidate during election periods. However, this season has even greater ramifications for the African American community, Perkins believes.
RELATED: RNC Hires Deputy Director for African American Engagement
"Because the Supreme Court gutted the Voting Rights Act, this will be the first time in 50 years that we will go to the polls without the full protection of the law. It is conceivable that we may never see the voting rights again in our lifetime," Perkins said. "I think this election is the most important one we will participate in in our lifetime. We have a lot at stake: voting rights, affordable healthcare, income equality, jobs, education, etc."
With all that is at stake for the black community, Perkins believes now more than ever that the religious leaders of the black community are needed most.
Some political candidates have made it part of their strategy to reach African American voters – even if their use of black religious leaders or connections to the black community has been called out to be a form of tokenism.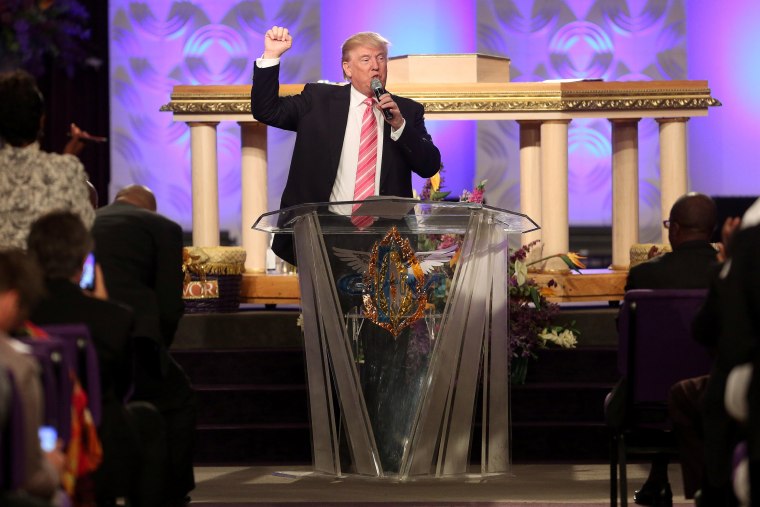 Donald Trump has held private meetings with countless black preachers. Some have become surrogates for the business mogul turned politician, which has caused some to question their motives including one eventually being accused of inflating his professional biography.
Even stories of the Vice Presidential Democratic nominee, Tim Kaine, and his 30-year membership at a black parish have made the news rounds.
But where are the black leaders from other religious communities? Why is it that for the most part, we are only seeing black leaders from the Christian community and not others?
The exact answer is not readily available. However, the lack of representation of other religious leaders should be a sign, Franklin suggests.
"The major political parties should utilize a diverse group of religious leaders representing the spectrum of ethnic-racial and socio-economic diversity," he states. "When they focus on a single group, the public has a right to be suspicious of the motives and potential abuse and manipulation of a particular community."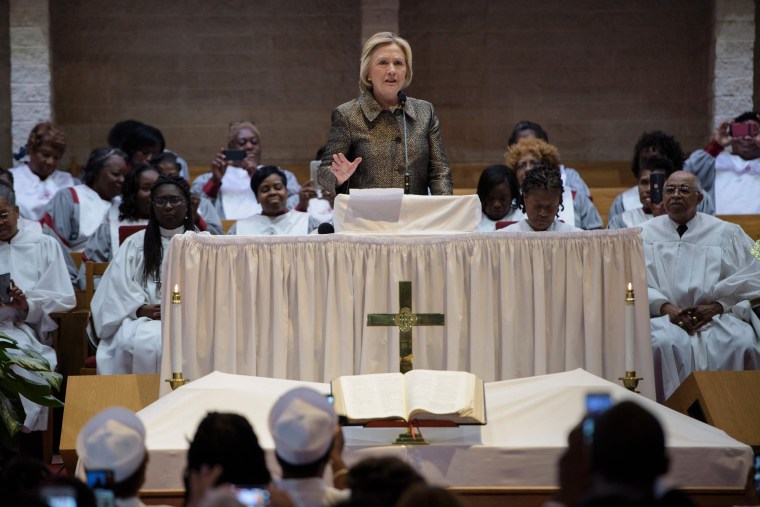 Simran Singh, assistant professor of Religion at Trinity University, calls it an illusion.
"We can't be fooled by the illusion of diversity simply based on how political campaigns look," Singh, who is a member of the Sikh community, said. "While we are seeing more diversity in terms of ethnic identities, we are not seeing much diversity at all in terms of religious identities. The mobilization of religion for political campaigns remains a largely Christian enterprise in modern America. In the United States, it is not just about whiteness – it is also about Christianity."
Faith is playing a major role for Sikh Americans this election season. According to Valarie Kaur, it is their faith that marks Sikhs for discrimination them in the United States. But for Sikhs, their faith is a source of strength.
"What we are witnessing in the current times is a call to have us face our fears and not hide or expect someone else to take care of what we are supposed to be responsible for – our own lives."
"It grounds us in the spirit of love and relentless optimism, even in the face of injustice," Kaur, a filmmaker, activist, and Sikh community leader, told NBCBLK via email. "The escalation of hate and vitriol has been so extreme and confrontational that Americans are hungry for a potent language in return. Cory Booker and others have shown us that there is a resurgence of the language of love this election season."
Sister Jenna, who initiated Meditate the Vote, agrees that this election season is revealing.
"It's huge because it is revealing a lot of hidden pain in all of us as a nation," she told NBCBLK via email. "What we are witnessing in the current times is a call to have us face our fears and not hide or expect someone else to take care of what we are supposed to be responsible for – our own lives."
Launched in May, Mediate the Vote is described as a grassroots movement intended bring individuals from diverse spiritual, cultural, political and faith backgrounds together in dialogue to build trust and partnership.
"Meditate The Vote is about the power of choice," she added. "We have witnessed Republicans and Democrats breaking bread together to explore how best they can amplify their own inner power to help the nation."
And others, like the National Association for the Advancement of Colored People (NAACP), have developed partnerships with the African Methodist Episcopal (AME) Church, the Congressional Black Caucus Chair, the National Coalition on Black Civic Participation, and millennial activists and leaders to mobilize black voter turnout.
RELATED: Ava DuVernay's '13th' Puts Both Trump and Clinton on Blast
Like Perkins, they are focused on what they call "the issues that directly impact African Americans" including criminal justice reform; voting rights; disrupting the broken education system; entrepreneurship; innovation; income inequality; and unemployment as the center of this year's election season.
"The stakes of this election demand the kind of innovation and persistence we can only achieve through collaboration," Cornell Williams Brooks, NAACP President said in a statement.
Color Of Change PAC is also working to engage voters, but focusing their efforts on down ballot races.
"The issues affecting the African-American community—police violence and an unfair criminal justice system, a changing economy and the lack of investment in our schools and communities —are central to this country's success," Arisha Hatch, director of Color Of Change PAC, told NBCBLK via email. "Politicians have traditionally failed to engage Black voters beyond their efforts to convince us to cast our ballots for them."
They are launching an online based campaign called #VotingWhileBlack to drive voter participation, particularly in swing states.
"Black voters are accessing all of their information on the internet, on their cell phones and on social networks," Hatch stated. "Politicians have so often been tone-deaf and out of touch with Black people of faith's desire for real engagement on real solutions for our communities, not just rhetoric and Bible verses."
Over the final weeks of the election, Singh thinks politicians at all levels will call upon people of faith to vote in accordance with their ethical and spiritual worldviews. "We have to remember that people operating from conviction typically consider themselves to be doing the right thing, and politicians will try to capitalize on this by trying to solidify and mobilize these convictions."
Franklin reflects on Adam Clayton Powell and his words 50 years ago.
"Rev. Adam Clayton Powell, who was both a black pastor and member of Congress urged African-Americans to be cautious about aligning entirely behind a single party," Franklin said. "As he put it, 'we have no permanent friends and no permanent enemies, only permanent interests.' I hope black faith will help people focus on those permanent interests."