While most 17-year-olds dream of getting their driver's license, Angel Rice dreams of competing in the Olympics. And if her 16,000 likes on a social media post of one of her most recent routines is any indication, the young gymnast appears to be well on her way.
In the Instagram video, Rice performs a round off, back handspring, double back, three whip-backs in a row without using her hands, back handspring and a double pike.
"I can do better but that was just for that competition," said Rice. "I've done harder passes. I've done a round off, back handspring, double-A, three whips and then another back handspring."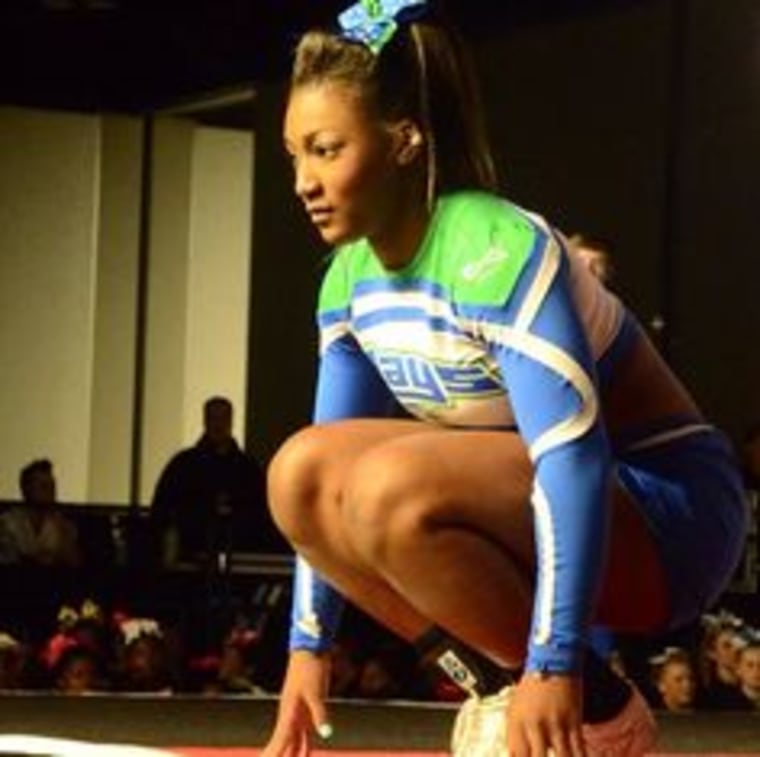 "For Nationals, I'm gonna do something way harder," she adds, which isn't difficult to believe judging from her resume.
She made headlines the previous year for breaking a World Guinness Record on TODAY, where she performed ten double full twists in one minute. She is also a member of the a USA Gymnastics National Power Tumbling team.
And she credits her mom for it all.
"My mom taught me everything," said Rice.
RELATED: UCLA Gymnast Whips and Nae Naes in Her Floor Routine
Beginning tumbling at just three years old, Rice followed in the footsteps of her older sister who had already been taking tumbling, otherwise known as power tumbling, classes. Due to the financial strain of having two girls enrolled in tumbling courses, Rice was first trained by her mother, who had learned how to train by watching her older daughter in tumbling classes.
"She would just watch and try to do what [the tumbling teachers] did."
"At first, she didn't want me to do it because it was too expensive," said Rice. "So it made me work harder."
But once her mother began working at Jam's Athletics — a training center that offers gymnastics, competitive cheerleading, and tumbling training classes — the soon-to-be tumbling champ was able to start cheerleading competitively when she turned five.
"I started off cheerleading and then it just took off," Rice said.
It wasn't until she was 12 that Rice started to get serious about tumbling, and quick. Rice's mother had enrolled her in another gym, Flip City South, where she has since stayed and became a two-time World Cheerleading Champion.
She now trains three hours a day for tumbling — one hour comprised of warm ups and practicing techniques and she devotes the other two hours to "a bunch of of conditioning."
RELATED: NBCBLK28: Simone Biles: Going For Summer Gold
And for her "day off," typically a Saturday or a Sunday, Rice will do warm-ups for two hours in the gym to avoid getting "rusty."
Though Rice is hopeful that tumbling will gain enough recognition to become an Olympic sport, she is by no means waiting for the games committee to catch up with her ambition.
"Right now, I'm trying to train so that I can get on the U.S. team for the Junior Olympics." To make this dream a reality, she has also begun training with gymnastics coach Bela Karolyi, who has had experience molding children into Olympic contenders.