In a scene from the 2000 film "Gladiator," after slaying his would-be assassins, title character Maximus Decimus Meridius turns to the dumbstruck crowd and rhetorically exclaims in an unsportsmanlike rage: "Are you not entertained?!"
Maximus' defiance shook the arena, opening the eyes of his fellow gladiators to their unique power and exposing the fallacy of Caesar's imposed might. In this scene, Maximus sparks a revolution, an act of rebellion, a reversal of roles that ultimately gave agency and power to those perceived to be powerless.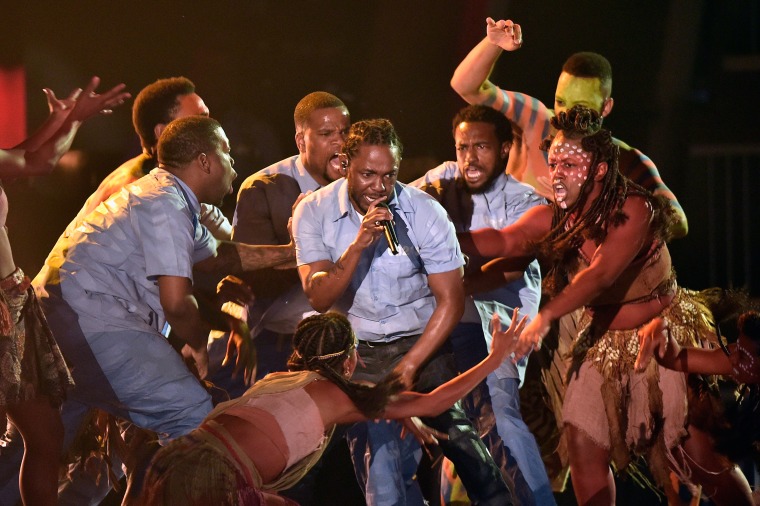 Today, America's entertainers resemble those fabled Roman gladiators: Here for the viewer's enjoyment, seen as commodities, often financially tied to labels and corporate brands. Their public and private lives are on display, to be scrutinized and criticized. They remain a spectacle, cheered when they amuse us, ripped apart when our amusement ends.
But what happens when the spectacle is reversed and the entertainment critiques its audience, when the very stage itself becomes a mirror of society, rather than an escape from it?
RELATED: Kendrick Lamar Raps With Students
Americans got an answer to this question Sunday night, when rapper Kendrick Lamar took the stage at the 2016 Grammy Awards. Marching out in a chain gang, dressed in prison blues, Lamar aimed squarely at white privilege during an inspired performance of "The Blacker the Berry," from his 2015 release To Pimp A Butterfly.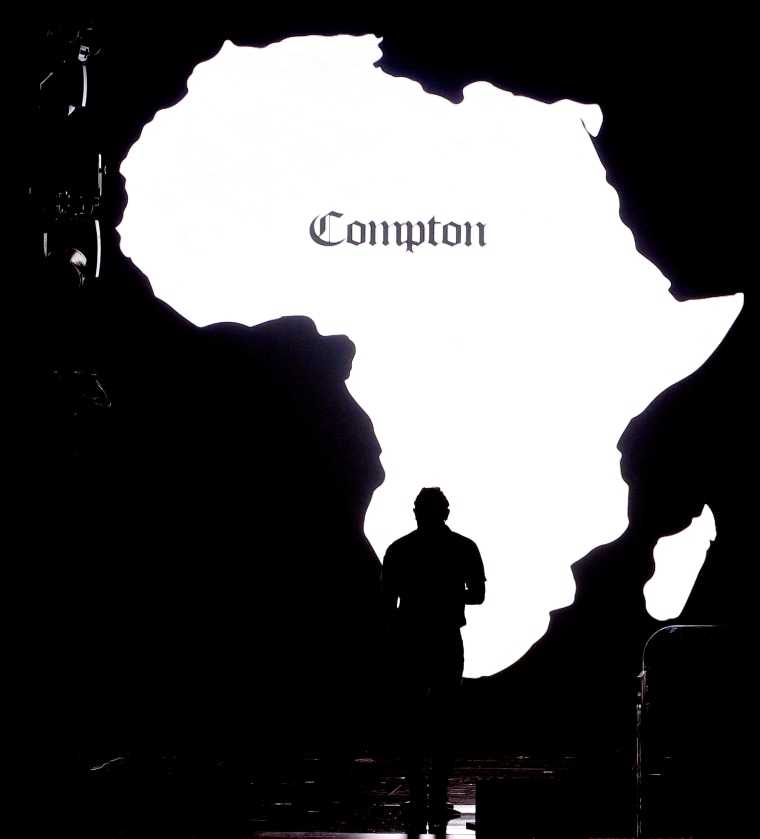 The performance concluded with Lamar silhouetted against map of the African continent with the word COMPTON written across it, suggesting that Compton -- the infamous suburb of Los Angeles where Lamar and his mentor Dr. Dre (of N.W.A. fame) are both from -- is in and perhaps more aptly, of, Africa.
Kendrick Lamar's performance follows Beyoncé's controversial performance at Super Bowl 50 earlier this month, another highly visible display of Black entertainment-turned- resistance.Surrounded by 50 dancers dressed in a style reminiscent of the Black Panther Party for Self-Defense, Beyonce performed her ode to blackness, "Formation" backed by dancers in black leather, afros and berets. The performance was an obvious declaration of Black pride and power imaging the BPP as heroes and acknowledging the 50 year anniversary of the socialist organization's founding – much to the chagrin of conservative media outlets, outraged that the entertainer would use the sporting event as a platform to make a politicized statement.
The performances by Kendrick Lamar and Beyoncé raise the stakes on what appears to be a growing consciousness amongst Black artists and entertainers. Though some artists have been working through and with the medium of resistance for years, 2015 saw a dramatic rise with respect to artists engaging social issues such as police brutality, mass incarceration, income inequality and more.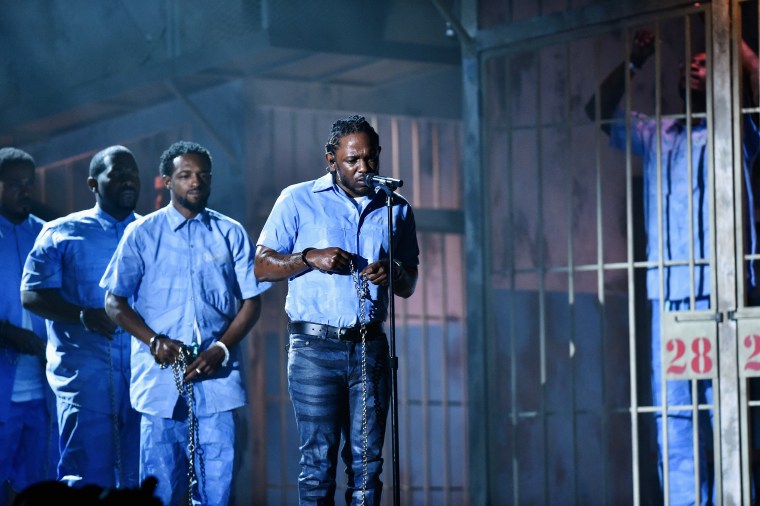 Janelle Monae and her Wondaland Arts Society collective released "Hell You Talmbout," a six- and-a-half minute protest song against police brutality.
Nate Parker resists the conventional slave narrative (and by extension, the dearth of characters with power or integrity for Black actors) by writing, directing and producing the forthcoming "Birth of A Nation." His film, which tells the story of Nat Turner -- leader of one of American history's most violent slave uprisings -- broke the record for the highest amount paid for a film at the recent Sundance Film Festival.
RELATED: #OscarsSoWhite? Sundance, Not as Much: Festival 'Proud' of Diversity
Visual artist Kara Walker's "Sugar Baby" installation in New York was a powerful and disturbing visual metaphor of the inhumane labor conditions as well as economic disparities that have impacted poor and disenfranchised Black bodies linked to the production and economies of the sugar trade.
Black artists and entertainers alike appear much more engaged with issues of social justice. With growing ferocity, they are using their platforms and visibility to bring attention to the myriad issues that impact the Black community. But to be clear, Kendrick Lamar's inspired and controversial Grammy performance was more than a commentary on mass incarceration or a reminder of the African ancestry of Black Americans.
We live in a time where the stages -- music, television, film, sports, courts, schools, streets and more -- all function like the Coliseum. There, Blackness becomes the spectacle. It is gazed upon and feared. Criticized and dissected. Vilified and mocked. Celebrated only to be later shot down, choked out or left lying in the street as evidence of its inferiority, criminality and brutality.
Black Americans exist like those gladiators, pit against insurmountable odds and one another. Holding out for the hope that someone will think enough of their song or dance to give them some money, some visibility, some hope.
Lamar's performance laid bare these ugly truths. His performance was unapologetic, fearless and defiant. It was not the show we have come to expect. It was a gladiator's sword tossed into the stands.
Are you not entertained?