Rock Hill, S.C. — Fifty-four years after they were arrested and sentenced to hard labor for sitting at a whites-only lunch counter in South Carolina, a group of African-American student protesters known as the "Friendship Nine" will have their convictions overturned Wednesday.
"What these men did wasn't wrong, in fact it was right. And what they did wasn't illegal, it was an act of principled courage," said Kevin Brackett, the York and Union County Solicitor who has agreed to have the guilty verdicts vacated.
All eight surviving members of the "Friendship Nine" are invited to attend the morning hearing in a municipal courtroom in Rock Hill, S.C.
Presiding over the session, and expected to clear the men's records, will be Circuit Court Judge John C. Hayes III, who is the nephew of the judge who sentenced the "Friendship Nine" to jail in 1961.
They will be represented in the hearing by the same man who defended their case back in 1961, Ernest A. Finney, Jr., who went on to become the first black Chief Justice of the South Carolina Supreme Court since Reconstruction.
South Carolina children's author Kimberly P. Johnson, who wrote a book about the "Friendship Nine," said it's important for justice to finally be made right for these men who energized the American civil rights movement.
"In a sense, we get a do-over and that's going to be a wonderful message to send to the world that justice does find its way back," she said. "These ordinary men did something amazing and extraordinary."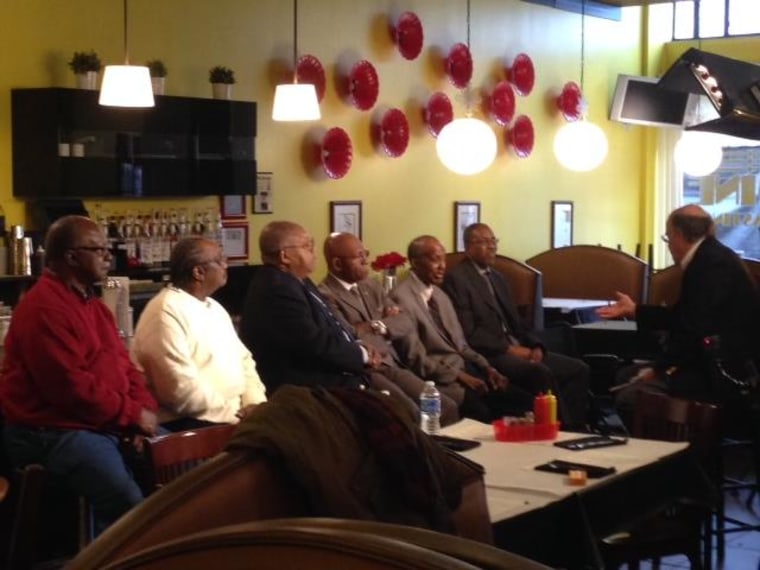 DRAGGED TO JAIL FOR LUNCH COUNTER PROTEST
On January 31, 1961, nine students from Friendship College and a civil rights organizer walked through an angry crowd in downtown Rock Hill and attempted to stage a sit-in demonstration at the lunch counter at McCrory's Five and Dime.
They were joining sit-ins being held throughout the South protesting the segregation rules in effect then that barred African-Americans from eating at whites-only establishments.
In an interview with NBC News, six members of the group, now in their 70's, said they barely had a chance to sit down before they were yanked out of their seats by police and dragged behind the store to the nearby jail.
"I remember being grabbed up by my belt and thrown to the floor and dragged out of the store," said Clarence Graham, a Friendship Nine member.
Willie McLeod, another Friendship Nine member, said. "I was afraid, I admit that. Oh, yes, I was afraid…as soon as we hit the seat, policemen was lined up back there, and each policeman was grabbing someone."
When they got to the jail, the men said, they were put in the same cell to await a court hearing where they would face charges of trespassing and disturbing the peace.
"It was a frightening experience, but the part that got me is when they put me in the cell and closed that door. And that clang, you can still hear it," said group member David Williamson.
W.T. "Dub" Massey, also with the Friendship Nine, said it was obvious the jailers were trying to intimidate the civil rights demonstrators.
"The clinking noise was scary, and each time a gate was closed--they did it on purpose, of course--they would slam it," he said.
"Friendship 9" member James Wells agreed they being treated badly on purpose: "They wanted to give us they kind of treatment they thought we deserved," he said. "They didn't care."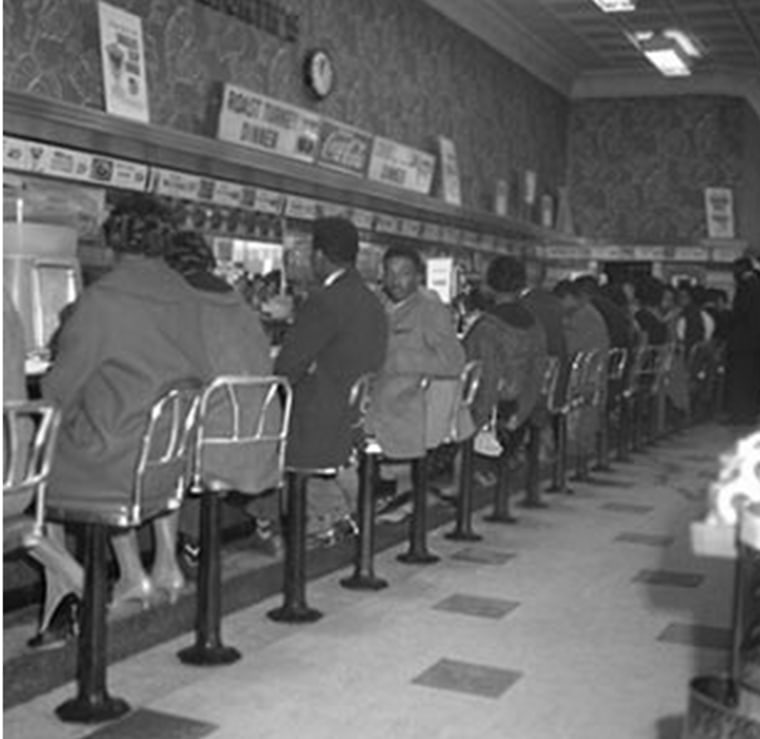 "JAIL, NO BAIL" STRATEGY MAKES HISTORY
Unbeknownst to the demonstrators in Rock Hill, they would be credited by historians for devising a strategy that breathed new life into the civil rights movement.
Instead of paying bail to get out of jail, nine of the ten demonstrators arrested at McCrory's became the first sit-in participants to insist on actually doing their jail time.
"We really had to do some soul searching about whether we wanted to go to jail," said John Gaines.
As a result of their group decision, the men were sentenced to 30 days of hard labor at the county prison farm--the 1961 court docket noting they were "sent to chain gang."
Professor Adolphus Belk, Jr., of Winthrop University, said the decision by the Friendship Nine to not pay the fines inspired and rescued the civil rights movement, which was running out of funds from paying so much bail money.
"Rather than assuming the financial responsibility of paying that fine, it shifted it to the system," Belk said. "I suspect if the Friendship Nine didn't do what they did in January, 1961, the sit-in movement would have died."
While doing their jail time, the nine students were forced to move large sand piles, cut weeds, carry heavy cement blocks, and work on private farms, they said.
Those who refused work were put on rations of bread and water.
For member Gaines, there was at least the consolation of knowing they were costing their jailers money: "All of us could really eat, so they had a heavy food bill," he laughed.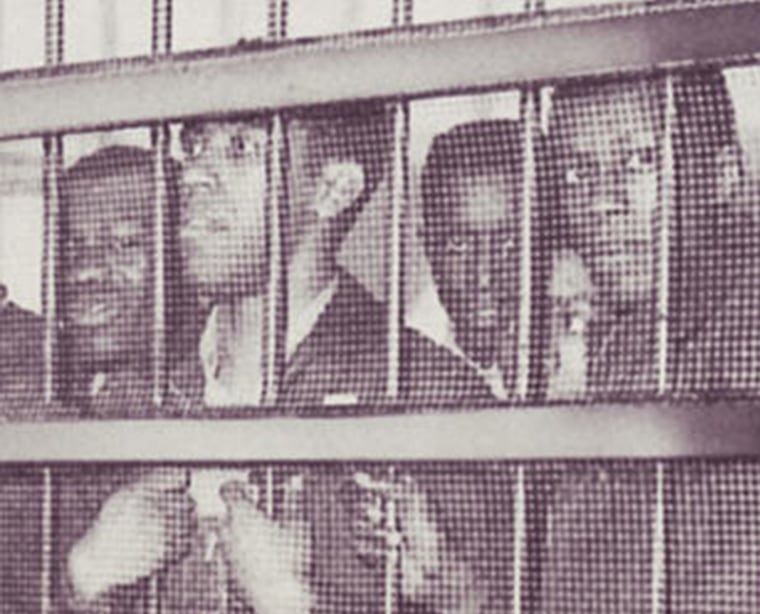 EMBARRASSING THE NATION
The story of teen-aged college students doing jail time and hard labor for taking part in a civil rights demonstration drew national attention.
"This did prick the conscience of the nation," said Gaines. "It embarrassed the nation, because if we're a democratic nation, a democracy…why're they putting nine kids in jail for trying to buy a sandwich?"
The Friendship Nine told NBC News they had no idea back in 1961 that their decision would have such an effect.
"At the time, we didn't know how important it was, but as you look back, you realize it was a turning point for the movement," Williamson said.
Massey added, " We were in the right place at the right time to the right job."
Today, the men are honored in Rock Hill with historical markers noting their achievements, and they are invited to speak in school classrooms and at public functions.
The owners of "Five and Dine," the quaint diner that replaced the old McCrory's store, preserved the lunch counter and have honored the men by placing their the names on the backs of the chairs.
"These men are great models and examples for our children today," said Johnson, the children's author, who praised their continued belief in non-violent protest.
Kevin Brackett, the Solicitor whom Johnson approached with the idea of overturning the convictions, said he'll be honored to help remedy the injustice of 1961.
"We need to take the time to tell them thank you, and we need to take the time to tell them they were right, and the convictions were wrong," Brackett said.
If necessary, McCleod said, he would do it all over again. "It was something that needed doing…it made a big difference in the civil rights movement, also in humanity, so I'm very proud of it."