Artist-activist John Sims has issued a 50-state call for fellow artists to burn or bury the Confederate flag on July 4. He hopes that these ad-hoc exhibits will set fire to or shovel dirt on a vestige of the old South to address what Sims believes has been a corrosive element in the US for more than a century and a half.
Last week nine black worshippers were slain by a white gunman in South Carolina, which flies the flag at its state house. Yesterday South Carolina's Governor Nikki Haley bowed to pressure to take down the emblem which Dylann Roof, the alleged killer, waves in pictures.
Taking down the flag is "a positive move," says Sims, whose July 4 events are "intended to create a space of ceremonial reflection on the complex desire for the death and burial — and perhaps the burning — of the Confederate flag as a symbol of terror, treason, and white supremacy.
Related: Ban Backlash: Confederate Flag Backers Ready to Rebel
"It would have been ridiculous for Haley to hold her ground, and it's a tragedy that it takes this kind of horrific event for [the flag removal] to happen."
Sims views desecrating the Confederate flags en masse as a form of "creative resistance." The flag adorned part of Georgia's state flag from 1956 to 2001, remains a part of Mississippi's flag, and still flies over Texas' Capitol. It once represented the 13 states of the Confederacy, which fought the North to preserve slavery; this year marks the 150th anniversary of the end of the Civil War.
"In the late 90's, I remembered watching the drama over the Confederate flag being flown at the South Carolina capitol," says Sims. "I wanted to respond as an artist, so I created a black, red and green flag [using African liberation colors] for an exhibition in a SoHo, NY, gallery in 2000. It concerned the politics of sacred symbols, social identity, visual terrorism, and the complex ownership of Southern heritage."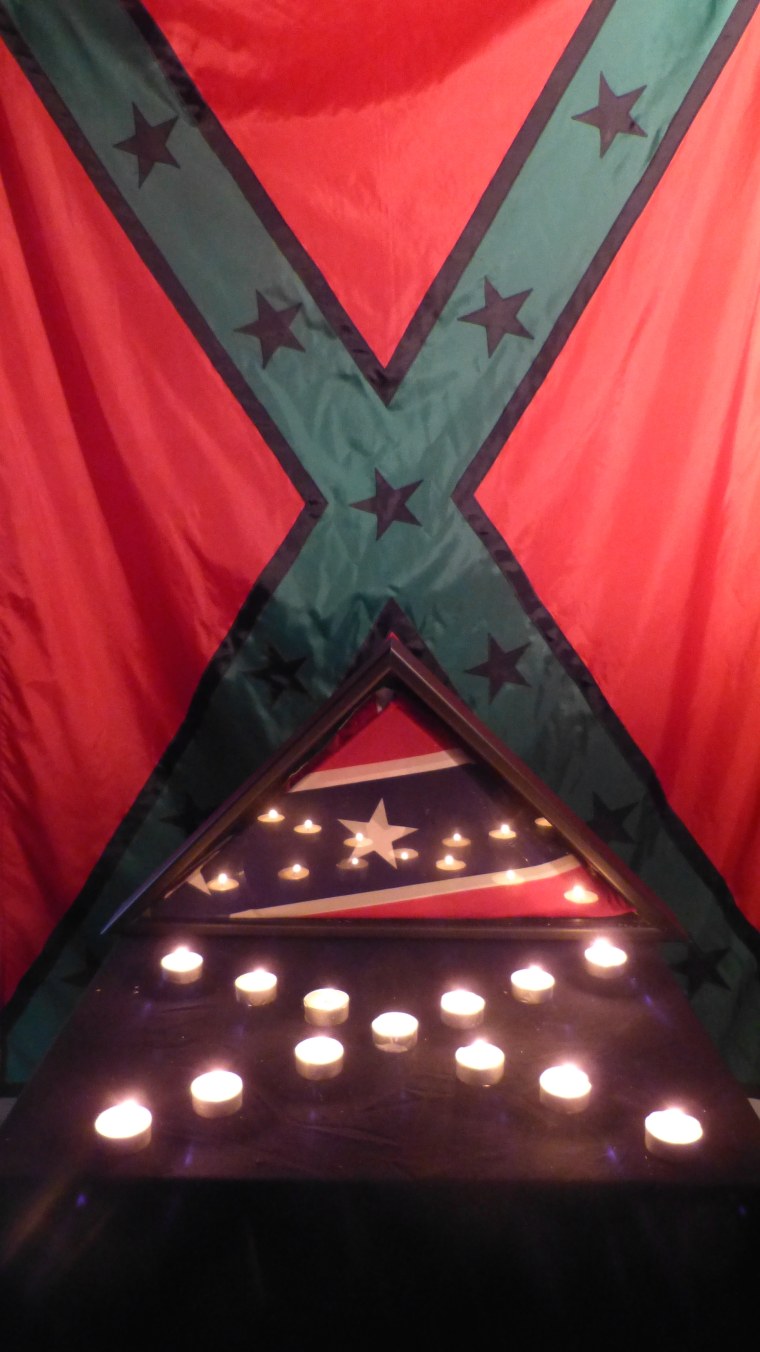 For the last 15 years, Sims has sought to disarm the Confederate flag in a series of national exhibitions, including his Recoloration Proclamation which features his change in the flag called "Confederate Flag: Black on Black." For Memorial Day, he staged #13flagfunerals, a 13-state, pop-up exhibit, in which he and other poets destroyed the flag in separate ceremonies in Delaware, Maryland, Virginia, North Carolina, South Carolina, Florida, Georgia, Mississippi, Louisiana, Texas, Arkansas, Tennessee, Kentucky and Missouri—the former Confederate states.
Sims's journey with his troublesome muse evolved from one flag in Soho, to a much larger show in Harlem, where he recolored the flag white on white and black on black. "And then I started to look at other flags. For instance, I re-did the Israeli flag in the Palestinian colors, and the Iraqi flag in the American colors. Then I got invited to Gettysburg where I introduced the installation, "The Proper Way to Hang a Confederate Flag"— from a 13-foot gallows."
Not everybody was on board with that. Sims got push back from the Sons of the Confederate Veterans (SCV), and said he's received some death threats. But his mission continues.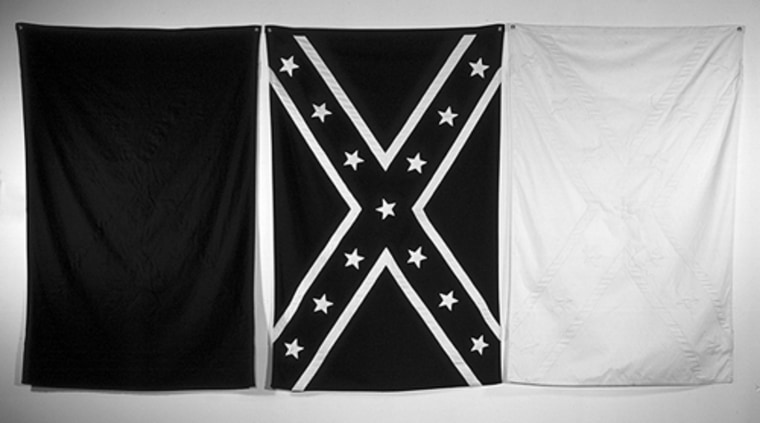 While the artist sees momentum gaining to jettison the flag, including outcries from presidential candidates Jeb Bush and Mitt Romney, as well as political action group, MoveOn, Sims says it can't happen fast enough to suit him: "This is why we must stimulate the process with a strong and forceful message, this flag must go and go now!" he says.
As he fights to put this emblem from the Civil War in a final resting place, he suggests that "America is now in the midst of Civil War II, which includes brutal and fatal policing, mass incarceration and the ever presence of the Confederate flag, re-enforcing the perception that Black Lives Never Mattered. This must change at once."