Rush Arts Gallery recently featured a show with a very unique art form: the button.
Curated by a New York City curator known as Souleo, the exhibit, simply called "The Button Show," featured a variety of button artwork ranging from a pair of bedazzled denim shorts to a cast iron tub covered in buttons.
The buttons have been reimagined and repurposed as contemporary and visual art. However, there is debate among the art community on whether the button artistry is merely a craft, rather than contemporary art.
During an artist panel held at Rush Arts Gallery on February 20, Souleo defended the button as a high art form, quoting a passage from the non-profit Art 21: "Contemporary art reflects a wide range of materials, media, and technologies, as well as opportunities to consider what art is and how it is defined. Artists today explore ideas, concepts, questions, and practices that examine the past, describe the present, and imagine the future. In light of such diversity, there is no simple or singular way to define contemporary art,"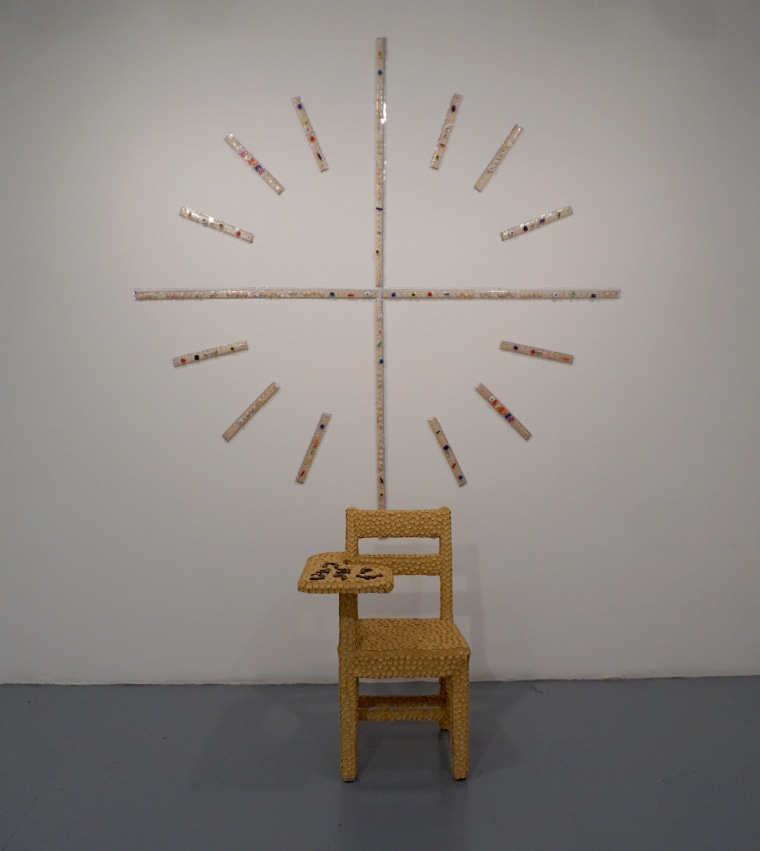 Souleo mainly works with artists that use everyday materials and repurpose them in their artwork, hence the buttons. He attributes this decision to his attraction to transform everyday objects into art to play with the imagination.
Incorporating the African American experience into the artwork was strong motif throughout the exhibit; Souleo sees buttons as a connection to the history of African Americans.
"That idea of taking nothing and making something of it is really the story of African American people… We've always found the scraps and the bottom of the barrel stuff and we've repurposed it into art."
As a curator, Souleo unites social commentary into his works so that artwork not only is aesthetically pleasing, but also has a deeper meaning. These works not only connect to the African American experience, but experience of others to create a universal dialogue.
Featured artist Beau McCall created an array of button artwork which related to personal themes in his life. His piece, ABCDEFU, comprised of yardsticks, rulers, and a school chair covered in buttons, ruminated to his days in Catholic school as a young boy. The yardsticks were decorated with phrases that the nuns would say to him, such as "don't you sass me."
McCall put the energy and emotion from the traumatic experience into this piece and adequately named it. "The reason I called it ABCDEFU, cause at the time, I couldn't say 'FU' to them, so I'm saying it now," he told NBCBLK.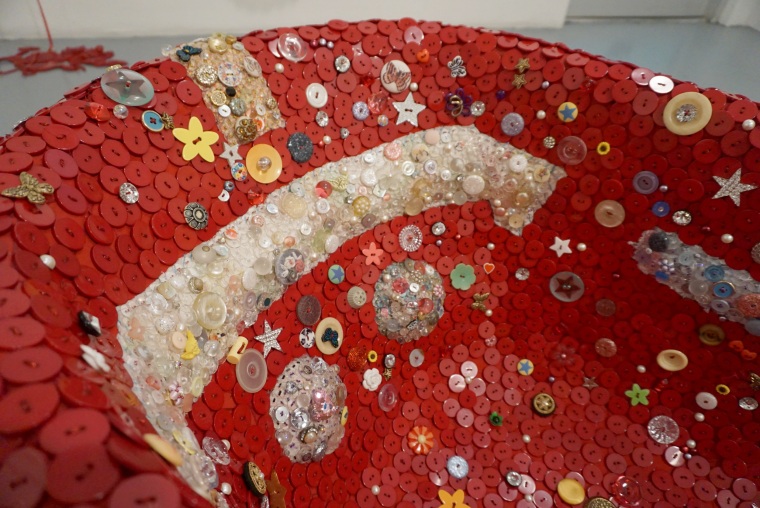 Another piece of artwork by McCall was large cast iron tub completely covered in buttons, called darkmuskoilegyptiancrystals&floridawater/redpotionno.1, inspired by the PBS interpretation of Ntozake Shange's play "For Colored Girls," in which actress Lynn Whitfield portrayed the woman cleansing herself in the tub in poem. Beau wanted to capture the aesthetic of shimmer and glossiness within the buttons to represent the fluidity of water in motion.
André St. Clair and her partner, Tavet Gilson, took on a different meaning in their button artwork. The duo specializes in tackling identity and self-image through which they filter their artwork through the dreamlike prism of technology. André, who is transgender, serves as the artist muse becoming more masculine or feminine according to the artistic needs of the piece. For the Button Show, the duo in collaboration with Alexis Garrett Stodghill created a regal piece.
Button Reign is made of two circular pieces. In the first, St. Clair portrays a queen-like figure who is conventionally nude, but wearing an armor of buttons, commanding a very respectable presence in the first circle. In the second circle, the queen has retired to her private quarters to relax in a bath of buttons.
"We learned that buttons used to symbolize… stature of someone in society," said St. Clair. "In this piece we wanted to bring the notion of buttons representing stature to concept of tackling identity."
Amalia K. Amaki, who started out as a photographer and painter, features a photograph in all of her button work.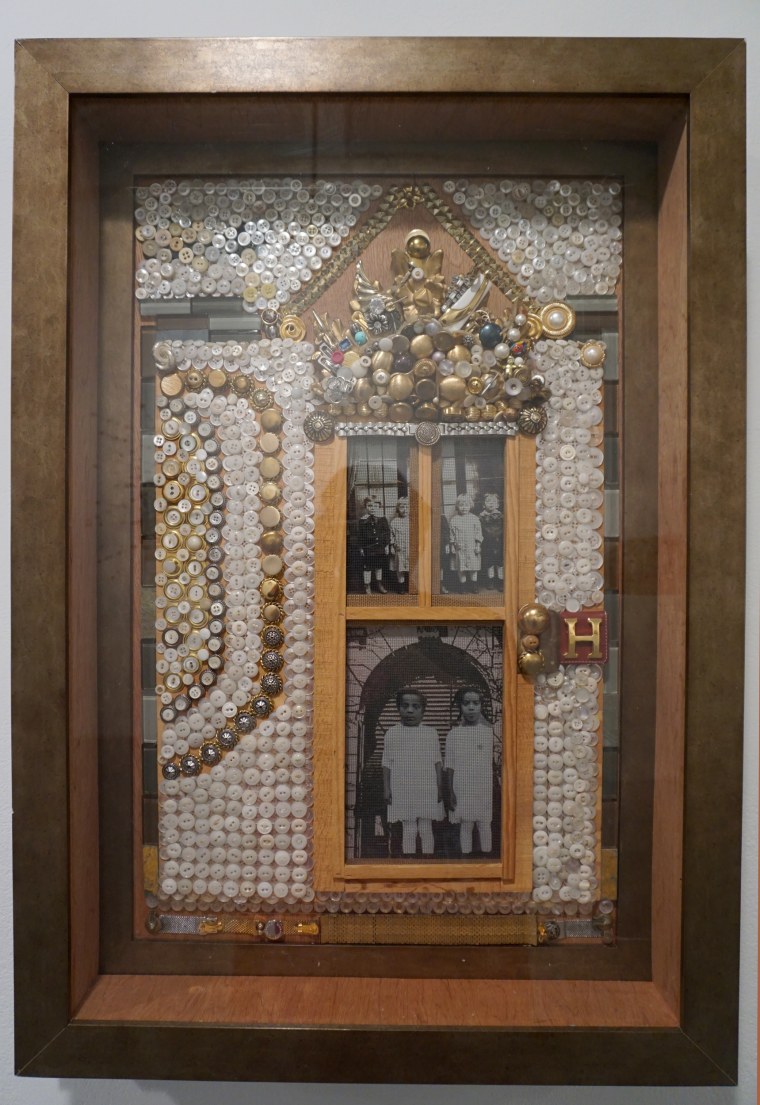 Her photographer friends question how she could trade her paintbrush for a glue gun, but for Amaki, buttons have a very sentimental meaning. "My mother had eight tins of buttons, and she could tell you where each button came from. And I was fascinated by that."
For Amaki, the buttons were recorded history that told the stories of her family, even if she didn't know the histories personally.
Learn more about the Button Show here.