The practice room rings as a choir of two hundred musicians stream into the space, completing their version of a victory lap in post-game ritual with perfect 3-part harmony:
Southern is the best band in the land
Southern is the best band in the land
The Southern University Jaguars have just delivered a crushing blow to Alabama A&M in their final home game of the season but as usual, the crowd favorite was the Southern Marching Band, better known to most as the "Human Jukebox."
The Band is known for their ability to play any song better the original with volume and clarity; known to amaze fans with swift formations like putting the halftime score on the field; known for 90-degree angled high-kneed steps — precision in the elegant rolled-toe march that only comes with rigorous practice, some 20 hours a week.
"You can play, but if you don't march it's pointless," said 19-year-old Josiah Frank, who plays trombone. "The physicality in this not your average 'oh, let's do this and take a break.' It's a constant. You're working your legs. You're working your diaphragm. Just the physical-ness is going to hurt."
Competition to earn a spot in the band is just as intense. And among the 230-member force, are brothers 19-year-old Josiah and 23-year-old Micah Frank. There have been siblings in the band before, but none quite like the Frank brothers: Josiah and Micah have autism.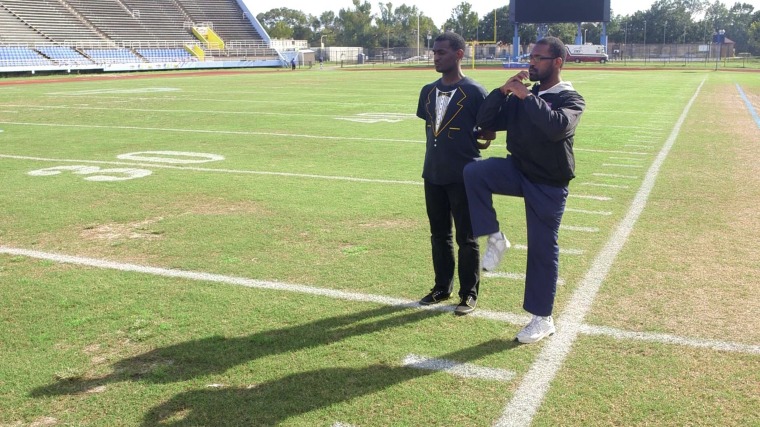 When the Frank brothers tried out for the "best band in the land", Band Director Nathan Haymer was hesitant. He wasn't sure they'd be able to keep up.
"I didn't think they could hang," Haymer confessed. "But when I saw [them] in action, they were catching on faster than some of the other students... There's something in their mind that allows them to process music easier than they process verbal communication and everything else."
Micah, who plays trumpet, was diagnosed with autism and an auditory processing delay in 6th grade. He calls autism an "ambush" that he has been reckoning with for much of his 23 years.
"It's like a friend that never leaves you alone. And it's at the same time, your rival that you try to be separate from."
"It's like a friend that never leaves you alone. And it's at the same time, your rival that you try to be separate from," Micah said stoically. "You see how people just understand certain things [more] quickly than you do. They read faster than you do. They're pretty much—it feels like they have a higher edge than you do. Then you have this block in your mind. Just—you just wanna just throw something… 'cause you don't understand."
Josiah, who was diagnosed with autism and ADHD in 4th grade, views his autism as a mild quality that makes him unique. "Even though it's there, I still have a slight edge over it," said Josiah. "Sometimes autism says, 'be free and let your inner self come out'."
Micah and Josiah are well aware of the sacrifices that their mother Latonzia Montgomery made for her four children to give them that edge and single-handedly push them to success. They light up at any mention of her. "She's basically our whole life support," said Josiah.
Josiah and Micah have a third brother named Daniel that also has autism.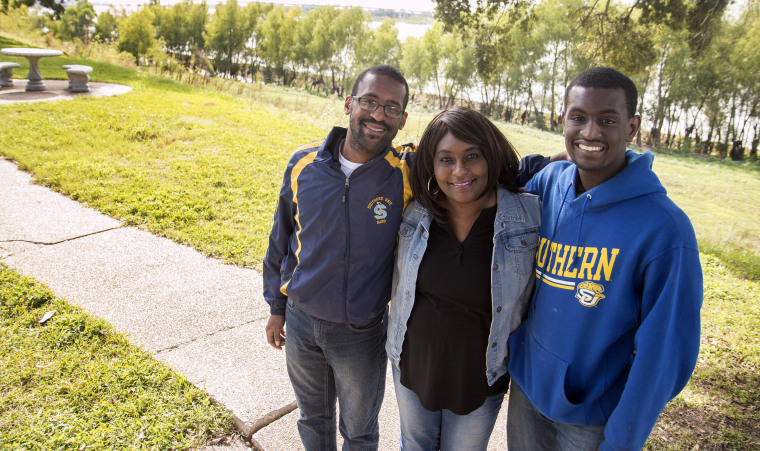 Amidst the chaos of raising four boys, each just a couple years apart, Latonzia says the early years were rough because it became clear at an early age that three of her sons were different. They did not talk, they screamed.
When the three boys were finally diagnosed with autism she felt a mix of confusion and guilt. "I cried, I wept. I thought, 'I've disciplined him. I've tried to get him to do things and he really didn't know what I was talking about,' and I felt like a bad mom," said Latonzia.
It was a struggle for Latonzia to get her boys to be verbal but she developed her own strategy.
"They had to communicate with me in order for me to give them what they were asking for," said Latonzia. "I would go to the fridge and pretend that I didn't know what they were pointing at and I was like, 'I don't know you gotta tell me. Talk to me.' And so that's how we started getting language."
She couldn't afford outside tutoring programs that were charging $100/hr, so when the boys started school, Latonzia "converted their bedroom into a classroom" to continue the drills they learned during the day. She insisted on a firm schedule where they followed a daily, timed routine.
Josiah started talking at age three and Micah and Daniel were talking by age five and a half.
Her sons went through public school and graduated with honors, but not without mom battling the school system about her boys' abilities.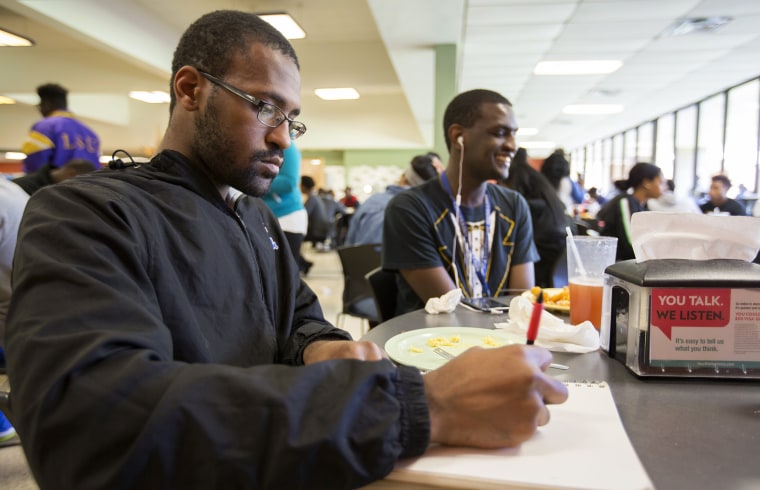 "Because kids on the spectrum unfortunately are kind of like sore thumbs or thorn in the side," said Latonzia. "I basically demanded that they be educated. I said they are very intelligent and I expect for them to be educated."
Latonzia decided first, to educate herself, and this started a new career path. Her passion for kids on the spectrum grew so much that it inspired her to become a special education teacher.
She runs her own nonprofit tutoring service for low-income families called the Excel Institute of Learning, and is going back to school to get her Masters degree in Applied Behavior Analysis. Her goal is to open up a behavioral clinic to address the big question: my child has autism, what can I do next? The clinic will train the child while training the parent so that teachings can be implemented at home.
"I said they are very intelligent and I expect for them to be educated."
"I worried a lot," said Latonzia. "I'm like, 'I don't know what I'm going to do. Are they going to be with me forever? Like, what are you going to do with these guys?'."
Latonzia, who plays saxophone and sings, decided to get her sons involved in band around middle school. She says it was music that helped open up their minds and give them focus.
The Frank brothers are synesthetes, engaging with music in a unique and beautiful way. Micah describes the sensation as "walking on a bridge" and "traveling from world to world", seeing different notes and keys as different dimensions and colors.
"You can just see a pulse, and you can see like the color of that pulse which determines the key," explained Micah. "It's like each key has it's own color and it's own color has it's own personality of what a song is."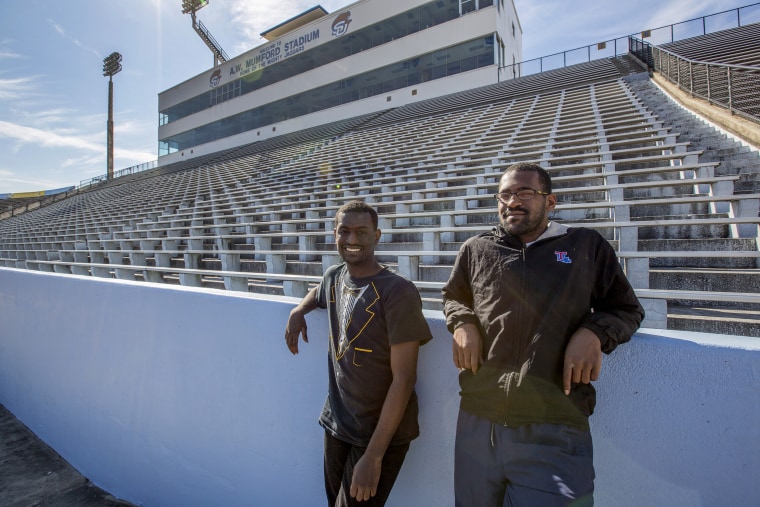 Though her sons are three hours away from her home in Coushatta, La., Latonzia no longer worries too much about them and she's proud of how far they've come.
Mr. Haymer has noticed that the boys have grown as leaders and taken responsibility for themselves. Micah once missed the bus from a competition and instead of calling Mr. Hamer to turn the bus around, he put his head down and walked the seven miles to the location.
"For them being able to get in, they are going to open up the doors for a lot of students with challenges," said Haymer. "They changed my perception of what a student, should or could be to be able to play in this band."
When the Franks are not spending hours with their extended Human Jukebox family, they live together in an apartment on campus. Josiah smiled with a bit of guilt and mischief about playing his part as the "annoying little brother," but both of them are comforted by the fact that they have each other.
"There's always that one person who understands you, you can be yourself around them," said Josiah. "You don't have to worry about having the pressure, feeling judged, or anything like that."
For more information on Autism, you can visit these websites:Autism SpeaksThe Color of Autism HollyRod FoundationAutism Society