Director Ava DuVernay is exploring new territory and making history with a film adaptation of the beloved children's book, "A Wrinkle in Time."
She is the first woman of color to direct a $100 million film, which hits theaters on Friday. The blockbuster movie's multicultural cast includes actresses Storm Reid, Oprah Winfrey, Reese Witherspoon and Mindy Kaling.
The Walt Disney Pictures project and its trailblazing director have generated enormous support and enthusiasm since the announcement in February 2016 that DuVernay was on board.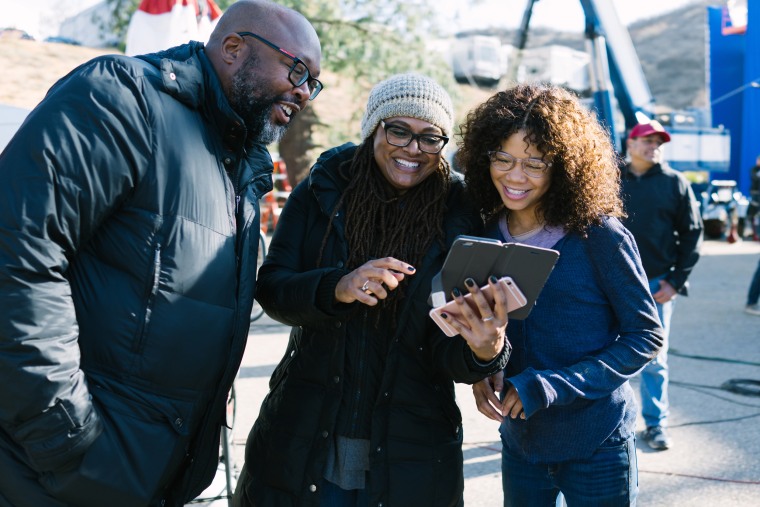 Winfrey told NBCBLK that such a powerful partnership was long overdue.
"[It] fills my heart, every time I think about Ava and her dreads and her sneakers and these big cranes and all of these men running around, taking direction from her," Winfrey said at a recent press junket for the film in Los Angeles. "And to see her be the master of that, to orchestrate all of that was powerful and inspiring. And it touches the part of us that recognizes, we can do that, we've always been able to do that, and I am so proud to be associated with her and her ability to make this film possible."
DuVernay sat down with NBCBLK in Los Angeles to discuss the importance of making the film and how it can make a positive impact on young girls and boys, especially children of color.
[This interview has been edited and condensed for clarity.]
NBCBLK: What attracted you to the story?
Ava DuVernay: A black girl as the hero attracted me to the story of "A Wrinkle in Time." When Disney told me this film could be made and that I could cast it the way I wanted to, I said, "Could Meg Murry be a black girl?" They said, "Yes." I said: "Well, you got a deal. I will come and make that movie." I'm glad I did. It's a love letter to our girls.
What were some of the most challenging aspects of directing this movie?
I don't think of it as challenging because every day was a joy. It was like, "black girl magic." Every day I showed up, and there's Oprah, there's Gugu, there's Storm, and me. And all the people who rallied around us, the Maori people in New Zealand.
We were in the Sequoias [National Park in California] and with people up North in the Bay Area. We also shot in the Baldwin Crenshaw District in Los Angeles. The school that Meg Murry attends is Crenshaw High School. We shot in the Adams District in a historic black neighborhood [in Los Angeles]. We were able to bring all these things to the film and Disney was game for it, so those weren't challenges, they were blessings.
What were some of the new things you learned about filmmaking overall, more specifically in this genre?
Filmmaking in this genre is something different for me. This is a huge shift from making "Selma" and "13th" and dealing with deep historical issues. "A Wrinkle in Time" is about the future and light, but they both speak to the same thing. It's about treating people in a certain way, believing in yourself, and imagining a world that doesn't exist. That's what the civil rights movement was — people had to have a great imagination to walk across that bridge [the Edmund Pettus Bridge] and imagine things that didn't exist.
We imagined there could be a better world for us. It's not much different from science fiction, imagining worlds that have yet to be created. So for me, I see them as connected, and it was an honor to make this film.
As a young girl growing up, were there any parallels in your life with the story of "A Wrinkle in Time"? And if so, what were they?
Yes. The parallels between my life and "A Wrinkle in Time" is that I was a total black girl nerd. I wore glasses, and I was awkward. I went to a school outside of my neighborhood, so I didn't have friends in school, and I didn't have friends where I lived. I was always with my sisters and my mom. So all those awkward feelings are what Meg experiences, so I was connected to her character.
Can you share some interesting stories about the making of "A Wrinkle in Time"?
The making of it was powered by the crew that we had. I made sure that the majority of our department heads were people of color and women, that we had parity between Caucasian men department heads and people of color and women department heads.
I want black girls and little girls of all colors to see themselves as the hero."
We had people who were doing hair, makeup, costumes, script supervision, stunts and props, and all those people reflect the real world. It doesn't matter if you have a woman director, a black person at the helm, if everyone else making the film is not like Meg. And that's why it's so important to be inclusive — that's how you get something that feels different.
What are some of the empowerment themes that you want the little girls to walk away with from "A Wrinkle in Time"?
I want black girls and little girls of all colors to see themselves as the hero. In this film, Meg is the leader of her crew. She's got her little brother, Charles Wallace, who's in her ear. She's got her friend, Calvin, who's in her ear. But they're in her ear because they're asking her, "Meg, what do we do?" She's the leader. She says, "Do you trust me?" He says, "I trust you," and she says, "Well then, come on!" And he follows her, and this is a little white boy. That's a powerful image for white boys to see. Hopefully, this will plant seeds with this generation.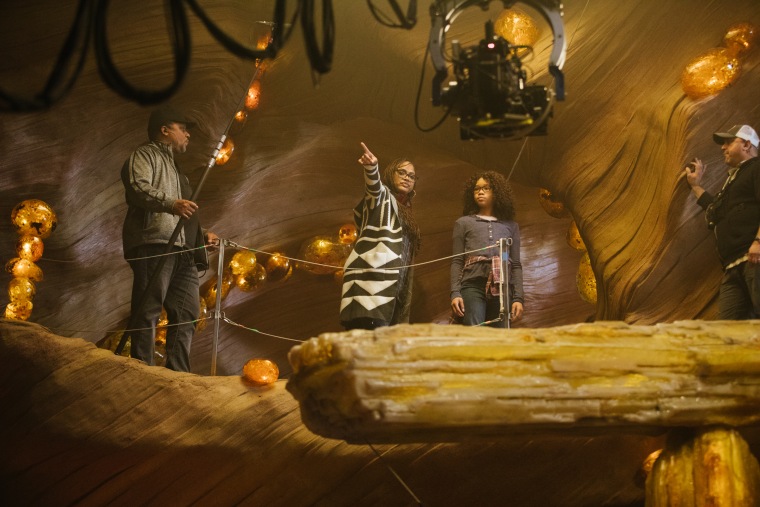 The song, "Flower of the Universe," is beautiful. Why did you want Sade to record it?
Disney said: "Who are you thinking of? Who would you like?" And I said, "It's never going to happen, but Sade." And they said, "Well, she doesn't do movies, and she hasn't recorded anything in a while, but we can get her a letter if you want to write it."
I worked on that letter for three days. I wrote the best letter I could write. I said, "If I rewrote speeches for Dr. [Martin Luther] King Jr. [in 'Selma'], I could write a letter to Sade." I sent it, and she called me in 24 hours, and she said that she wanted to do it. And I still get goosebumps when I think about it. She was lovely to work with. Her song comes in a poignant moment in the movie, and it was everything I hoped it would be.
As one of the leading female filmmakers in Hollywood, besides Oprah, who are some of the other people in your tribe or support group that lend direction and advice to you?
It's my mother [Darlene Maye]. She got married at 16, and she had me when she was 18. She is a best friend and a guide to me. I called her this morning and said, "Mommy, I'm going to the [press] junket for the movie," and she said, "Ava, it's going to be great; you're going to be great." I texted her and said, "I wish every person in the world had a mother like you." Imagine if every person in the world had someone who said, "You can do it, you're going to be great," you know how much better the world would be? It's emotional to think about it.
What was your best moment in filming this movie?
I can't tell you the best moment because it was a thrill every day. It was a blessing and a joy to walk on that set and have the respect of my crew, and to be with these wonderful actors telling a story I believed in. "A Wrinkle in Time" is a story for young people; it's for kids, and it's for the kid inside of us.
When you watch the movie you have to think about the 12-year-old you, and sometimes I get misty when I think about myself at 11 and 12, all the things I wanted to be and I thought were right and wrong. How much of that have we held on to as adults? This film invites you to think about who you are. Are you the person you thought you would be when you were 12 years old? If not, and if you feel like it's worth being that, then it's never too late to change.