Director Ava DuVernay's provocative new documentary "13th" — which will open the New York Film Festival on Friday — might be an unwelcome "October surprise" for both Donald Trump and Hillary Clinton.
The film, with a title that refers to the Constitutional amendment barring slavery, is an in-depth look at America's culture of mass incarceration — both how we got here and the human toll our policies have taken. It will likely get a wider audience than the average nonfiction film, because it'll be streaming on Netflix (in addition to a limited theatrical run) starting Oct. 7.
Two of the unwitting co-stars of the film are Clinton and Trump, and neither gets portrayed in a particularly flattering light.
The former first lady's advocacy of the 1994 crime bill, which her husband signed into law and has since disavowed, is on full display, including her infamous use of the racially charged term "super-predators."
Meanwhile, the film also brings up Trump's outspoken advocacy for the death penalty for the five falsely accused minority teens in the Central Park jogger case of the late 1990s — comment which he has never retracted. Perhaps even more damning, the GOP nominee's calls for the physical abuse of protesters during his campaign for the White House is interspersed with harrowing footage of actual beatings of 1960s-era civil rights activists. ("I love the old days — you know what they used to do to guys like that when they were in a place like this? They'd be carried out on a stretcher, folks," Trump once mused.)
Related: Ava DuVernay's 'Queen Sugar' is a Nuanced Portrait of Black Life
Besides illustrating how deep-seated racial bias and unbridled financial greed have perpetuated an unfair and bloated criminal justice system, "13th" suggests that neither major party candidate has their hands clean when it comes to the issue.
Clinton has made criminal justice reform a significant talking point in her campaign and has reached out the Black Lives Matter activists repeatedly, but name-checking "systematic racism" on the stump won't erase the skepticism many minorities — who are disproportionately arrested and jailed — have towards her.
And Trump — with his calls for "law and order," his endorsement of a national expansion of the unconstitutional "stop-and-frisk" policy, and his stereotypical depictions of black communities as crime-ridden hellholes — has fared even worse.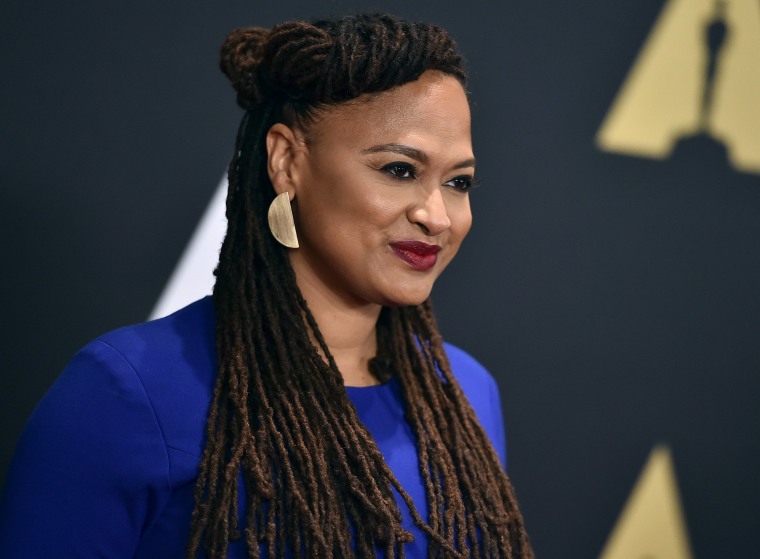 Duvernay's film makes a compelling case that all our nation's leaders have erred when it comes to law enforcement in this country, and it has been African-Americans who have paid the biggest price — from slavery to present day, when 40 percent of the country's prison population is made up of black men. To put that into a larger perspective, the United States accounts for 25 percent of the world's prisoners but just 5 percent of its population.
The acclaimed film has assembled a diverse array of talking heads — including right-wing pundits like Newt Gingrich (who admits "if you're white in America, you have no idea what it's like to be black") and Grover Norquist. It works to diagnose the root causes of a problem that began several hundred years ago and has been exacerbated in recent years, drawing renewed attention to police brutality and increased awareness of the flaws in our nation's prison system.
DuVernay illuminates how a loophole in the 13th Amendment — which stripped prisoners of the same rights as regular citizens — was exploited in the 19th century, led to Jim Crow and a racially motivated War on Drugs in the 20th, and then the more sophisticated, but no less problematic, legislation of today.
Related: Donald Trump Challenging Criminal Justice Reform Efforts
"13th" lays a lot of the blame for these laws, which put a priority on profits over people, on the controversial American Legislative Exchange Council. But it also suggests that no matter what entity is behind the perpetuation of prison culture, the public will have to keep waging a righteous fight against perpetual injustices.
There have been some incremental examples of real change. President Barack Obama became the first sitting commander-in-chief to visit a federal prison and the Justice Department announced in August that it was suspending the use of private prisons, but ending biased policing and sentencing will be a much more formidable challenge for any prospective president or incoming Congress.
The current Congress, which seemed to be flirting with actual bipartisan collaboration on criminal justice reform, passed the buck earlier this month when House leadership decided to delay any legislation until after the election.
So for now, the voices of activists and projects like "13th" are filling the gap in the national dialogue.
"My hope is that the movie gets people thinking about these issues more deeply and holding whomever they vote for accountable, or making people want to vote," DuVernay recently told Film Comment. "We could have really forced ourselves into a national conversation by highlighting those two key actors [Trump and Clinton] more, but this isn't really about them — this is a piece that's evergreen, I hope. These issues have been in process from the time of our great-grandparents and before. Hopefully people can watch the film and say: 'Wow, this was a turning point.'"