Lifestyle maestra and restaurateur B. Smith parlayed an iconic sense of style and a megawatt smile into a food and entertainment empire that touched diners along the East Coast and viewers across the nation.
Barbara Elaine Smith died Saturday at the age of 70 from the effects of early-onset Alzheimer's, according to a Facebook post from her husband, Dan Gasby. She has been remembered in the days since, by veterans of several industries, as a trailblazer who made style accessible and charted a smartly decorated path for others to follow.
"B. Smith was a pioneer and a legend who paved the way for women and specifically women of color, African American women, to thrive and be recognized in the food industry," Hattie Hill, who recently stepped down as president and chief executive of the Dallas-based Women's Foodservice Forum, told NBC News.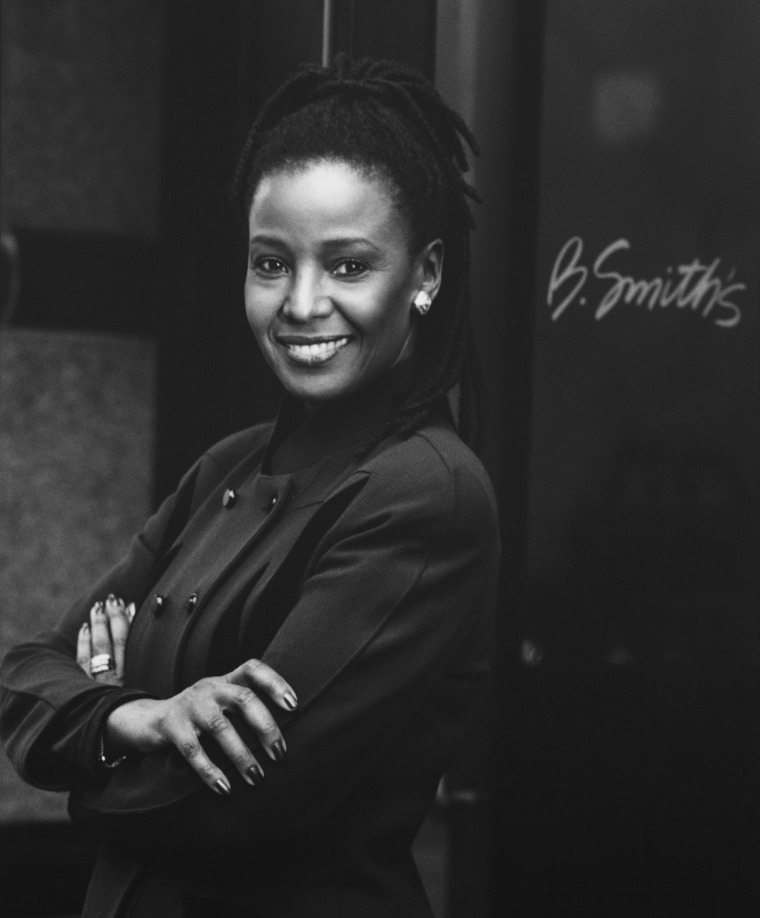 Many restaurants owned by African American women have developed followings since Smith opened her first self-titled spot in Manhattan in 1986.
Those women, Hill said, "have gone on to carry the torch for African American women in the food industry. These women stand on the shoulders of people like B. Smith."
Born in 1949 in suburban Pittsburgh to a steelworker dad and a mom who was a domestic worker, Smith ventured first into modeling. Signed to the Wilhelmina Models agency, in 1976 she became the second African American model to grace the cover of Mademoiselle magazine.
Smith's bright eyes would look out from 15 magazine covers before she moved on to her next adventure.
"My heart is with the family of B. Smith," model-turned-TV-personality-turned-entrepreneur Tyra Banks said in a tweet. "Your legacy of entrepreneurship post modeling will forever be an inspiration to us all."
When Smith opened her restaurant, the industry had long been dominated by white men.
Smith partnered with Ark Restaurants Corp. in opening B. Smith's in Manhattan's theater district. Serving upscale soul food, Smith eventually would add two more locations: in Sag Harbor in the Hamptons, and in Union Station in Washington.
Gail Parker, a psychologist and an author who lives in the Detroit area, said Smith was a true role model.
"What I remember her for is her elegance, her grace, her sophistication and her commitment to supporting African African culture through cuisine," Parker said.
"I loved going to her restaurant in New York and Washington, D.C. I enjoyed the atmosphere she created and the cuisine she presented. I have her original cookbook," Parker said. "It's beautiful and what I most remember, what I really, really remember, is the chicken potpie with the cornbread topping. It is so good."
Smith, who saw herself as more of a cook than a professionally trained chef, nonetheless was the first African American woman elected to the board of the Culinary Institute of America.
Even today, Hill said, you'd be hard-pressed to find an African American woman with a chain of restaurants backed by a major food company.
"B was a successful restaurateur," Tim Ryan, president of the Culinary Institute of America told NBC News. "She was also a tastemaker and a style maker before we had this little thing called the Internet."
"B had a very prominent national presence and a national brand and she brought all of that and more to the CIA," where she was part of a 25-member board, Ryan said.
"She was also a tremendous role model with innate elegance and style and grace and charm and charisma," he added. "That was very inspirational for our students, not just our African American students or just our women students -- but for all our students."
Lisa Williams is host of the podcast "Front Porch Conversations" and "Body of Plants," a program in which she travels and teaches people plant-based living by presenting cooking demonstrations. She said Smith's legacy has inspired countless women everywhere.
"She demonstrated for those like me — who are in this space of nutrition and teaching--how to do this work with excellence and with her trademark: style," Williams, who lives in Dallas, said. "She paid attention to the details. She was a business woman."
"She taught us something even in her last days: what it means to honor the human spirit. She disclosed what her new focus was — Alzheimer's — and she did it in a way to teach us and advocate for others," Williams added. "She demonstrated the spirit of dignity we all should have."
In the late 1990s, Smith made a foray into living rooms around the nation by hosting "B. Smith With Style," a nationally syndicated half-hour television show. At the time it was the only lifestyle program hosted by an African American, according to Hearst Entertainment, which served as both producer and syndicator.
By its sixth season, the series could be seen in more than 90 percent of the U.S. and in 22 countries, including Canada, Spain, South Africa, Japan, and throughout Latin America and the Middle East, according to a news release on the Hearst website.
Sheryl Williams, a retired attorney and business owner in northern Virginia who hails from New York, said: "B. Smith embodied style. She was style. It was perfect that her D.C. restaurant was in the iconic Union Station, which was stylish and classy. She was Martha Stewart before Martha Stewart, with her home television show about food and entertaining. You could call her our 'black Martha Stewart.' But we just call her our B. Smith."
Denene Millner, 51, an award-winning author and journalist, said B. Smith was her idol and inspiration.
"She had such style, such class and grace," Millner, who lived in Atlanta, told NBC News. "I coveted her books on entertaining — wore out the dog-eared pages full of ideas on everything from place settings to party ideas to decor as I established my own unique style of entertaining."
"B. Smith was her own special brand of being, a one-of-a-kind who will forever stand in a league of her own," Millner said. "We need to give her that respect. She earned it."
In the spring of 2001, Smith segued into retailing, with the launch of her first collection of home furnishings, also called "B. Smith With Style."
Monica Cooper, a real estate agent from White Plains, New York, said Smith created a space for black women to know that there is elegance and sophistication in domesticity.
"She embodied the beauty, strength and determination that paved the way for many of our black women entrepreneurs today," Cooper said. "Her beautiful brownness on TV greeting you at one of her restaurants was both inspiring and motivating."
Patrice Gaines and Curtis Bunn contributed reporting.