Baltimore: ChangeMakers will introduce you to some of the individuals who are engaging youth, seeking to improve their neighborhoods block by block, and demanding that their voices be heard in corridors of power. Each one is different but determined in their own unique way to change the paradigm in the city, pushing to help rebuild it one day, one person at a time.
---
Change Maker: Munir Bahar
Hashtag: #Wemuststopkillingeachother #300menmarch
---
Munir Bahar spent his teenage and early adult years in Baltimore courting trouble: he fought, stole a car, sold drugs, and packed a gun.
"I was 13 when I started catching cases," he says, which landed him in juvenile and adult detention facilities. "The last time I went to jail, I was 20. When I came home four months later, I said, `It's time for something to change.' I woke up."
Now 35-years-old, the college graduate, father and community activist is addressing social issues in his hometown, notably, the scourge of black on black violence.
In 2015, Baltimore saw a record-breaking 344 homicides, the bulk of them involving black males. This year to date, there have been more than 300 shootings in the city, following a similar pattern.
"You turn on the TV, and hear about young brothers shooting each other. … robbing, raping, murder," says Bahar. "After what [African Americans] have been through in this country, I think we should be ashamed. This is not our ancestral heritage."
"We can provide more support, more access to build young leaders and warriors for peace." — Munir Bahar
Bahar believes his past missteps make him uniquely qualified to help foster solutions. Today, he leads COR Health Institute, a Baltimore non-profit (incorporated in 2002) that focuses on youth.
Its programs include martial arts, fitness programs, leadership training and other offerings designed to foster physical and mental well-being among youth, especially black males, in under-served neighborhoods.
Anti-violence initiatives are a key part of the mission. The training addresses such elements as nonviolent resolution, intervention tactics, communication and anger management.
RELATED: Baltimore ChangeMakers: Meet Major Sheree Briscoe
"The pull of the streets is very powerful," says Bahar, who laments that "our culture is seemingly very accepting of violence." Yet with the right mentoring and resources, he adds, "you can engage young people and raise their consciousness."
Bahar's work also extends to adults in the community. Under the COR umbrella, he co-founded—along with Baltimore City Councilman Brandon Scott—the 300 Men March Movement in 2013.
The group is comprised of male volunteers who take part in structured weekly community walks (typically on Friday nights) aimed at encouraging youth to seek alternatives to gun violence. Wearing black T-shirts or hoodies with the "300" logo (inspired by a battle in the movie "300,") their motto is: "We must stop killing each other."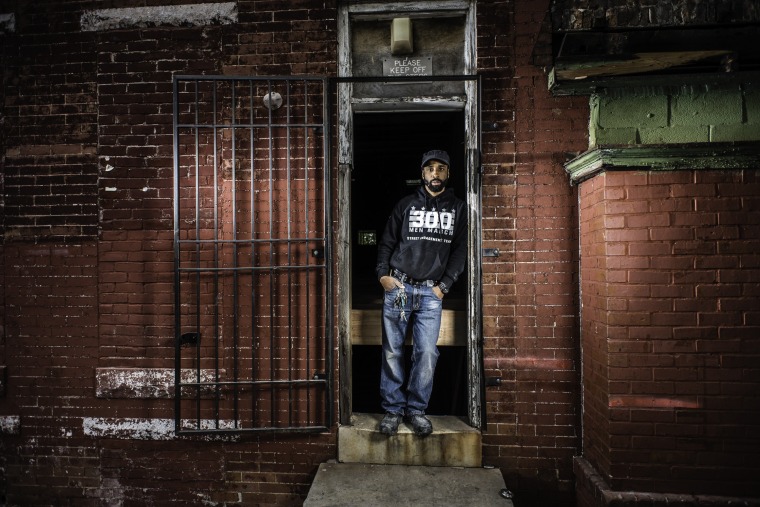 "If there are courageous men in every neighborhood who will organize to reduce gun violence, there would be progress," Bahar notes.
The grass-roots organization saw its profile raised as members helped play a peacemaking role during the unrest that followed the police custody death of Freddie Gray last April.
Since that time, a few dozen of the "300" have marched 35 miles to Washington, D.C., where they met with representatives of My Brother's Keeper,—the initiative for men and boys of color launched by President Barack Obama and helmed by Baltimore native Broderick Johnson.
Bahar and his team have also welcomed international visitors, who sought to study their model, through a program jointly sponsored by the State Department and World Trade Center Institute.
Their latest effort is opening new headquarters in East Baltimore later this summer. It will be housed in a renovated space that was previously four abandoned row houses. Bahar is excited.
"We can provide more support, more access to build young leaders and warriors for peace."
Our Baltimore: Change Makers series will introduce you to some of the stand-out individuals who are part of a burgeoning movement. Each is determined to help the city rebuild, block by block, person by person, one day at a time. As you read their profiles we hope that you will be inspired to join the conversation and let us know, who are your neighborhood #ChangeMakers? #BaltimoreChangeMakers