Baltimore: ChangeMakers will introduce you to some of the individuals who are engaging youth, seeking to improve their neighborhoods block by block, and demanding that their voices be heard in corridors of power. Each one is different but determined in their own unique way to change the paradigm in the city, pushing to help rebuild it one day, one person at a time.
---
Change Maker: Maj. Sheree Briscoe
Hashtag: #baltimorepolice #westerndistrict
---
With her crisp police uniform, close-cropped natural hair, and no-nonsense demeanor, Major Sheree Briscoe cuts a striking figure while patrolling the streets of West Baltimore.
Briscoe isn't a beat cop, however. She's the newest commander in charge of the Western District, one of nine designated police regions across the city.
Whether engaging with elders or young people, the 43-year-old Baltimore native strives to leave a positive impression amid heightened scrutiny of police locally and the national Black Lives Matter movement.
"One person at a time, one encounter at a time," says Briscoe, who joined the department back in 1994 and has moved through the ranks. "It's about the task, but we leave an everlasting fingerprint. I want it to be one of mutual respect."
Baltimore's Western District encompasses about three square miles; it's part of a predominately African-American community with its share of poverty, blight and crime.
In 2015, the district had more than 65 murders, most involving black males. The area is also where Freddie Gray was arrested last April; it became the epicenter of rioting, looting and arson on the day the 25-year-old was laid to rest.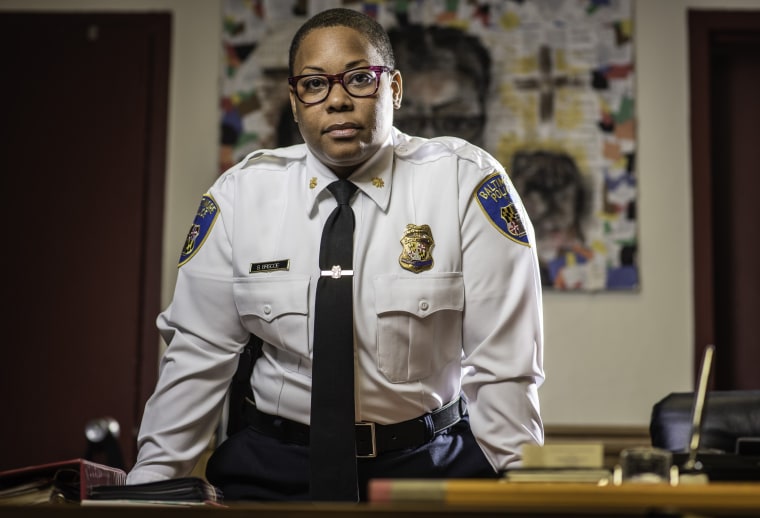 "This is where I was first assigned when I came out of the police academy," explains Briscoe, who says she volunteered to return following the unrest. "I knew whoever came to lead, had to care about the people."
Gray's death resulted in six officers being indicted on various criminal charges, and some of those cases continue to unfold.
The trial of officer William Porter ended in a hung jury (prosecutors plan to re-try him); another officer, Edward Nero, was recently acquitted. A third officer, Caesar Goodson, has requested a bench trial that is slated to begin on Thursday; the others have court dates scheduled through October.
While Briscoe declines to discuss the cases, she notes that "we're trying to repair fractures and start anew." Besides crime fighting, she and her team attend community gatherings and are having what she termed "listening sessions." "We want to gauge the concerns, and own what is going well, and not so well."
"We leave an everlasting fingerprint. I want it to be one of mutual respect." — Maj. Sheree Briscoe
Some Baltimore residents say the police were more cautious after Gray's death but have since returned to aggressive tactics, while others say they've seen marked improvements.
As the U.S. Department of Justice conducts a pattern-and-practice investigation into the Baltimore Police Department, its commissioner, Kevin Davis, and top brass have undertaken reforms.
Besides additional training and equipment purchases, the agency is in the process of rolling out body cameras, along with new technology to ensure that employees have reviewed policies. Police have amped up community outreach, with an emphasis on structured programs such as swimming and other sports designed to make meaningful connections between officers and youth.
Major Briscoe, who is the mother of four adult children and is also a grandmother, believes the multi-pronged strategies have the potential to repair relations. "I'm very hopeful."
Indeed, she shares that her original reason for becoming a police officer was due to a desire to uplift the community.
"That attracted me, being of help to people. That has been my driver for some time. I feel most fulfilled being of help to others."
Our Baltimore: Change Makers series will introduce you to some of the stand-out individuals who are part of a burgeoning movement. Each is determined to help the city rebuild, block by block, person by person, one day at a time. As you read their profiles we hope that you will be inspired to join the conversation and let us know, who are your neighborhood #ChangeMakers? #BaltimoreChangeMakers