NFL player Jarvis Jenkins joined forces with Barbershop Books to unveil a new reading space with Alaine L. Locke Magnet School students at the International Hair Studio in Harlem last week.
Attentive faces and bright smiles listened on as the 6'4 New York Jets defensive end read "The Adventures of Captain Underpants," aloud in efforts to shine light on the importance of literacy in young African-American boys.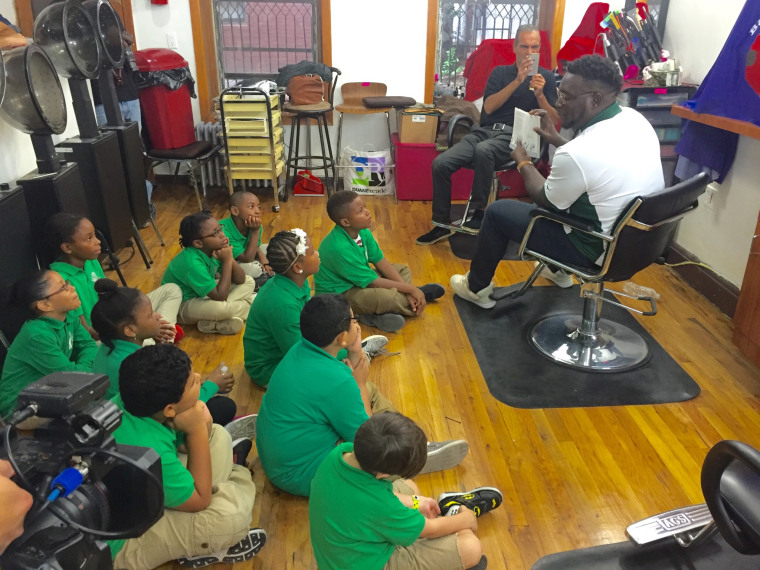 "The mission of Barbershop Books is to help young black boys and other boys of color to identify as readers by connecting books and reading to a male centered space by involving men," said Alvin Irby, CEO of Barbershop Books.
According to the NYC Independent Budget Office reports that less than twenty percent of NYC American teachers are black males.
RELATED: Editorial: Beyond Reading Skills: Helping Black Children Identify as Readers
The lack of reading role models in the black community and limited access to books is where the issue of literacy originates, according to Irby.
Jenkins stated that he wants to serve as a role model for the kids, "if they see my face if they see me, let them know that Jarvis Jenkins from the Jets, saying the Jets, it speaks volume."
Reading aloud to the group of 7 and 8-year-olds; Jenkins led the boys and girls in an interactive discussion that was met with questions and laughter.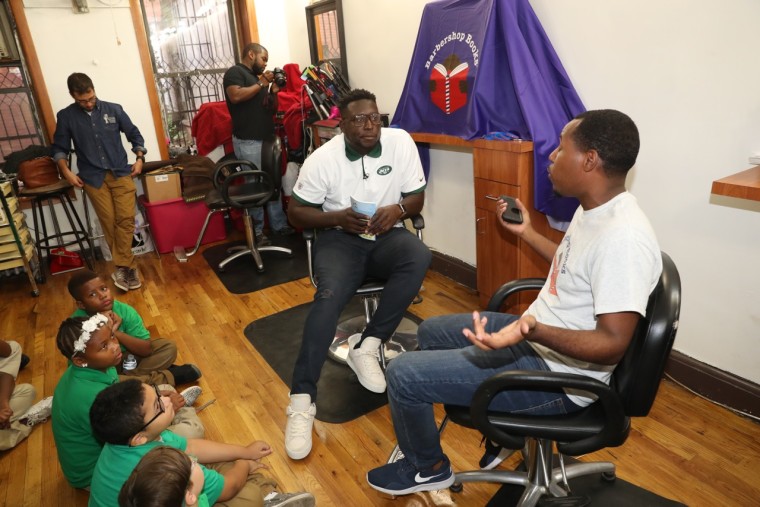 "I give so much back to my community back in South Carolina but it's not only about where you grow up at it's about growing up everywhere," stated Jenkins. "Obviously I wasn't the only one that was in poverty growing up and coming here, obviously New York has a lot of poverty and this is a great area to start in because if you start somewhere big it can impact smaller communities like me in little Ol'South Carolina.
According to Alaine L. Locke Magnet Schools' third grade teacher, Joshua Kaplan, kids imitate the adults they see in their lives, therefore adults should be asking adults the question: "How often do children see us reading for pleasure?"
RELATED: Get LIT(erature): Supporting a Lifelong Love of Reading
"Even though I'm not physically in school, those are the tools that I need in order to read my plays and in order read my check stubs," said Jenkins. "You need those skills at this level and you are going to need those skills all throughout life."
Kaplan says in the classroom they try to make the children develop a love for reading by not forcing them to read what they are not interested in.
"I like reading because it's fun, it tells you more about what's going on in the story and it helps you want to be a reader," said Myasia Deleston, a 3rd grade student at the school. "He [Jenkins] taught me that if you do everything you have to do, you can do anything you want to do."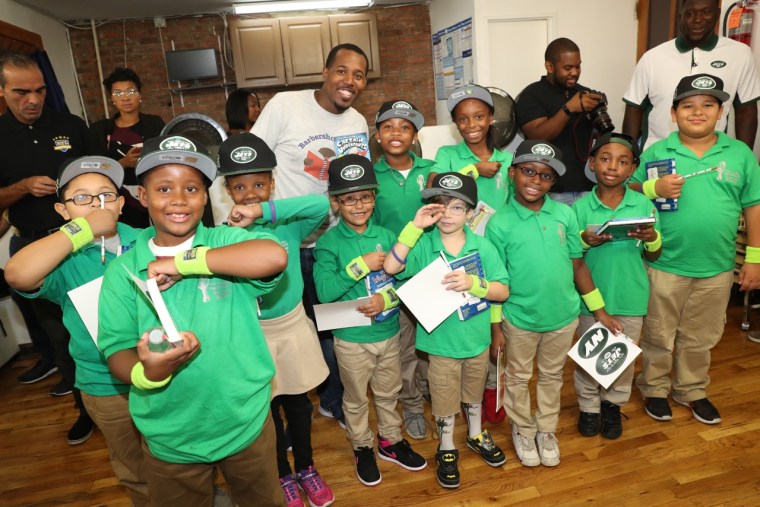 The International Hair Studio in Harlem is owned by James Davis who opened up his shop to Barbershop Books after one of his barbers spoke to him about what Irby was doing in the black community to raise awareness for literacy issues in black boys ages 4-8.
"I think this is great to have someone who will have enough will to come to my shop and read to the kids. I think it's great for the neighborhood and for the kids, even me," said Davis.