While only eight percent of Major League Baseball players are African-American, there is one player amongst that group who is quickly rising through the ranks and making an impact on the game.
Chicago White Sox shortstop Tim Anderson is already making his mark in the league at just 23 years of age. Selected 17th overall in the 2013 Major League Baseball Draft out of East Central Community College in Decatur, Miss., the Alabama native didn't begin playing the game until his junior year at Hillcrest High School in Tuscaloosa.
He had only played basketball up until that point, and won a state championship in 2011. However the White Sox were so high on Anderson's abilities that they gave him a $2 million signing bonus after drafting him.
He made his big league debut on June 11th 2016 in a win over the Kansas City Royals, and he's held down his spot on the roster ever since.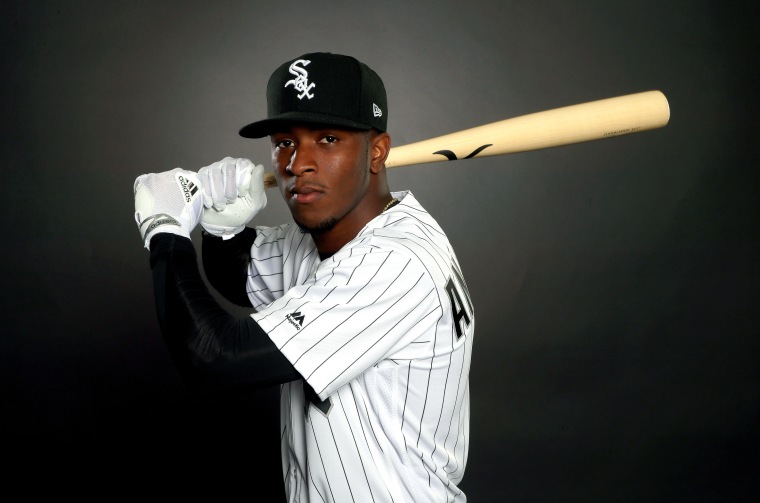 At the moment he's one of just five African-American shortstops on current big league rosters.
In his rookie season in which the White Sox finished with a 78-84 record (fourth in the American League Central), Anderson had a .283 batting average with nine home runs, 30 runs batted in, and 10 stolen bases. Now entering his first full season in the majors, Anderson is primed for an even bigger year at the plate as the White Sox open the 2017 season against the Detroit Tigers.
"Anderson definitely appears to be a total package," says Dan Hayes who covers the White Sox for CSNChicago.com. "He has quick hands and good hand-eye coordination, which means he's able to hit most pitches to all fields. He also flashed some power in 2016. Because he's only 23, you'd have to suspect there's enough in there to hit 15 home runs.
Related: Black Players Lift Cubs To First Post-Jackie Robinson Era World Series Win
Obviously his speed is a great tool, too. Combine that with good range, nice hands defensively and a strong arm, Anderson has everything needed to be a force on both sides. Plate discipline will be the biggest factor in how far he goes offensively."
While Anderson does have talent, upside, and potential, he's also an important piece of a franchise that's undergoing a rebuilding process. After years of failure with high priced veterans, Anderson one of many bright young stars that the White Sox are now leaning on towards future success. This is evidenced by the six-year contract extension he signed just a few weeks ago - worth $25 million. It's the richest contract ever given to a player with just one year of big league experience and a sure sign of the team's belief in his potential.
"The Sox liked the way Anderson played last year, both with the bat and at shortstop," according to Scot Gregor, the White Sox beat writer for The Daily Herald in Chicago. "But he still has plenty of room to improve, and that's really why the deal made sense for (the team)," he added.
Anderson is already headed in the right direction for 2017. In 20 spring training games this year he had a .290/.290/.403/.694 slash line to go with 25 total bases, nine runs scored, and four runs batted in.
While the number of Black players in the game overall continues to decline, the good thing for Anderson is that he plays for a team that has a strong legacy of successful African-American players.
Related: Jackie Robinson Celebrated Amid Decline of Black Players in MLB
That legacy includes Hall of Famers in first baseman/designated hitter Frank Thomas (inducted 2014), and outfielder Tim Raines (2017). The White Sox have also played a role in the legendary careers of outfielder Bo Jackson (an All-Star in both MLB and the NFL), second baseman Ray Durham (two-time All-Star), and Harold Baines who's a six-time All-Star, one of the best designated hitters to ever play the game (2,866 career hits), and is currently a team ambassador. There is belief that Anderson has the potential to be another White Sox legend.
"Anderson already reminds me a lot of Raines," says Maya Akai, a sports and cultural analyst for The Rewind Sports: 60. She adds, "What I appreciate about Anderson is his humility and love of the game. Despite being heralded as a rising star, he is invested in growing his talent and being a part of the White Sox young core of players that can potentially change the future of the organization."
And that future could be an exciting one, especially if Anderson is leading the charge.