Rising Brooklyn Preparatory High School senior Jaiyer Millington can spit. And the topic of Biology puts no limits on his bars.
Check it.
"Look! The cause of your demise, I can see it cause I got the vision," Millington raps. "Hit your shoulders several times, break the scapula humerus connection. And I subtract your femur from your hamstring, now your legs is missing. Add me to the equation, it's a smooth operation!"
As he performed his verse in his co-written science rap anthem, "Monsters of the Night," Millington's rhymes would make easy friends with lyricists and physical therapists alike. It's hard to tell it's his first year in the Science Genius B.a.t.t.l.e.s. (Bringing Attention to Transforming, Teaching and Learning Science) Program.
Science Genius Battles brings the energy and creativity of a cypher to science classrooms at Brooklyn Prep, Marie Curie High School, Validus Preparatory High School and other schools throughout New York. Top students from each participating school come together to battle rap each other to see who has the best rhymes packed with science knowledge bombs.
Dr. Christopher Emdin, author of For White Folks Who Teach In the Hood and the Rest of Ya'll too, co-founded the initiative with hip hop icon GZA to foster engagement among urban youth within their respective science curriculum.
"The program was inspired by the brilliance of young people and the inability of schools to harness that brilliance and activate an interest and passion for STEM," Emdin said.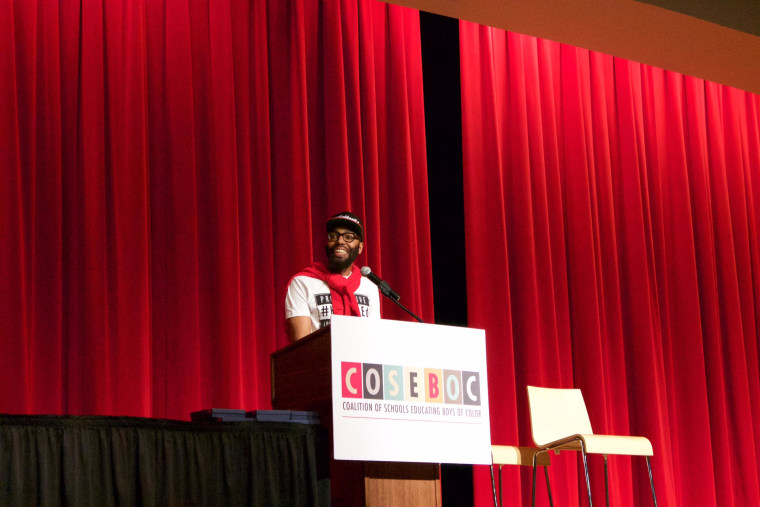 The program held its fourth annual tournament at the Jacob Javits Center in New York with actor Derek Luke and Grammy-award winning producer Bruce Waynne as celebrity guest judges. The showcase was just a few weeks shy of President Obama's proclamation, pronouncing June as "African American Music Appreciation Month" to celebrate music of the African diaspora.
Edmund Adjapong, Science Genius program coordinator, 6th grade science teacher and doctoral student, is excited about the impact this announcement will have in the educational space.
"In order to reach our students, we have to meet them on their cultural turf." — Edmund Adjapong
"The proclamation supports what we've been doing for the past five years," Adjapong said. "In order to reach our students, we have to meet them on their cultural turf. We have to bring their culture into the classroom."
Millington, along with three other Brooklyn Prep students — Melshawn Richey, Mitch Hunte, and Kaison Samuell — formed the group Freaks of Nature.
Before making it to the big stage, they battled other students in their high school for a spot in the tournament. Freaks of Nature and solo artist Mannix Torres emerged as two of seven Science Genius Battles finalists. In the end, Freaks of Nature took home the title.
"They really didn't believe in themselves winning," Brooklyn Prep senior David Dourant said. "We were really their backbone."
Dourant and fellow senior Peter Simms were in the Science Genius program with Freaks of Nature. While they were not finalists, they were like the official "hype-men" for the group — feeding the team energy so they could bring it.
Still, no one could have been more prouder of this win than their guidance counselor, Qiana Spellman, who helped launch the program this year at Brooklyn Prep. She introduced the idea to the principal who greenlit Science Battles to be part of the lunch club program. From there, Spellman pushed her students, encouraging them to bring ideas and work at the craft.
"It kinda tricks me into studying. I just passed my physics exam on accident." — Peter Simms
"Some people think it's corny — you hear science, you hear hip hop," Spellman told NBCBLK. "No one expected it to be as dope as it is. No one expected them to be here. They are really, legitimately good whether they are talking about science or not, and now they're taking a lot of pride in what they're doing."
Due to the success of this year, Spellman says she is working with her principal to make Science Genius an elective course so students can get credit for their work in the program.
For some students, the Science Genius Battles program is a win-win to tapping into their personal passions and achieving their academic goals.
"In my science class now, I pay more attention because I'm looking to add it to my music and it's easier to understand because I'm adding it to my music," Millington said.
For Simms, it's not so intentional, but there are benefits nonetheless.
"It kinda tricks me into studying," he said. "I just passed my physics exam on accident."
Results like these keep Adjapong working harder to make the program better.
In his middle school experience, Adjapong says most teachers and students did not look like him. While he had a strong taking to the subject matter of science, he was disengaged because he felt like he couldn't be himself in the classroom.
Having Emdin as his ninth grade teacher turned this all around.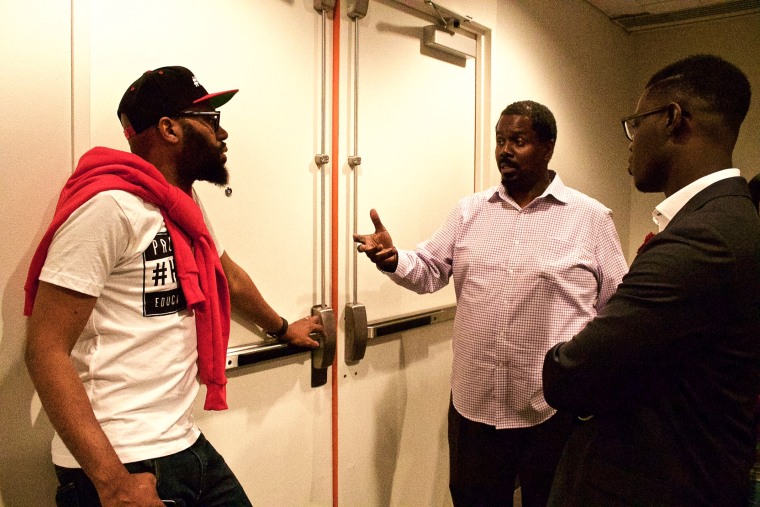 "He taught us science using youth culture and hip hop culture," Adjapong said. "It just opened everything up for me. I was like 'wow, I can actually do this.' I can be who I want to be I could be who I want to be in that space. At that point, I saw the power of this."
In addition to New York, Science Genius is in Chattanooga, Tenn., St. Lucie, Fl., Houston, Tx. and Toronto, Canada. Now in its fourth year, Science Genius Battles is a movement that intends to keep expanding to school districts across the country.
"We are in the process of moving to other cities," Emdin said. "That's is the most exciting piece of this work. We intend to keep growing globally and merge art, culture and science in powerful ways that reflect the culture of young people."