The trend of whitewashing Bible stories apparently is dying.
Unlike last year's big budget films "Noah" and "Exodus: Gods and Kings," this year's big budget mini series event "A.D. The Bible Continues," features a diverse cast that was almost as diverse as Jerusalem was back in the day. The series starts today on NBC and super producers Mark Burnett and Roma Downey have the church to thank for pushing them to move in this more historically accurate direction with their second foray into a Bible-based mini series.
"We brought together a beautiful international cast from all over," explains Roma Downey. "We have an African John, an African Mary Magdalene, an African Ananias and Sapphira, a British Peter and an Irish Paul. When we were traveling with the [first] Bible series, we visited many churches throughout the country and there was great support of the series but even then it was observed that the cast was very white."
Fast forward to now, says Downey.
"Mark and I decided at that time that if we had the chance to do it again we would take care of that and present a more accurate look at God's family."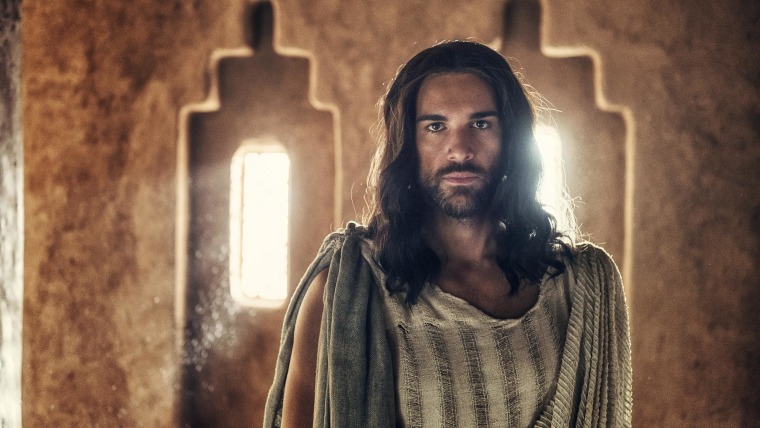 That "more accurate" look also includes an Argentinian Jesus and a black angel at Jesus tomb, amongst other people of color who take both major and minor roles in the series. In this retelling of the tale, not only is Jesus portrayed by a well-known Latino actor, but this Jesus is also surrounded by other people of color. It's worthy to take note of this casting trend in a year where a number of ethnically diverse TV shows [think "Empire," "How To Get Away With Murder" and "Jane the Virgin"] have ratings that prove diversity makes good business sense. For "A.D. The Bible Continues," historians say the crowd scenes alone - which feature people of every hue - are worthy of praise.
"It's not so much the absence of black people that was the problem [in previous productions,] it's the amazingly blue-eyed-ness and blond-haired-ness portrayal of people in the Middle East that's kind of annoying," says Boston University professor John Thornton. "The ark of the covenant floats around in Africa. The Queen of Sheba was from Ethiopia… Up until around 1750, there was this long tradition of recognizing Biblical characters of being black."
That history was revised by slavers to make moral way for the Transatlantic slave trade, says Thornton, who teaches a class named The History of Religion in Africa while also heading the African American studies department at the university.
Sunday School may teach the Resurrection, but a historical retelling of the story means addressing the political turmoil of an empire. Or, as the producers say, the drama. Burnett and Downey consulted with historians, theologians and the Bible itself to inform both the dialogue and the intrigue. That said, this series is less earnest and more "Game of Thrones" meets Jesus meets "House of Cards."
"Remember that we have this collision of groups in the region in that time," says Downey. "The occupying Roman army and the cruel regime, the temple authorities and the power struggle, the danger of the zealots and those looking for freedom from oppression. In the midst of it all we have the disciples preaching the message of Jesus."
She goes on. "Like a braid, bringing these stories together was a challenge but it was exciting. It's really, really beautiful."
It's emotional too. "We've all done the right thing," says Burnett. "We're just giving love from a diverse casting perspective [and] from an overt faith perspective. We're opening the door."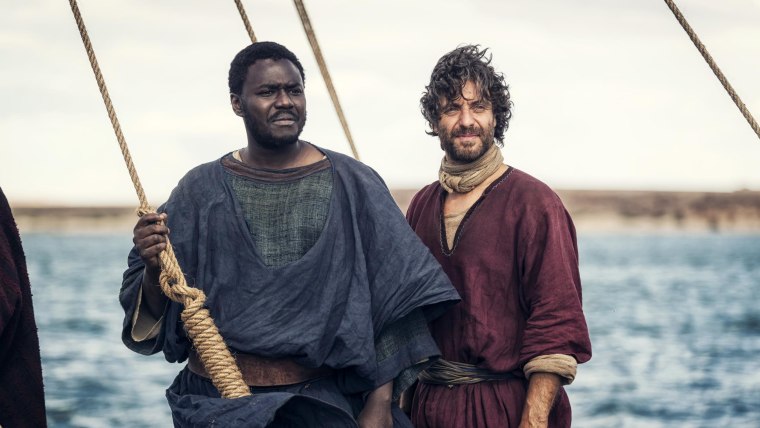 Similar to other Bible-based movies created by believers, the power couple known for creating "Survivor" made sure to include churches and their leaders in the discussions as the series was being filmed, and while it was in post production. In Chicago alone, the producers visited several high profile churches and consulted with pastors to be sure the message got out.
The move was genuine, says Pastor Charles Jenkins, who is the senior pastor of Fellowship Missionary Baptist Church in Chicago and the Grammy-winning founder of the award-winning choir of similar name. "I've been along for the journey since the Bible series and hosted a massive event for them in Chicago for that," he says. "I think it's good for Mark and Roma to try to be as historically accurate and to speak to the reality of geography. All of the many of the places that are discussed then and even now have many people [whose] skin was kissed by the sun. Even Jesus hair was described as like lamb's wool and when you think about it, it's hair that would be affiliated with one of a darker elk."
This is not the first attempt at true diversity in such a story, but it's still remarkable, says James Hudnut-Beumler, the Anne Potter Wilson Distinguished Professor of American Religious History at Vanderbilt Divinity School and an expert of "Jesus movies."
"This is another evolution in the direction of a non-homogenous casting of Biblical characters," says Hudnut-Beumler, who cites the 1973 film version of Andrew Lloyd Webber's "Jesus Christ, Superstar" as another example. "There's no reason besides that picture, on some walls, of a blond-haired, blue-eyed Jesus that we had to think of Jesus in that way. That's the most non-historical Jesus we could possibly imagine. So since that picture doesn't appear in many churches anymore, I think what the producers are doing is using artistic license to tap into what people are doing in their own heads anyway."