ROCK HILL, S.C. – Can Bernie Sanders, the surging candidate for the Democratic presidential nomination, break through Hillary Clinton's Southern firewall by making inroads with black voters? With a little help and a hearty warm up from African-American academic and activist Cornel West during a South Carolina swing, Sanders must hope so.
It was a day that started with an appearance at historically black Benedict College in Columbia and ended in front of more than 3,000 on Saturday evening at Winthrop University in Rock Hill. Not all were Sanders supporters but that didn't dampen the vocal enthusiasm of an engaged crowd that wanted to hear candidate's positions on income inequality, climate change, the minimum wage and – dear to the student-heavy audience – alleviating college debt.
"He comes out of the legacy of Martin Luther King Jr.," West said, introducing Sanders at Winthrop, before calling him a "leader with integrity and honesty and decency." West, who has been critical of President Obama and the administration's economic policies, echoed the message of the Sanders campaign when he said, "We don't hate rich people, we hate greed."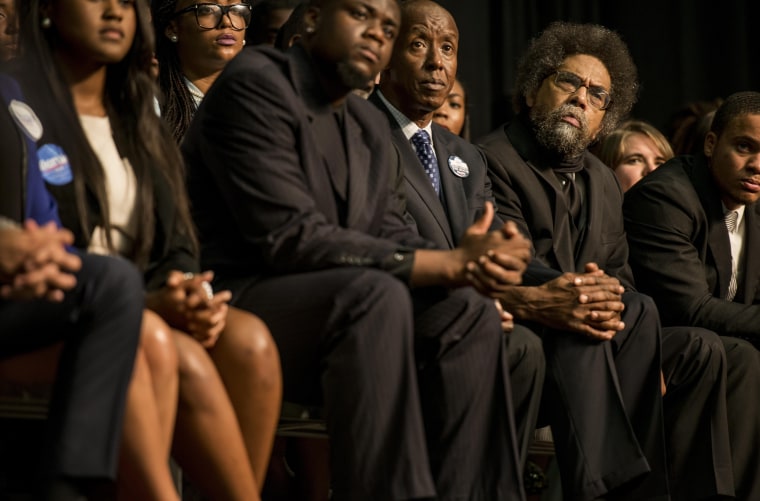 West was followed by Candace Livingston, who stood in front of rows of placard-carrying Sanders supporters more racially diverse than the predominantly white Winthrop audience. The Winthrop junior, who is African American, talked about the campaign's efforts to address systemic racism and the Black Lives Matter movement, a strategic message as Sanders looks to broaden his base into communities in which he is not as well known as his rival.
With rising poll numbers in Iowa and New Hampshire, the Vermont senator is feeling confident, even though Clinton still leads in national polls and fund-raising totals. The Clinton campaign has said the candidate would strengthen her lead, support and delegate count in the first in the South primary in South Carolina on Feb. 27 and other Southern contests that quickly follow.
In 2008, African Americans, who make up more than half of Democratic voters in the state, strongly supported eventual nominee Barack Obama after an Iowa victory proved his electability. Many felt bruised by the always tough and sometimes personal rhetoric that flew between candidates Obama and Hillary Clinton and their surrogates, particularly former President Bill Clinton. The Clintons have spent time since then repairing those relationships in hopes of counting on reliably African-American Democratic voters to turn out for her 2016.
It's an important constituency, crucial to primary victory in the South for any Democrat, and outside the young, white progressives who have been driving movement toward Sanders.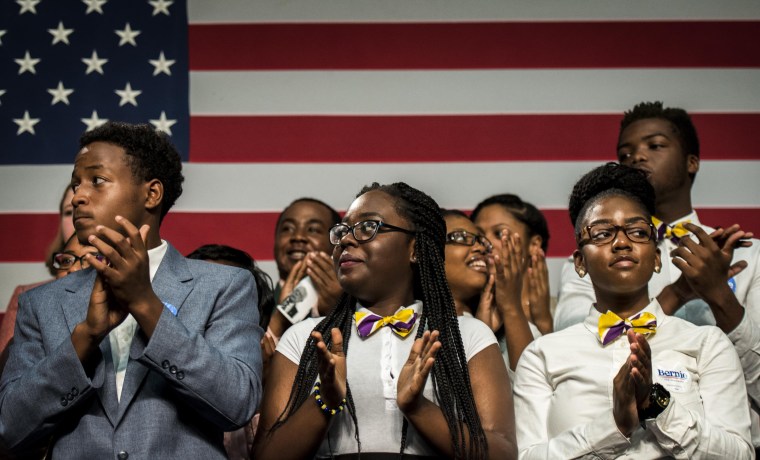 Scott H. Huffmon, political science professor and director of the social and behavioral research lab at Winthrop, said improving on his numbers in South Carolina will be an uphill battle for Sanders, despite what he called a passionate, "preacher mode" introduction from West.
"The progressive rhetoric really does ring true," said Huffmon, who also directs the Winthrop Poll Initiative and hosts forums for Democratic and Republican candidates at the university. However, he added that while 90 percent of African Americans in South Carolina identify as Democrats, a huge percentage also self describe as conservative. "Not all the rhetoric is going to hit home as easily as his campaign thinks it will."
Ashley Causey, 24, a senior special education major from Florida, remained undecided, but said she was open to supporting Sanders. Causey, who is African American, said, "I do appreciate what he did when Black Lives Matter activists interrupted him" at a Seattle rally. "He let them speak," she said, and then "he made an attempt to address their concerns."
While she said it's important that Clinton is running – "as a woman I appreciate her making a move" – she said, "I don't think she is as in touch with marginalized people."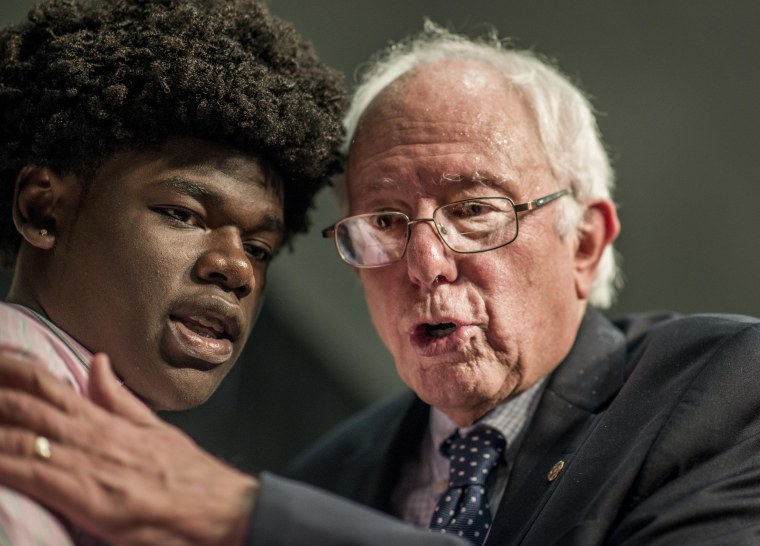 Donovan Hill, 19, a biology/pre-med major at University of North Carolina at Charlotte and an African American, said that while he "loves and supports" Hillary Clinton, he prefers Sanders in the primary, particularly because of the candidate's views on "income inequality."
In his rally speech, which lasted more than an hour, Sanders spoke about mass incarceration and voting rights, labeling as "political cowards" those who "scheme to make it harder for people who disagree with them to vote" and decrying the Supreme Court ruling that invalidated key parts of the Voting Rights Act of 1965.
Will his attention to issues of particular importance to African Americans gain support and name recognition in South Carolina and other Southern states? In a post-rally press conference, in response to a question about his message to black voters, he said it was "less what I tell them than listening to what they tell me."
It was a start.