California native Kieu Tran, the seventh out of eight kids, is the first in her family to graduate with a college degree.
"It felt like I can do anything," Tran said, after getting her degree from San Francisco State in May. "Like if I can graduate college, then I can probably do more... I haven't hit my limit yet."
Her success is partly in thanks to a nonprofit organization called Beyond 12, which is fighting to bridge the higher education gap with innovative technology and virtual counseling. Without it, Tran, 24, says she'd be "pretty lost."
"I didn't know what to do," she said. "I'm the first one in my family to go to college so it (was) kind of like just a whole new environment for me."
It's a feeling many students know all too well (about one-third of undergraduate students in the United States are the first in their families to attend college, according to the National Center of Education Statistics). And it's what inspired Alex Bernadotte, the daughter of Haitian immigrants, to found Beyond 12.
"It was like landing in a foreign place," Bernadotte said, of her own undergraduate experience at Dartmouth. "I struggled academically, I struggled financially, I struggled socially. I struggled with feeling like I just didn't belong."
Bernadotte, who was born in Port-au-Prince, Haiti, and raised in inner-city Boston, is now tackling the larger, systemic issues faced by many first-generation, lower-income and historically underrepresented students, mainly by focusing on degree attainment, rather than college enrollment.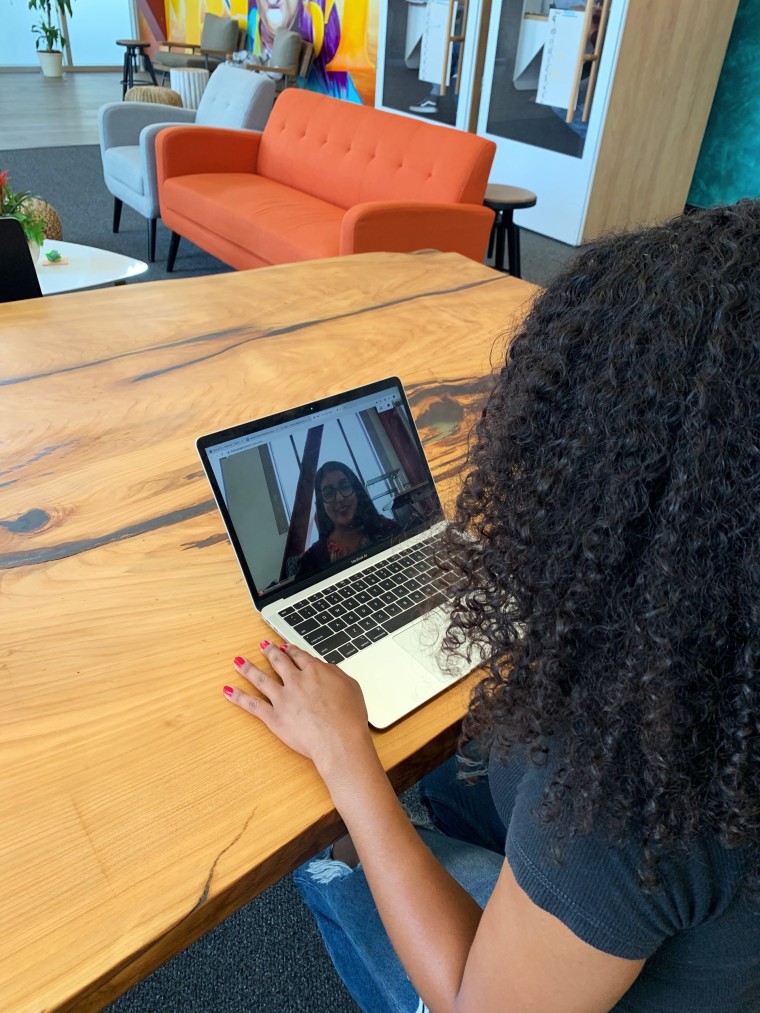 It's an important distinction, according to Bernadotte. In fact, data from the National Student Clearinghouse Research Center shows that just 58 percent of students enrolled in college in 2012 earned a degree six years later. (That number is 49.5 percent for Hispanic students and 41 percent for black students.) And, low-income and first-generation students are twice as likely to leave postsecondary education without attaining a degree, according to The Pell Institute.
It's these students — the ones who are enrolling in college but more likely to leave — that need the most support, according to Bernadotte.
"These are students that have done the work to get in, who have figured out the financials of getting in and who are excited about being there," Bernadotte said. "So how do we make sure that investment that they made yields a degree? And also yields a degree that allows them to break the cycle of generational poverty for themselves, their families, their communities."
But as Bernadotte understood from her own experience, "breaking the cycle" and being a first-generation student comes with a lot of pressure.
"It's a constant fear of failure," said Nelly Garcia, a first-generation freshman at Texas Christian University, who is not involved with Beyond 12. "We don't want to let our parents know we're struggling because it's just another weight on them."
That's where a support system like Beyond 12 comes in. Some of Beyond 12's strategies include using data analytics to track students and identify who may need help (sometimes, even before they know it), and offering a mobile app to help students manage deadlines and connect with campus resources. Most directly, it gives students virtual coaching through texting, calling and apps like Skype and Google Hangouts — even Instagram and Snapchat.
Behind all the tools and tech is a simple message:
"A big foundation of the coaching model is that everybody struggles," Bernadotte said. "It's OK to ask for help — it's not just you."
In Tran's case, the coaching had a direct impact on her success. At San Francisco State, she said she changed her major four times and commuted two hours each way to get to campus, nearly five days a week. She also struggled financially, almost dropping out of school at one point. But she was able to get through with the help of her coach, Lara Sidhu, who would talk to her about internships and financial resources, or even just send a simple "good luck" text before a midterm.
"She cried a little bit," Tran recalled of Sidhu at her graduation. Tran and Sidhu have now known each for six years, and they continue to stay in touch.
"So many other positions, in school, with your professors, there's always that power dynamic," said Sidhu, who is now the program director at Beyond 12. "But in the coaching role, there's that even playing field where the student is really the leader in the conversation. And it's our role as a coach to meet them where they're at in order to really support them to the best of our ability."
Tran says two of her older siblings, who went to college but dropped out due to financial reasons, would have completed school if they had a resource like Beyond 12. Just having someone who could relate to her (Sidhu was also a first-generation college student) was especially helpful.
"She understood the financial aspect of struggling and not knowing what resources were available on campus," Tran said. "She was like a handy, go-to person that was there."
Beyond 12 coaches, who don't act as authoritative advisers or teachers but as someone walking alongside the students, handle a caseload of about 125 students each, according to Sidhu, and they do it all through virtual platforms.
"You're doing all of your coaching over the phone, text, Facetime, social media and email," Sidhu said. "So it gives you an opportunity to really, really manage your time in an effective way but also in a way where you'll be talking to a student and they would have no idea that you have 124 other students that you're working with."
So far, the organization has coached over 7,000 college students and tracked the progress of nearly 120,000 students nationally. Eighty-five percent of the students coached for four years have either earned a degree or remain enrolled six years after entering college.
"I've seen firsthand through my experience and also firsthand through my students, through other coaches… the impact that this has. It's invaluable," Sidhu said.
For Bernadotte and the rest of Beyond 12, it's about elevating the voices of first-generation students in a world of higher education that does not always treat everyone equally.
Garcia, at TCU, wants to be an immigration attorney in her hometown, Waco, Texas. Tran, coached through Beyond 12, is now looking at applying to veterinary schools. Bernadotte wants to serve a million students annually by 2025, and she hopes her students will even go beyond Beyond 12.
"Our ultimate goal is to spark the students that we're serving as changemakers and future problem solvers," Bernadotte said. "Through their individual successes … and hopefully (with) their continued activism they will allow us to change our education system and ultimately our workforce and I think the very fabric of our country."