A woman in California said she was infuriated and saddened to find black beauty and hair products locked in a glass case at a pair of local Walmart stores.
Jasmine Saunders, 42, said she felt singled out Sunday at a Walmart in Riverside, California, as she and other black women waited for a store employee to unlock beauty supplies marketed to black men and women.
"One poor girl was trying to look up products on her phone because you can't even pick the products up to read directions, ingredients, et cetera," Saunders told NBC News. "I could not believe the emotional response it elicited, I felt as if the second I stepped into that aisle, that it had already been determined I'm a potential thief, as well as anyone else who looks like me."
After making their selections, Saunders said the Walmart employee then walked the items to the front of the store to be held until they were purchased.
Saunders said that she followed the sales associate to the register, but left before buying anything because she just wanted to get out of the store.
"It was embarrassing to feel a part of a group being singled out," she said. "I left my cart just sitting in an aisle."
Walmart said it does not tolerate discrimination of any kind in its stores and that certain items are kept locked up for security reasons because they are more likely to be stolen.
"We serve more than 160 million customers weekly, crossing all demographics, and are focused on meeting their needs while providing the best shopping experience at each store," LeMia Jenkins, a Walmart spokeswoman said. "We're sensitive to this situation and also understand, like other retailers, that some products such as electronics, automotive, cosmetics and other personal care products are subject to additional security."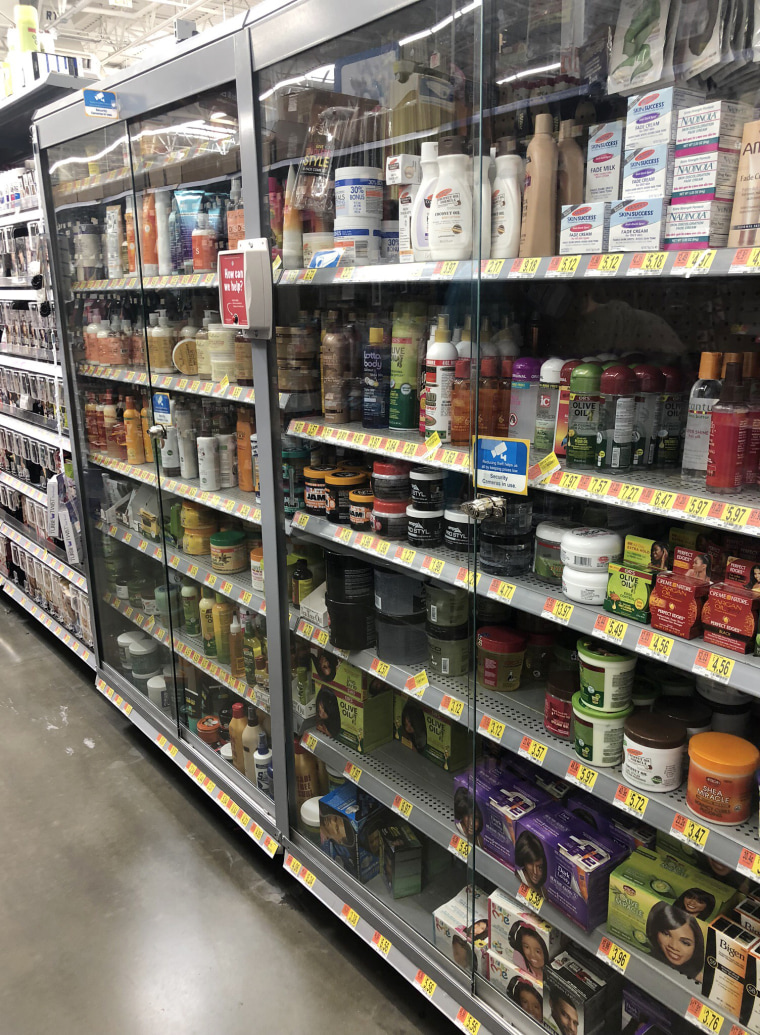 Essie Grundy, who also lives in California, sued Walmart in 2018 with a similar complaint. She accused the retailer of racial discrimination because on at least three visits to a store in Riverside County, "hair and body products meant for African-Americans" were locked away, her lawsuit states.
Grundy is represented by attorney Gloria Allred, who filed the lawsuit in California Superior Court in Riverside County. Allred told NBC News on Monday that Grundy's case is still pending in federal court.
Allred said that Walmart has previously tried to justify what she describes as a "racial discrimination policy and practice" by stating that "the protective packaging was part of a normal practice to minimize theft of at-risk items."
"We disagree," Allred said. "We believe that if Walmart is concerned about security, it should lock up the shelves of all products."
The locations in California, which last month became the first state to ban discrimination based on natural hairstyles, are not the only Walmarts in the country to be accused of racial discrimination.
The retail giant has also been the subject of similar complaints on Long Island, New York, and in Virginia.
"I can't understand how they are getting away with this, and that people are continuing to accept this as normal and acceptable," Saunders said. "I'm a teacher, and I want the students in my class to know that this is not normal, it's not OK, and they do not look like criminals."
During a visit last week to another Walmart in Ontario, California, not far from where she teaches fifth grade, Saunders said beauty supplies targeted at black people were also under lock and key, and this time, there was a sign.
It read: "Reducing theft helps us all by keeping prices low. Security cameras in use," according to Saunders. She said she interpreted that to mean that customers purchasing these items are likely to be thieves.
When she asked a store employee why the items are kept under lock and key, Saunders said she was told it's not "black hair care products that are locked up, only the ones that are stolen the most."
"It blows my mind that they are getting away with this and people are continuing to comply as if it's a nonissue," said Saunders. "If you're going to lock up hair products, lock up all of the hair products not just those targeting a particular demographic."