Just a day after the Congressional Black Caucus met with Attorney General Loretta Lynch and FBI Director James Comey on issues around police brutality, the Caucus returned to the podium on Friday to renew their plea for more stringent gun control measures, including a ban on assault weapons.
"The two acts of murder this week must be addressed by law enforcement and it must be addressed by the Congress of the United States. If we fail to act this will be a long hot summer," said Rep. G.K. Butterfield (D-NC), the Chairman of the Congressional Black Caucus on Capitol Hill today.
Butterfield spoke on the police involved shootings of Philando Castille in Minnesota and Alton Sterling in Louisiana. A video recorded on Facebook live by Castille's fiancée, Diamond Reynolds, went viral on the internet and sparked rallies in several cities, including the nation's Capitol.
"You want to say we're mad? We're mad. We are determined to take our advocacy now to a higher level." — Rep. G.K. Butterfield
RELATED: Marc Morial: Raising Expectations for the Men and Women in Blue
The Chair and other Black Caucus members also declared last night's murders of five Dallas Police Officers during what started as a peaceful protest to be part of the continuing problem of easy access to guns in America.
"If this Congress does not have the guts to lead, then we are responsible for all the bloodshed on the streets of America whether it be at the hands of people wearing a uniform or whether it's at the hands of criminals, we bear that responsibility if we don't act," said Cedric Richmond (D-La.) who represents Baton Rouge, La.
"You want to say we're mad? We're mad. We are determined to take our advocacy now to a higher level," Butterfield added, with 14 members of the Black Caucus standing behind him.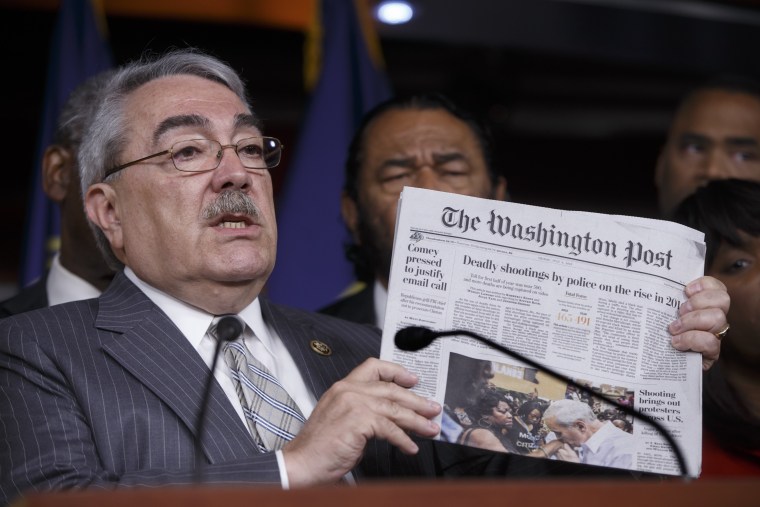 "As of June 30, 491 Americans have been fatally shot by the police. Most of those were African American. At this same point last year, 465 were killed by police. Last night despicable crimes were committed against Dallas Police Officers and when the dust settled five of them were dead as a result of an organized execution by criminals," Butterfield asserted to a room full of journalists.
"We are continuing our fight to remove guns from the hands of would-be terrorists and criminals and require background checks of those seeking firearms. We need legislative action now," Butterfield added.
The House is scheduled to leave town today but will return to session on Monday.
RELATED: Editorial: S.O.S: Saving Our Sons In The Midst of Imminent Danger
"We understand the problem of our law enforcement officers I don't want to diminish that," Butterfield said. He and other members of the Caucus added that they will continue a push to ban assault weapons.
"We need to expand background checks and reinstate the ban on assault weapons. We need to reinstate a ban on the sale of military style assault weapons," said Rep. John Conyers (D-Mich.).
"Out of respect for all who have lost their lives, police and civilian, we need to dedicate ourselves on this issue," Conyers added. Conyers is pushing a bill that includes accreditation standards for police.
At a Black Caucus press conference yesterday members discussed a Death in Custody Reporting Law signed by President Obama in 2014 that has not been implemented by the Department of Justice.
"There needs to be greater training of law enforcement, sometimes I feel maybe not only those of us engaging in non-violent protests but police officers need to be taught way of peace, love, non-violence," said Rep. John Lewis (D-Ga.).
Many of the members were visibly emotional throughout—Rep. Robin Kelly (D-Ill.) wiped a tear at one point—as the discussion ranged from police brutality in their districts to their personal lives.
Rep. Marc Veasey (D-Texas) spoke of his fears for his 10-year-old son. "I want the police officers to be protected, but I do want to know that when my son gets a little bit older and he starts to—and his voice starts to change, and he starts to put on weight like his dad, that he will be given the same benefit of the doubt that any other kid would be for maybe having a smart mouth," said the congressman, whose district includes Dallas-Fort Worth.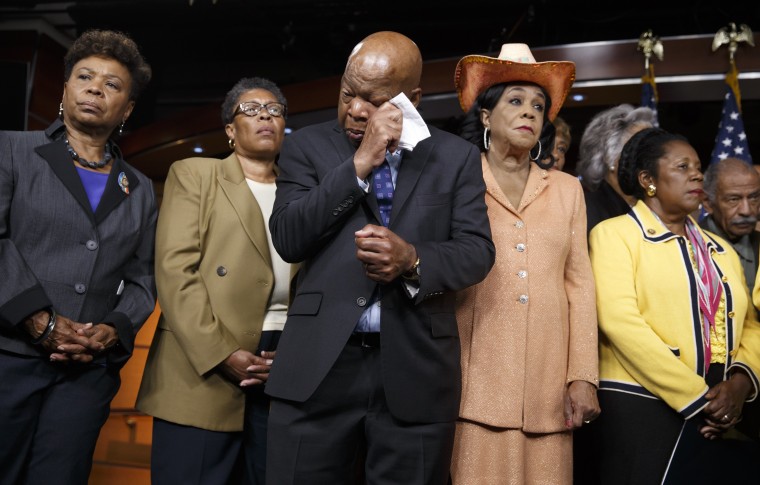 Members were said to be emotional to the point of tears in private meetings this week. Two members, Reps. Don Payne, Jr. (D-NJ) and Rep. Andre Carson (D-Ind.) relayed personal stories of police encounters when they were younger at Thursday's presser.
"The scars and stains of racism are still deeply embedded in American society." — Rep. John Lewis
Over 1,000 protesters marched to Capitol Hill on the night of June 7 shortly after the House finished voting for the day. The protesters shouted down the speeches of several members of Congress including civil rights legend Lewis and Rep. Maxine Waters (D-Calif.).
RELATED: 'When Will Something Be Done?' Celebrities Ask Following Latest Police Shootings
Waters was initially cheered loudly by the protesters when she started with the line, "I'm tired of this (expletive)." That sentiment has been relayed on social media and at protests across the nation.
But the protesters concerned about police brutality would not listen to much more. "We want action, no more talk," they chanted over and over again on the West Front Capitol steps.
Today Congressman Lewis shared their frustration. "Sometimes, I want to believe that we have made much more progress. But then, I think that we're not standing still, I think we are sliding back," he said. "The scars and stains of racism are still deeply embedded in American society."
He concluded with a message of unity, "Because we all live in the same house, and it doesn't matter whether we are black or white, Latino, Asian American or Native American. We're one people, we're one family, we're one house. We must learn to live together as brothers and sisters. If not, we will perish as fools."