One year after President Trump gave his campaign rally cry to the Black community — "What do you have to lose?" — Congressional Black Caucus Chairman Cedric Richmond says African-Americans have already lost a lot in the 212 days of Trumps' leadership.
In response to the deadly violence that took place at a white nationalist rally in Charlottesville and Trump's comments that "both sides" were to blame, Richmond and the Congressional Black Caucus are calling for action to rid federal policies and the White House of "racism."
"The people that work in the White House should not be white nationalists or white supremacists," Richmond said on a conference call with reporters Monday. "[Steve] Bannon is gone but you still have [Stephen] Miller and [Sebastian] Gorka and that still sends a horrible message and anyone else in the White House who shares those views."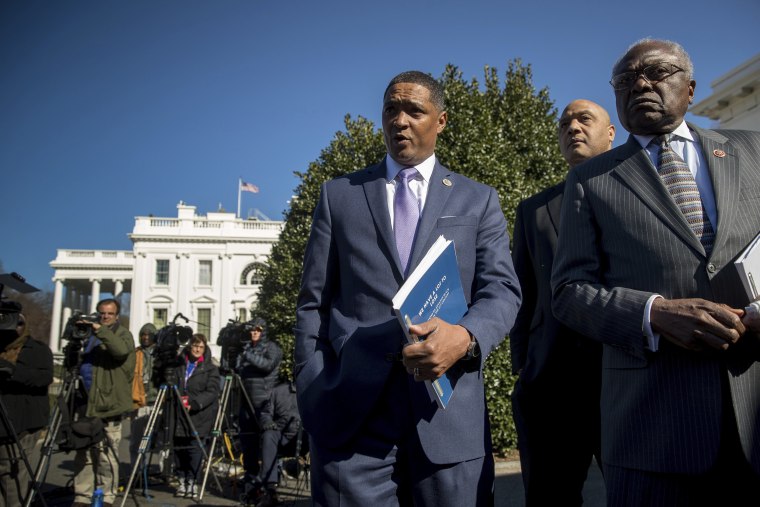 During a press conference in Colombia on Sunday, Vice President Mike Pence defended Trump's initial response to the violence in Charlottesville, saying the president "made it very clear" that he condemns "the KKK and white supremacists."
Richmond along with Reps. Karen Bass, D-Calif., Andre Carson, D-Ind., and Brenda Lawrence, D-Mich., announced a campaign to #RootOutRacism, laying out plans to combat what they believe to be "racist and discriminatory" policies of the Trump administration, including voter suppression, ending an Obama-era order to stop the use of private prisons, and a travel ban on six Muslim countries — a case that the U.S. Supreme Court will rule on in October.
Richmond said the country is having "a crisis of leadership," citing that Trump has proven he doesn't have a temperament to govern. While the caucus' main focus is on 'racist' policies, Richmond said it's also "a very appropriate time" to discuss impeachment.
Related: CBC Declines Meeting With Trump: Our Concerns 'Fell on Deaf Ears'
When asked if he thought there were grounds to impeach Trump, Richmond said he would consult with the caucus before making a decision.
With cities and college universities across the country taking down Confederate monuments, the caucus will also push for the removal of Confederate monuments from federal property and the U.S. Capitol.
"Why should our African-American school children that come and visit the capitol have to see a tribute to someone who fought against this country? Who left the United States because they wanted to keep their ancestors in chains and bondage? That's makes no sense," Richmond said.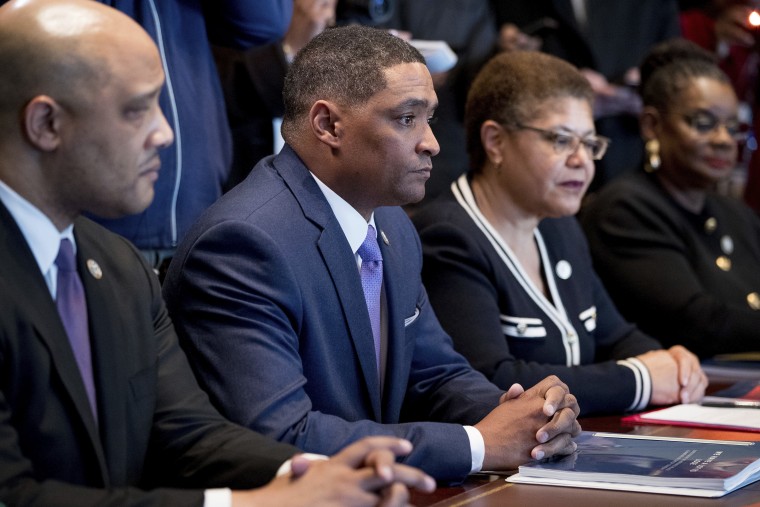 On Friday Sen. Cory Booker, D-N.J. and Rep. Barbara Lee, D-Calif. tweeted they would introduce a bill to remove Confederate monuments from the Capitol once back in Washington. Reps. Dwight Evans, D-Pa. and Adriano Espaillat, D-N.Y. have introduced a bill aiming to remove Confederate symbolism from federal property funded by the government.
Rep. Yvette Clarke, D-N.Y., also introduced a bill, calling for the Department of Defense to rename military bases named after Confederate leaders.
Related: Congressional Black Caucus to Highlight Trump Admin's Racial Problems With #StayWoke Campaign
The caucus has been aggressive in their efforts to push for solutions affecting minorities. In a March meeting with Trump and members of his cabinet, CBC leaders presented a 130-page document, We Have A Lot To Lose: Solutions to Advance Black Families in the 21st Century, laying out issues such as community policing, health care, and education.
Feeling that their concerns presented during their first meeting with Trump "fell on deaf ears," in June the caucus declined an invitation from Omarosa Manigault, assistant to the president and director of communications for the Office of Public Liaison, for a follow-up meeting.
"While we agreed to explore possible future discussions when we first met, it has become abundantly clear that a conversation with the entire CBC would not be entirely productive, given the actions taken by your Administration since our first meeting," Richmond stated in a letter to Trump.
In April, the caucus branded the administration "dangerous to America," calling for people to "stay woke" in a report listing 100 racially problematic remarks and actions taken during Trumps' first 100 days in office.