A Black couple from the Dallas area was reunited with their 5-week-old baby after a tumultuous battle with authorities who took the child from the family's home just days after her birth.
A photo on the Afiya Center's Instagram profile shows Temecia Jackson, 38, cuddling her infant daughter, Mila, during their reunion last week. The moment ended a weekslong ordeal that began with a simple hospital visit.
"Mila is finally on her way back where she belongs. But this never should have happened in the first place," Marsha Johnson, executive director of the Afiya Center, the Dallas-based reproductive justice organization that advocated for the family. "Systemic racism is the reason why Mila was separated from her family. Period."
Nicolas Sampedro, of the Afiya Center, told NBC News that the Dallas County district attorney's office ordered Mila's return and the family was reunited on April 21. This came more than three weeks after Dallas County constables and the Texas Department of Family and Protective Services went to the family's home in Desoto, a city in Dallas County, on March 28 and took Mila.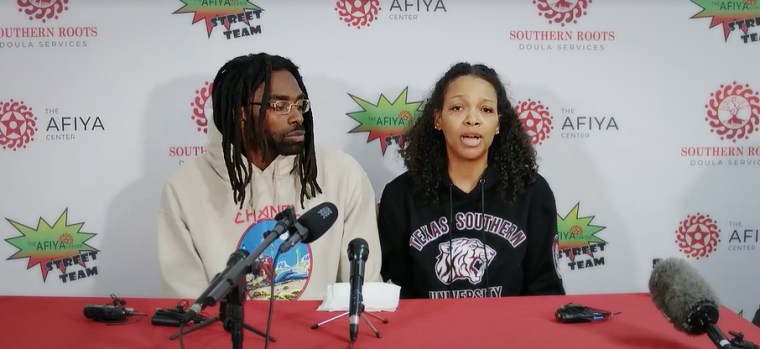 The district attorney's office did not immediately respond to a request for comment.
The removal stemmed from a hospital visit days after Mila was born in a home birth on March 21. The Jacksons took Mila for a routine check-up three days later and a pediatrician recommended treatment for jaundice, a common ailment among newborns usually cured through breastfeeding and sunlight. 
The parents took the doctor's recommendation and told him they would tend to Mila at home with the help of a midwife. The pediatrician then contacted child protective services, telling authorities that the parents refused to admit the baby to the hospital. 
Mila was placed in foster care with the Jacksons allowed only a few supervised visits with the baby. Advocates held rallies and gathered in protest outside the Texas DFPS, calling for the baby's return. Reproductive justice advocates blamed systemic racism for the family's situation, holding that the Jacksons are one of many Black families disproportionately separated by child welfare agencies. 
"Time and again in our work, we see the 'child welfare system' weaponized to police pregnancy and separate families after delivery," said Emma Roth, an attorney with the Afiya Center. "The Jacksons' ordeal shows the trauma of the hospital-to-CPS pipeline, which terrorizes Black families. This should never have happened, and we're overjoyed Mila is heading home where she belongs."