There are about 80 African-American delegates and alternates in Cleveland at the Republican National Convention, according to an informal floor count.
NBCBLK spoke to some of these delegates and other African-Americans attending the convention about their nominee and what it means to be a Black Republican in 2016. Even with the controversy surrounding the candidacy of Donald Trump they remain supportive.
"I didn't support him in the primary," said Georgia delegate Ashley Bell. "But when the gavel hit last night at the convention that was essentially the end of the Republican primary so I had to essentially put all that aside."
Tonight the official roll call of states takes place on the convention floor. On Monday, the Colorado delegation walked out during a rules dispute.
"I'm going to support the party. I've been an elected official so I understand the challenges," Bell told NBCBLK after an event featuring the concerns of Republican women. Bell won elected office as a Democrat and then switched to the Republican Party. He originally supported Sen. Rand Paul (R-Ky) for President.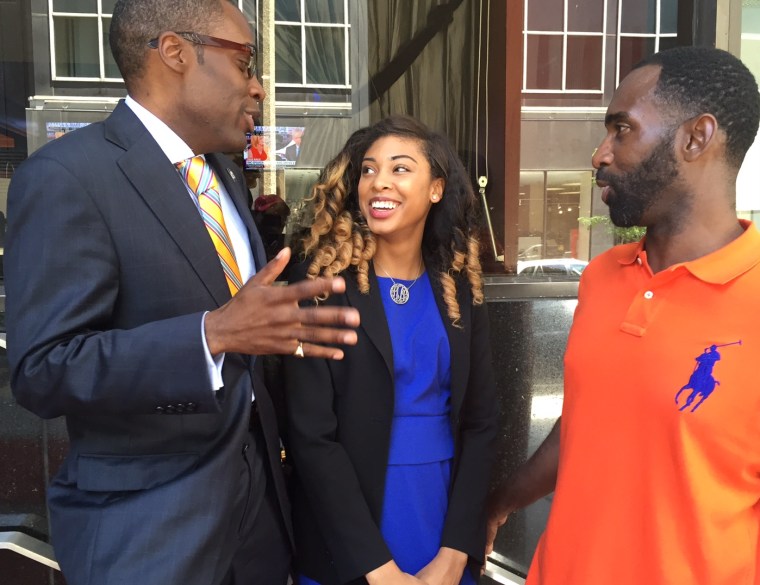 Many African-American delegates and Trump supporters aren't taking the "Never Trump" movement or any other attempts to derail his nomination seriously.
Cleveland Pastor Darrell Scott told NBCBLK that, "what happened was a minor little blip on the radar screen. To be honest I was disappointed with that protest. It's going to go smooth and I really believe that Donald Trump is going to win over the audience at the convention. He will let them see a side of him they haven't been able to see through the liberal media. I've known him for several years and he is one of the most gracious and chroming guys you'd ever want to meet."
Pastor Scott is a Board member of the National Diversity Coalition for Trump and a key African American advisor who is speaking at the convention tonight.
"Listen I came out of the streets of Cleveland, Ohio. You think I'm going to gravitate to some guy that's a racist guy who hates Black people? I wouldn't gravitate to that. I like him. He reminds me of me," Pastor Scott told NBCBLK this week.
Some African Americans support Trump not only because of loyalty for the GOP but reasons connected to history.
"I'm a Republican because if you go back in history, the Republican Party was founded by Black people. We only became Democrats in the Kennedy era. When Johnson became a Democrat he couldn't get enough Democratic votes," former La Marque, Texas Mayor Geraldine Sam told NBCBLK on her way to the convention floor. Sam is a Texas delegate who was the first African American elected Mayor in La Marque, Texas.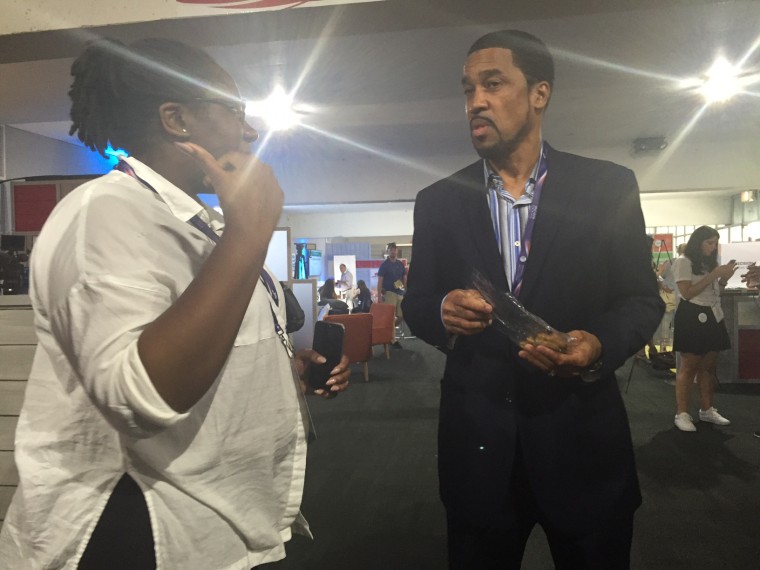 "I've been more mistreated in the Democratic Party than I have in the Republican Party. Everywhere I go they [the Republicans] listen to me. We don't agree on everything -- we agree to disagree and that's OK," Sam continued.
"We talk about Black Lives Matter and I shared that these snipers and things -- that's not a part of Black Lives Matter -- those are people who have infiltrated trying to destroy what's happening with Black Lives Matter and so they're doing things to destroy that movement," Sam told NBCBLK regarding her conversations with fellow Republicans.
Sam is supporting Trump because she agrees with his views on education, small business and economic development.
Felice Perry Pete, an evangelical Republican voter from North Carolina, is attending the convention as a guest.
"I like Trump fine. I like that he shook it up. There's a lot of people who are upset—and he's unorthodox—but I think you have nobody but our current Republicans to blame. Had they done more to stop the Democrats and what President Obama was doing, then the people wouldn't be so fed up," Pete told NBCBLK in the convention hall.
"I think what people underestimate is spite. A lot of people vote for Trump out of pure unadulterated spite. We are against the people who think they know it all and who have done what [their] constituents did not want," Pete also said explaining the support for Trump among many in the GOP.
In 2004, 167 African Americans delegates attended the RNC convention as President George W. Bush was renominated. In 2008, 36 African Americans attended as delegates as Sen. John McCain was nominated to run against then-Sen. Barack Obama, and in 2012 there were 28 African American delegates as Mitt Romney was nominated.