According to the president of OneUnited Bank, which bills itself as the first black-owned internet bank, after the wake of recent protests over police-involved deaths of black men, business has increased tenfold.
"We've had a surge," said Teri Williams, OneUnited's president. "When I say surge, I mean people lined up outside the door of our branches to open accounts."
Her bank is not alone.
After the shootings of Alton Sterling and Philando Castile, black activists nationwide organized boycotts of major banks and retailers — including an economic boycott of a Baton Rouge mall and Walmart the weekend of Sterling's death. Activists have called on African-Americans to patronize black-owned stores and banks, to use the hashtags #BankBlack challenge and #MoveYourMoney, and to circulate a mass text thread to engage citizens.
And, in a seemingly unrelated Facebook movement, activists, called on more than 8,000 people to participate in "Day of Absence Pt. 1," encouraging its following to restrict purchasing goods from select retailers and restaurants and essentially any businesses that are not minority-owned.
"It is high time that we stop talking about our purchasing power and show our true value in all areas of life," the Facebook page stated.
Such efforts, black business owners say, have resulted in an uptick in business.
"As we say internally," Williams said of her bank staff's mantra, "black dollars matter."
Black buying power has a major influence on America's economy. The 2015 Multicultural Economy Report from the University of Georgia's Selig Center for Economic Growth estimated black buying power to be $1.2 trillion in 2015, with potential to reach $1.4 trillion in 2020.
These numbers and the recent galvanization on social media helped lead to OneUnited's #BankBlack challenge, which encourages banking with black-owned banks.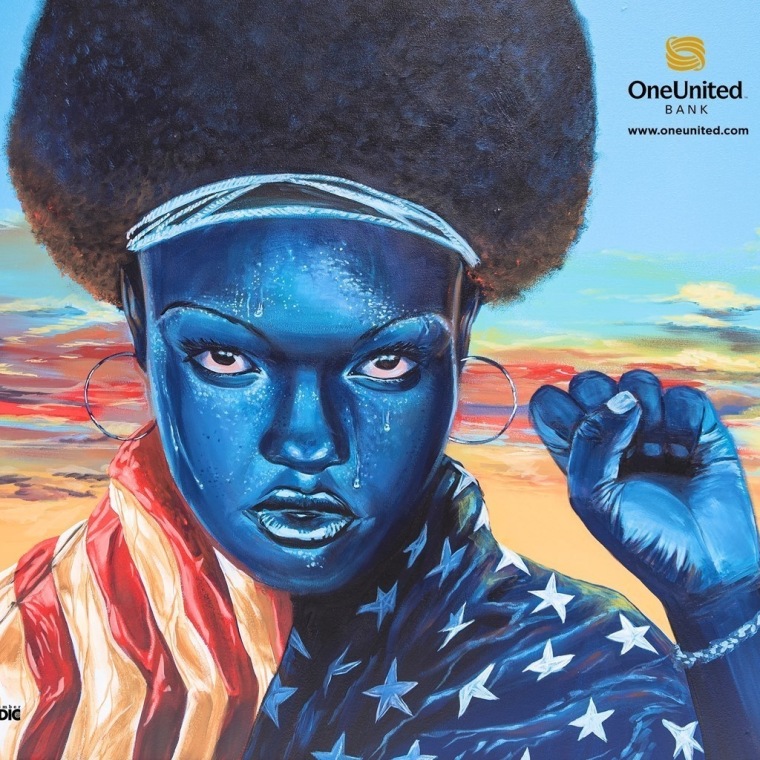 "Every community spends money within their community," Williams said. "For whatever reason when it's us, it's considered to be radical. We really do need to be unapologetically black."
RELATED: Black Lives Matter Has Shifted National Debate, Despite Controversial Reputation
Rapper Killer Mike has been a strong advocate for African Americans to move at least portions of their money to black-owned banks to stimulate economies in those communities. The Atlanta native is particularly fond of Citizens Trust Bank, a black-owned bank in his hometown.
"What I would like to see happen is one million people instead of buying Jordans or caps or whatever thing is cool this month," he said, "one million black people find one black banking institution," Killer Mike said at the "What Now" town hall hosted by MTV and BET.
Over the past week, Citizens Trust received about 8,000 applications for new accounts and they've opened 2,200 of those accounts according to the bank's President and CEO, Cynthia N. Day.
"We're extremely excited that people are galvanizing around this cause (and) want to join us on this journey and our mission to create a better economic situation for our community," said Day.
Solange is another celebrity supporting black owned banks. She released a list of 21 black banks nationwide. After joining protests in Louisiana, she that she made the personal decision to move her money into a black bank.
"While I realize this is a very personal decision and thing to share," Solange's caption reads, "I'm proud to say I made that step today. Time to literally put my money where my mouth is."
The boycotts have met with mixed results.
Rev. Reginald Pitcher, former president of the Baton Rouge Chapter of the Southern Christian Leadership Conference (SCLC) proposed a selective boycott targeting a small portion of businesses at a time —fast food one day, department stores the next, for example.
But while community leaders coordinated the boycotts in Baton Rouge, other boycott movements had neither a pinpointed organizer nor much explanation behind why certain businesses were being targeted through messages spread through social media and text threads.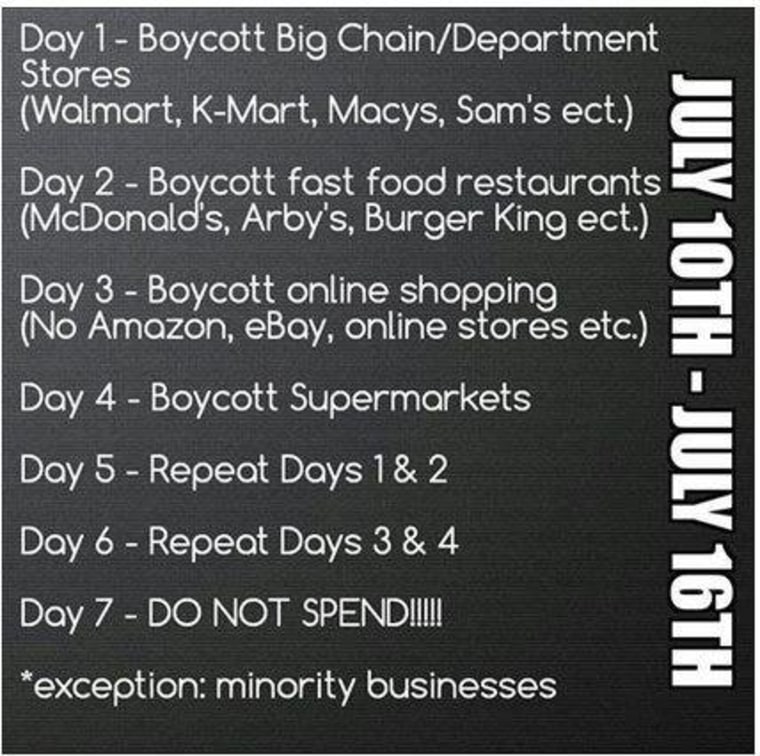 RELATED: Baton Rouge Protests: Photos Shine Light on Fault Lines
People like author Maggie Anderson, are asking for more information on strategy and procedure before completely backing the economic boycott of major retailers. She thinks that economic boycotts should be methodical and calculated, in the way of Martin Luther King Jr.
"I will not boycott big companies just because they are big and 'white,' without doing any research about which ones we should target, without having any strategy or specific demands," Anderson said.
"That's ridiculous to me and dishonors the tradition of Dr. King and Medgar Evers, who was also slain after he led boycotts of those specific Mississippi businesses that denied service to Blacks."
Anderson underscores the need for strategic boycotts because some mass retailers employ black executives, do business with black professional firms, support black chambers and civic and professional groups, and fund historically black college and universities. Boycotting those places could then hurt many employees and entrepreneurs from the black community, Anderson adds.
"That's not intelligent," Anderson said, "that's emotional."
Anderson recognizes that there is a place for emotion, as she empathizes with and hurts for the families who have lost their loved ones, so long as it's organized.
Such organized efforts have proved effective.
Almost two years ago in Ferguson, Missouri, Michael Brown protesters championed boycotts of Black Friday, one of the biggest commercial shopping days traditionally featuring extreme discounts and intense crowds.
Protesters in the St. Louis area inspired #NotOneDime, #BlackoutFriday and #BoycottBlackFriday movements across the nation as people marched in front of major retails and participated in "die-ins" that symbolized Michael Brown's death.
According to data from the National Retail Federation, Black Friday sales fell eleven percent in 2014 from the year before. The boycotts have not been confirmed as the source of that drop.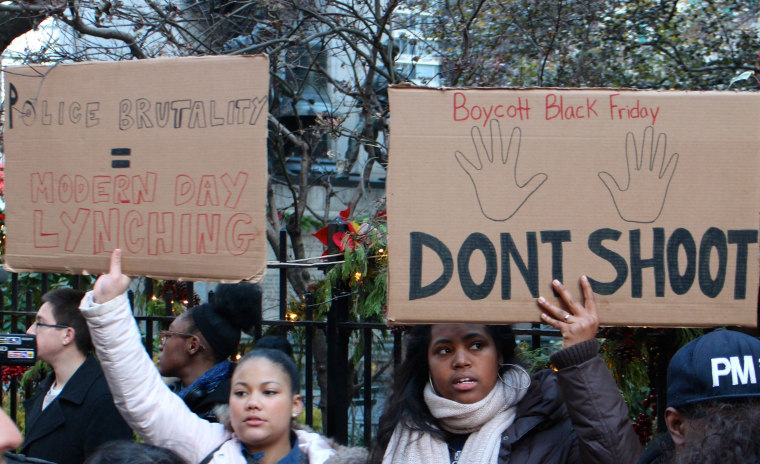 More recently in Chicago, protesters obstructed retailer entrances at a Black Friday boycott to protest the fatal shooting of Laquan McDonald by a Chicago police officer. According to NBC Chicago, protesters carried signs encouraging an end to police terror and blocked traffic on both sides of the Magnificent Mile in peaceful opposition as police watched everything unfold.
Anderson hopes that people can fight police violence through unification and economic power. Anderson and her family spent a year solely spending their money at black-owned institutions. She chronicled it in her book, "Our Black Year," which she believes presents a case study on self-help economics as a way to cure the social ills the black community faces.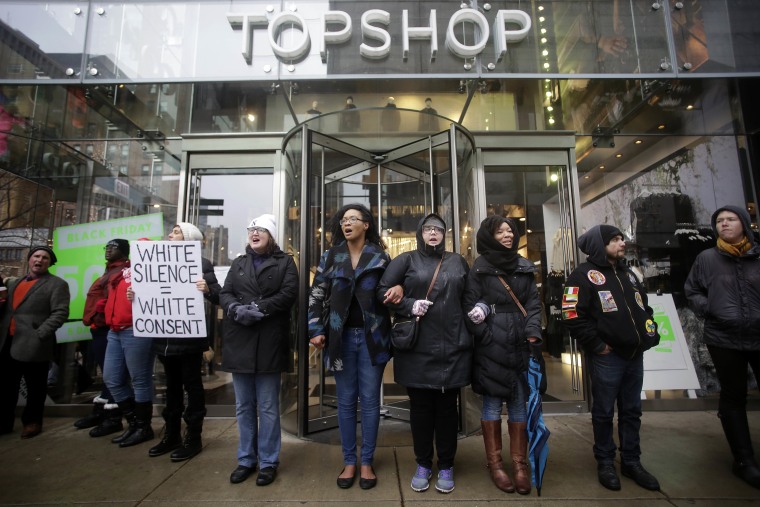 "I think that supporting black banks and businesses, publicly, proactively, proudly is the best way to react to the violence," Anderson said. "In addition to doing everything possible to ensure specific and swift justice and support for the victims' families."
RELATED: Editorial: How to Discuss Wrongful Deaths of Black People With Our Youth
The rhetoric of black people actively supporting black business echoes the Civil Rights Movement of the 50s and 60s.
"Blacks cannot have equality in America until we have economic empowerment."
Martin Luther King Jr. and other prominent leaders led the bus boycott in Montgomery, Alabama and continued to encourage black empowerment by way of the dollar. Three years after the boycott, on the day before his assassination in April 1968, King gave a speech in Memphis, urging black people to support black institutions, including black banks.
He spoke specifically to a group of black sanitation workers from the Department of Public Works who had been on strike since that February when two black men were crushed by a malfunctioning truck.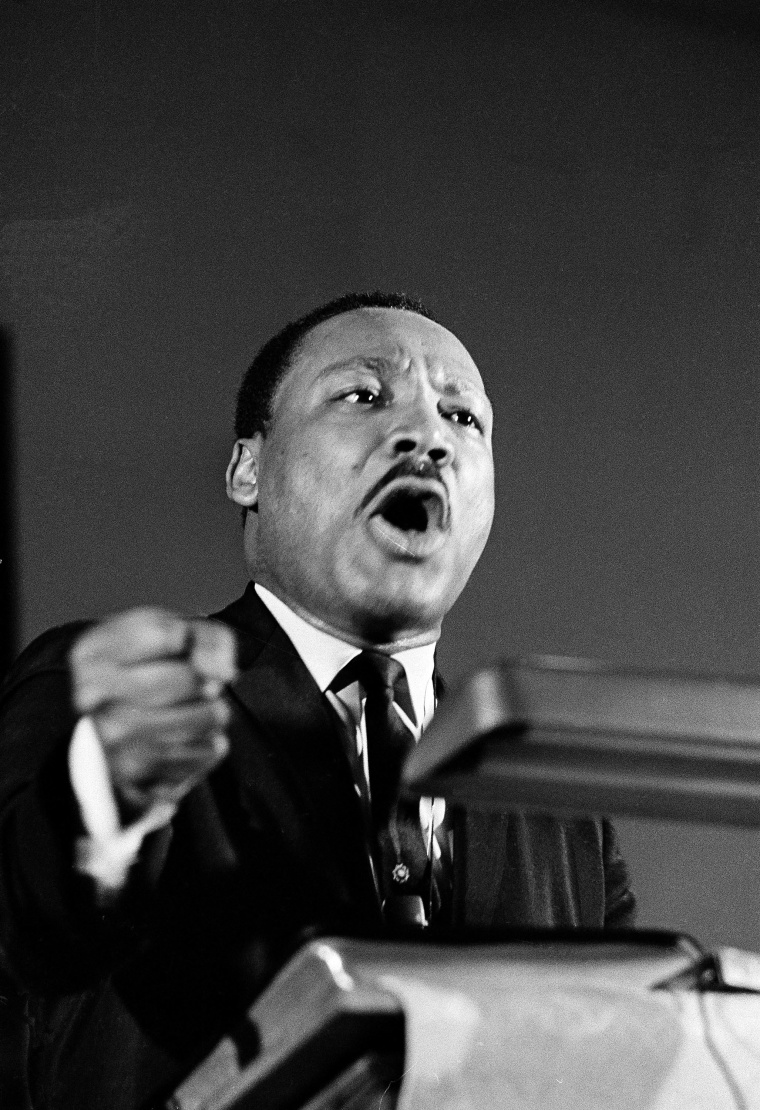 "We've got to strengthen black institutions. I call upon you to take your money out of the banks downtown and deposit your money in Tri-State Bank. We want a "bank-in" movement in Memphis…."Now these are some practical things that we can do. We begin the process of building a greater economic base. And at the same time, we are putting pressure where it really hurts. I ask you to follow through here."
Strikes in Memphis mirrored King's "Poor People's Campaign," which underscored that economic security should be the next step in obtaining full citizenship for black people.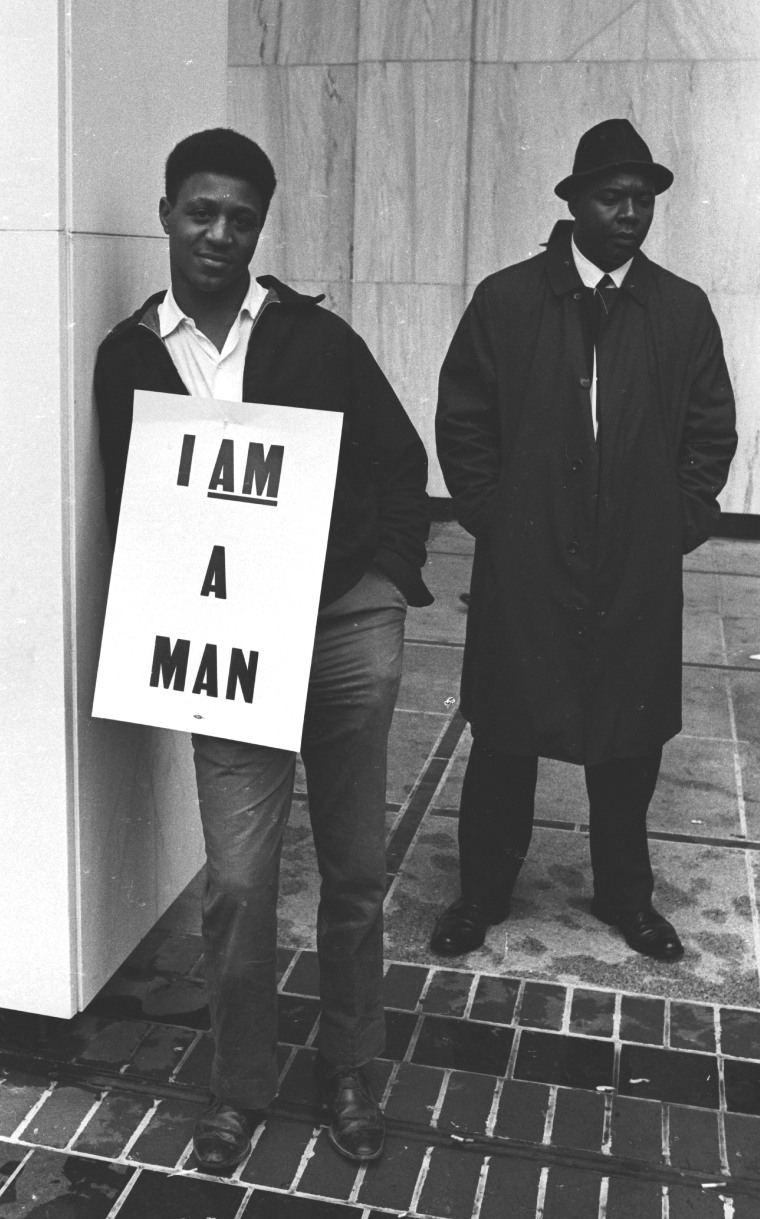 King's words of encouragement to support black banks and businesses in times of social injustice and civil unrest have been renewed in the wake of notably tumultuous times following the deaths of Sterling, Castile, five policemen in Dallas, and a second police ambush in Baton Rouge. Though the sit-in era may be over, blacks still seek equality, and economic empowerment campaigns may be the means to that end.
"Blacks cannot have equality in America until we have economic empowerment," Anderson said.
Mahlia Posey contributed to this report.